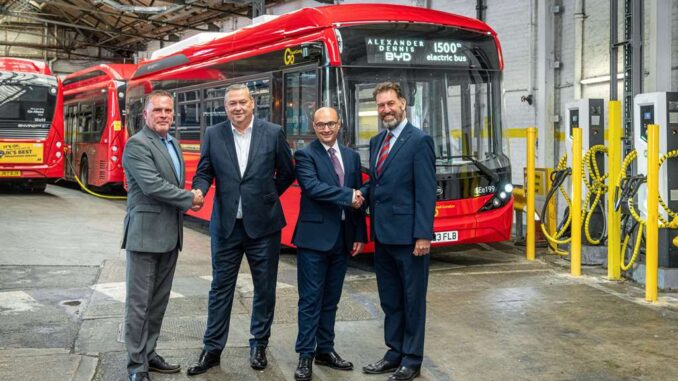 The BYD UK and Alexander Dennis partnership jointly announced today that reached its 1,500th electric bus, a BYD–Alexander Dennis Enviro200EV for Go-Ahead London.
The 1,500th BYD–Alexander Dennis electric bus is one of nearly 300 joining Go-Ahead London this year for routes in the capital. Allocated to Merton Garage with fleet number SEe199, it has been in service on Transport for London routes 163 and 164 since May. It has now been officially handed over to Go-Ahead London's managing team by representatives of BYD and Alexander Dennis in a small celebration at the depot.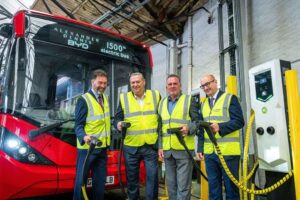 Go-Ahead is London's largest bus company and the UK's most experienced operator of electric buses. It has worked closely with BYD and Alexander Dennis since 2016, when it took delivery of 51 Enviro200EV for its globally recognised and multi-award-winning Waterloo site, which was the first bus depot in Europe to be fully converted to electric operation.
With a total of 577 Enviro200EV single deckers and Enviro400EV double deckers delivered or on order, Go-Ahead London is the partnership's largest single customer.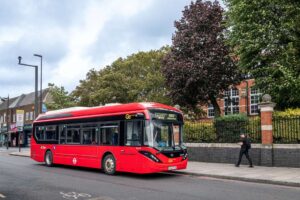 Over the past seven years, the combination of BYD's reliable battery technology and Alexander Dennis's expertise in body design and specification has paved the way for the large-scale adoption of battery-electric buses in the United Kingdom.
The single deck Enviro200EV is available in a choice of four lengths ranging from 9.6m to 12m, while the double deck Enviro400EV is available in two versions at 10.3m and 10.8m. They have found favour with operators large and small in a variety of operating environments ranging from busy city services to rural routes and staff shuttles. BYD–Alexander Dennis electric buses have also been sold to Ireland and New Zealand.
Source: BYD