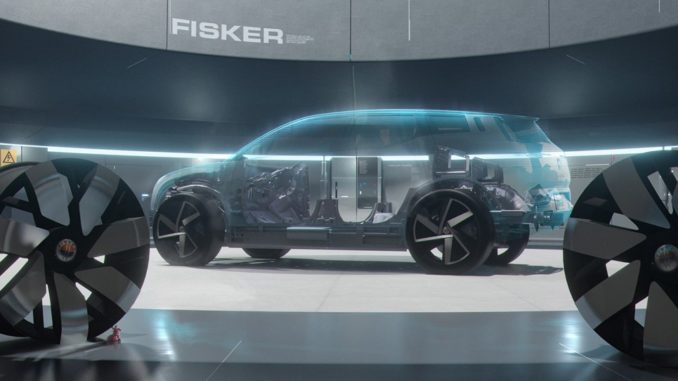 Fisker and Magna finalize their agreement to build electric Ocean electric, after preliminary product specification engineering gateway scheduled in November 2020.
Fisker Inc. announced it has entered into definitive "operational phase" platform-sharing and initial manufacturing agreements with Magna International Inc., which clarify and finalize key aspects of the framework agreement previously announced on October 15, 2020.
The Fisker Ocean will initially be manufactured exclusively by Magna in Europe, where it currently produces several high-quality vehicles on behalf of global brands. Interest in the Ocean continues to build at an encouraging pace, with global paid reservations now standing at more than 10,400 units. Fisker plans to unveil a production-intent prototype of the Ocean in the summer of 2021.
The Fisker Ocean SUV will use a modified version of a Magna-developed EV platform. According to Fisker,
Taking Magna's EV platform as the starting point, Fisker engineers are further developing FM29, and in the process, creating new IP that is unique to Fisker. To suit our requirements for the Ocean and other vehicles, we are redesigning the front-end structure and both lengthening and widening the platform. FM29 provides us the flexibility to accommodate a large battery, increase occupant space and enable the signature Fisker wide vehicle stance, while delivering purchasing cost efficiencies to bring the Ocean to market at a starting price below $40,000. Available on the range-topping Ocean Extreme model, the large battery format enabled by FM29 is also projected to support an Ultra Long Range (ULR) option with a potential range of more than 350 miles – said Henrik Fisker.

Our powertrain team is working to optimize the drive unit in deep collaboration with our cell provider to deliver the expected class-leading output we are projecting for the battery pack. Further, as a digital car company we are creating smarter methodologies in digital and master data management (MDM) that enable smart platform sharing across different vehicle models. This helps us to deliver a seamless customer experience, as well as expedite the globalization of our supply chain and manufacturing – Fisker added.
Source: Fisker Inc.