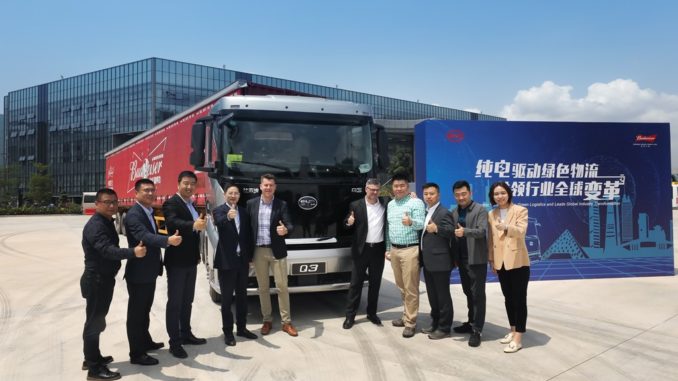 Strategic cooperation has been signed by BYD and Budweiser China, that deploy 30 BYD Q3 heavy-duty electric trucks in 2021.
Budweiser China will take the lead by purchasing BYD Q3 heavy-duty electric trucks according to the agreement, and will deploy these trucks in its breweries in Foshan, Tangshan, Wuhan, and other cities separately.
BYD Q3 was designed by international car designer Mr. Wolfgang Egger, which is equipped with the world's leading lithium iron phosphate batteries and integrated powertrain technology developed completely in-house by BYD. The Q3 also boasts a revamped motor drive system and integration of the whole-vehicle control technology, achieved a range of more than 200 kilometers on a single charge.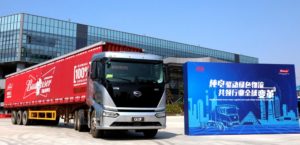 Together, BYD and Budweiser China aimed to bring zero-emission, pollution-free electric technology to beer transportation, and create a powerful example of multinational companies partnering for responsible, sustainable development. The two parties will also jointly promote a greener global logistics and transport system, accelerating the industry's green and low-carbon development.
BYD empowers AB Inbev's low-carbon transportation, helping century-old international brand spearhead green logistics trend
As a world-leading beer brewing company, AB Inbev's (Anheuser-Busch InBev) business covers 50 countries and regions around the world, which enjoys wide popularity in the Chinese market.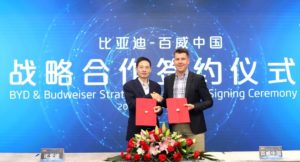 AB Inbev released its "2025 Sustainable Development Goals" in 2018, aiming to fulfill its climate change commitment by cutting its carbon emissions. The brand actively promotes sustainable development by embracing zero-emission transportations, taking a leading role in the entire logistics industry.
In 2018, Budweiser China began deploying BYD pure electric tractors to transport beer in Foshan brewery, which saw the two parties partnered to explore the development of green logistics. In 2019, BYD delivered 21 pure electric trucks to AB Inbev, to build the largest pure electric truck fleet in North America to date. And in 2020, BYD was named as Budweiser China's "Sustainable Supplier of the Year".
BYD's green dream goes global
As a global leader in new energy vehicles, BYD began to research and developed pure electric trucks in 2012 and became the world's first company to invest in the R&D of new energy trucks.
Up to date, BYD has delivered more than 13,000 pure electric trucks and truck chassis, entering the United States, Canada, Brazil, Australia, and other overseas markets alongside key Chinese cities including Beijing, Shenzhen, Xi'an, Hangzhou, etc., which also makes BYD the first brand to achieve large-scale, commercialized operations of pure electric trucks in the world.
BYD pure electric trucks are currently operating in overseas markets including the Budweiser Distribution Center in Southern California; Amazon's headquarters, Amazon Park; Port of Los Angeles, Port of Oakland, Port of San Diego, and more, as well as operating in many Chinese ports in Ningbo, Xiamen, Huai'an, Yantian, and so on.
Source: BYD