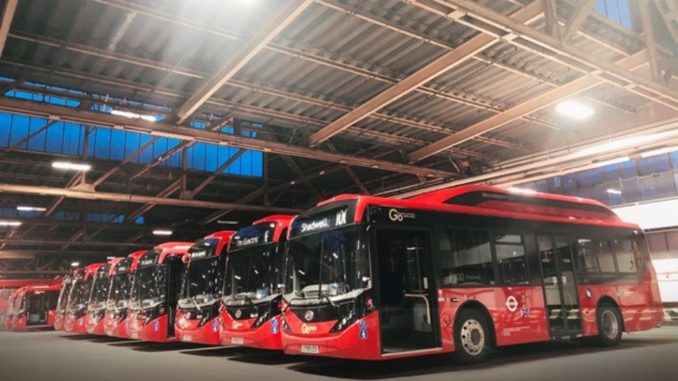 Eleven new electric BYD ADL Enviro200EV electric buses to Go-Ahead London has been delivered by the partnership BYD Europe and Alexander Dennis Limited (ADL).
The delivery signals the introduction of the partnership's latest single deck 9.6-metre model – a shorter wheelbase chassis to suit narrow, complex road network such as those on Go-Ahead's Route 100. Go-Ahead continues to electrify key routes in the capital and is increasingly looking to the BYD ADL partnership to provide exacting solutions to meet specific route requirements.
With 24 seats and an overall 66 passenger capacity, the 9.6-metre BYD ADL Enviro200EV achieves 150 miles on a single charge. Power is delivered through its pure-electric drivetrain comprising 330 kWh electric motor and BYD Iron-Phosphate batteries.
The delivery also brings up the 100th BYD ADL Enviro200EV for Go-Ahead London, with the company having to date completed over 6.3 million kilometres and saving over 5,500 tons of CO2 courtesy of the BYD ADL single deck model.
A further 13 10.9-metre BYD ADL Enviro200EVs are scheduled to go into service with Go-Ahead London in March 2020. Since the introduction of the BYD ADL Enviro200EV electric bus in only 2016, over 200 units are now either delivered or on order with operators across the UK.
Source: BYD