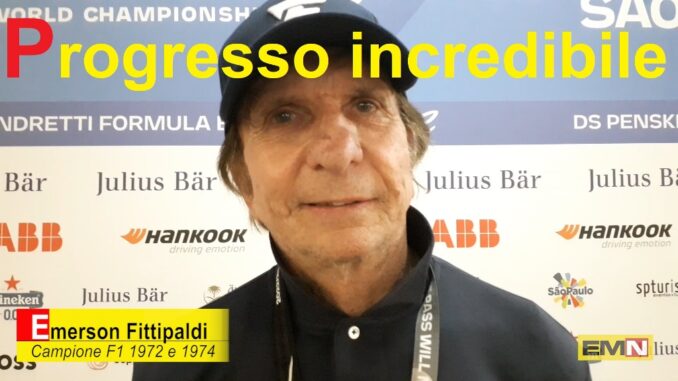 Tra le consuete conferenze stampa del venerdì, abbiamo documentato le prove di cambio muso e gomme del team DS Penske e abbiamo trovato Emerson Fittipaldi.
Ecco i servizi video…
Prove di cambio muso e gomme
Abbiamo sorpreso il team DS Penske a praticare il cambio musetto e il cambio degli pneumatici anteriori e posteriori. Ecco le immagini con l'audio originale…
Servizio di Marcelo Padin
The opinion of Sam Bird
Sam Bird spoke about his first part of the season and about the track, with some considerations about the energy management, regen and the state of asphalt.
In italiano – L'opinione di Sam Bird
Sam Bird ha parlato della sua prima parte di stagione e della pista, con alcune considerazioni sulla gestione dell'energia, la rigenerazione e lo stato dell'asfalto.
Intervista in lingua inglese.
Servizio di Marcelo Padin
Analisi del passato e considerazioni della corsa
Sèbastien Buemi fa un piccolo bilancio di questa metà stagione nel suo nuovo team Envision Racing e parla della gara, del circuito e delle variabili che possono essere protagoniste assolute.
Servizio di Marcelo Padin
Edoardo Mortara è in sintonia con i suoi colleghi
Il pilota svizzero della Maserati ha parlato del circuito e in linee generali ha detto le stesse cose dei suoi colleghi, segnalando che sarà importante avere diverse strategie pronte per la gara. Raramente accade che quasi tutti i piloti siano d'accordo quando parlano del circuito, ma questa volta, São Paulo ha messo tutti d'accordo.
Servizio di Marcelo Padin
Parla il pilota di casa Lucas di Grassi
Da molto tempo si è parlato di una gara di Formula E in Brasile e Lucas di Grassi che è uno dei pilastri della categoria di monoposto elettrici ha lavorato moltissimo per concretizzarla. Ora finalmente corre a casa… e nell'intervista racconta la sua opinione del circuito e quello che si aspetta della gara.
Servizio di Marcelo Padin
Da Costa e un mese molto più bello
E' passato un mese dalla prima vittoria di Antonio Felix Da Costa con Porsche a Città del Capo e il pilota portoghese racconta con sollievo come ha vissuto bene, contrariamente ai giorni passati a inizio stagione. DAC ha parlato anche dal circuito e dai diversi aspetti da mettere sotto attenzione.
Servizio di Marcelo Padin
Press conference dei team principal
Nella conferenza stampa dei team principal hanno partecipato Florian Modlinger (TAG Heuger Porsche), Sylvain Filippi (Envision Racing) e Tommaso Volpe (Nissan Formula E Team).
Servizio di Marcelo Padin
Conferenza stampa piloti
Protagonisti della conferenza stampa dei piloti sono stati ovviamente i due piloti brasiliani che corrono attualmente in Formula E, ovvero Lucas di Grassi e Sérgio Sette Câmara, accompagnati dall'attuale campione mondiale Stoffel Vandoorne.
Servizio di Marcelo Padin
Emerson Fittipaldi, la Formula E e le auto elettriche
Il bicampione mondiale di Formula 1 Emerson Fittipaldi è presente nella gara di San Paolo di Formula E. Nell'intervista ha parlato dei progressi della categoria di monoposto elettrici, mostrandosi un grande difensore delle nuove tecnologia… ma ha detto anche qualcosa di molto interessante riguardo "quelli della mia età". Cosa avrà detto?
Servizio di Marcelo Padin
Ecco le anteprime fotografiche dei video…