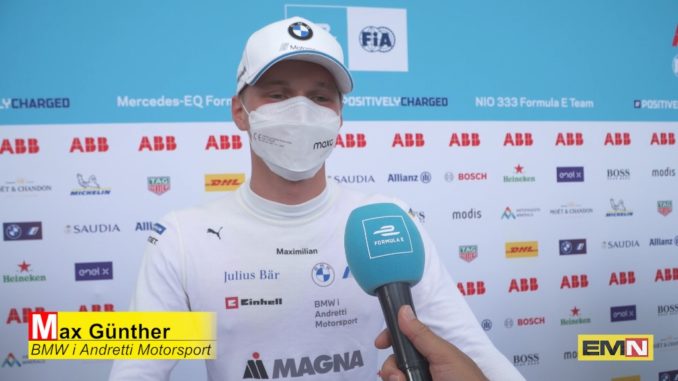 Maximilian Günther e Jean Eric Vergne hanno occupato i due primi posti nella gara 1 del New York E-Prix di Formula E ed ecco quello che hanno detto dopo la gara.
Il campione Da Costa è rimasto fuori dai punti e ha dichiarato di non avere avuto il passo per poter rimontare…
Ecco la parola dei tre…
"Non avevamo il passo" ha detto Da Costa dopo gara 1
Il campione Antonio Felix Da Costa ha detto di aver fatto un buon lavoro anche nel gruppo 1 di qualifica, ma in gara semplicemente non aveva il passo per poter tentare la rimonta, indicando che dovranno fare molto lavoro per la seconda gara di New York.
Punti importanti per il campionato di Jean Eric Vergne
Jean Eric Vergne è arrivato secondo in gara 1 e ha detto di avere fatto una bella gara, partito e arrivato secondo perché nel momento del sorpasso si sono toccate le macchine e non era possibile girare, quindi ha perso una posizione. Il bilancio è di aver ottenuti punti importanti per il campionato.
Maximilian Günther won the first round in New York
German driver Maximilian Günther followed from the third place the actions in the top and when had the opportunity, jump to the first place overtaking the first two. With more energy, good management and in first position; reach the victory in the home of Andretti Autosport has been simply.
In italiano – Maximilian Günther ha vinto il primo round a New York
Il pilota tedesco Maximilian Günther ha seguito dal terzo posto le azioni in vetta e quando ne ha avuto l'occasione, è balzato al primo posto sorpassando i primi due. Con più energia, buona gestione e in prima posizione; Raggiungere la vittoria in casa della Andretti Autosport è stato semplice.
Di seguito le anteprime fotografiche…