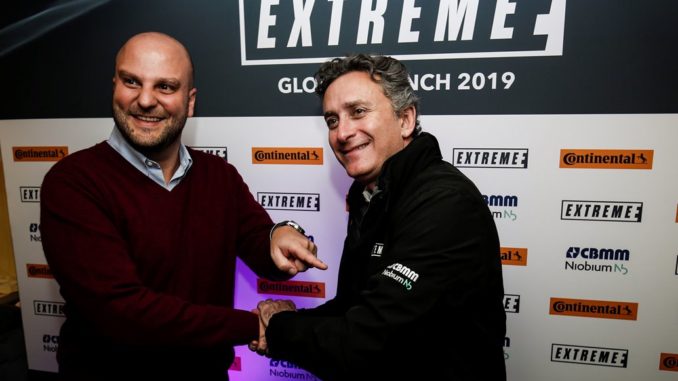 CBMM becomes founding supplier of the Extreme E, the new off-road racing series and Niobium tech will be used in the construction the electric SUV.
The partnership will see CBMM designated as the championship's Official Niobium Technology Supplier and Official Chassis Technology Supplier, with niobium technology being used in the construction of the championship's cutting-edge electric SUV – set to be unveiled for the first time at the Goodwood Festival of Speed next month.
Essential to the automotive sector, niobium provides lighter and more sustainable cars with a better energy efficiency. Its technologies are already widely applied in different areas, including lightweighting, safety, emissions reductions and electronics that will lead to a sustainable sector transformation. Key applications of niobium include batteries, drivetrains, chassis, wheels and any number of ancillary components. Its qualities mean materials can be made lighter, stronger, more robust and more reliable – all while being more sustainable than other materials.
Each of these qualities will be key to ensuring Extreme E's SUVs will be able to cope with, and thrive within, the competition's five formidable environments – The Himalayas, Arctic, Amazon Rainforest, Sahara Desert and an Indian Ocean island, when its first season starts in early 2021. Increased lightness breeds energy savings and improved performance, and the added strength and durability afforded by niobium technology will assist the Extreme E chassis in dealing with the toughest challenges thrown their way.
CBMM already enjoys a longstanding relationship with the ABB FIA Formula E Championship, focused on building awareness of niobium and promoting partnerships to explore and progress the growing potential of sustainable mobility. The announcement of its Extreme E partnership follows Continental Tyres' commitment as a Founding Partner, and Venturi Automobiles' unveiling as the series' first team entry.
Source: Extreme E