Il clou dei veicoli commerciali IAA di quest'anno: il nuovo e-Crafter
• Prima mondiale del primo Crafter alimentato elettricamente
• Concept di veicolo vicino alla produzione con soluzione ad emissioni zero nel traffico per le consegne in centro città
• Grande capacità di carico
• Capacità di carico fino a 1,7 tonnellate
• Autonomia di oltre 200 km
• I primi veicoli pronti al lancio nel 2017
Fonte: Volkswagen AG
Hannover, Germania. 21 Settembre 2016. Volkswagen Veicoli Commerciali presenta all'IAA Commercial Vehicles di quest'anno ad Hannover la nuova e-Crafter, un concept di veicolo completamente elettrico ad emissioni zero ideale per le consegne in centro città.
Già dai primi disegni del nuovo Crafter è stata prevista l'alimentazione elettrica come variante del sistema di alimentazione, come ha spiegato il Dr Eckhard Scholz, Presidente del Consiglio di Amministrazione di Volkswagen Commercial Vehicles
"I primi veicoli e-Crafter saranno già nelle mani dei clienti entro il 2017".
Il carattere del nuovo Crafter non è stato modificato dal motore elettrico. Il concetto di veicolo continua ad offrire robuste qualità interiori, come l'eccezionale capacità di carico, lo spazio di carico ideale di 11,3 metri cubi e un'altezza massima di spazio di carico di 1.961 millimetri. La larghezza di carico disponibile tra i passaruota è di 1.380 mm e lo spazio di carico massimo in lunghezza è di 4.855 mm, il che significa quindi nessuna modifica nelle dimensioni generali.
Con un peso totale ammesso di 4,2 tonnellate dalla normativa tecnica, il concept dal motore elettrico da 100 KW accelera fino alla massima velocità consentita di 80 km/h. Sia in autostrada urbana che nei viaggi inter-urbani non presenta quindi nessun problema. Grazie alla coppia massima di 290 Nm, che è effettivamente disponibili senza alcun ritardo, i livelli di performance adeguati sono disponibili anche con un massimo carico di 1.709 chilogrammi.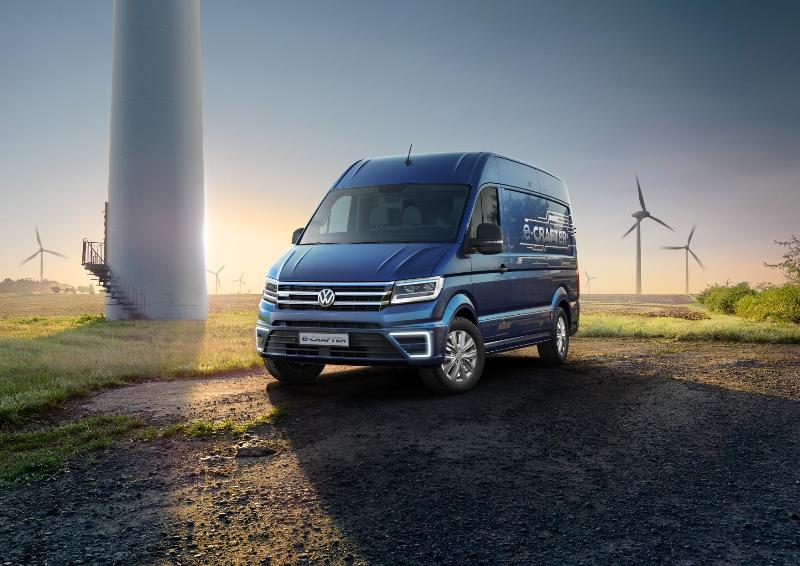 La batteria del veicolo concept, è costituita da 312 celle e ha una capacità totale di 43 kWh ed è alloggiata sotto il pavimento dello spazio di carico. La capacità di spazio di carico rimane così invariata. A seconda della configurazione del veicolo, la batteria consente un'autonomia di oltre 200 chilometri.
La batteria può essere ricaricata anche fino al 80 per cento in 45 minuti.
Il design del e-Crafter tiene già in considerazione i futuri sviluppi della batteria, con la quale – a seconda delle esigenze del cliente e le specifiche – può raggiungere un'autonomia di  fino a 400 chilometri.
Queste sono prospettive molto interessanti per molti settori, non solo quelli che operano su strade del centro città.
Il nuovo concept di veicolo e-Crafter si distingue dalle versioni diesel attraverso la vernice speciale Reef Blue Metallic, con i corrispondenti paraurti verniciati, strisce laterali di protezione e una barra blu sulla griglia del radiatore. il silenzio dell'e-Crafter può essere riconosciuto dal frontale dalla figura C con la firma delle luci della marcia diurna, la caratteristica tipica di identificazione dei veicoli elettrici Volkswagen.
Il cockpit si differenzia dalle versioni diesel, in quanto ha un 'misuratore di potenza' al posto di un contagiri, il volante in pelle con effetto decorativo di cuciture blu e sedili neri in titanio con finiture blu.
Lo spazio di carico è già adeguatamente attrezzato per le sfide che richiede il settore dei servizi di corriere, in particolare, adatto per affrontare le sfide del domani. Gli elementi del piano di carico, compreso il sistema di carico ProSafe, Flex-Rack set-up e sistema Globelyst di scaffalature.
Il veicolo concept che viene mostrato al Salone è stato dotato da una stazione di servizio, nella quale si possono rimpiazzare le batterie per le speciali cargo e-bike, che possono essere ricaricate.
Dati tecnici e-Crafter concept vehicle(IAA 2016):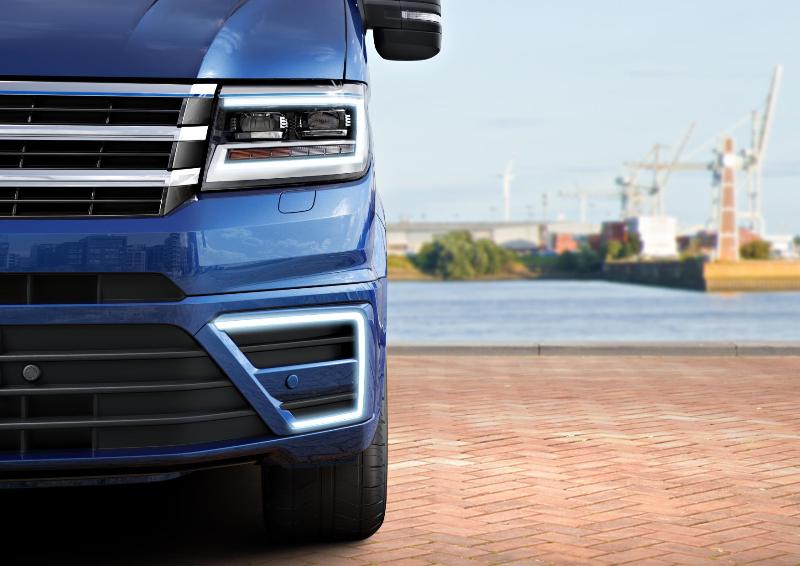 Sistema di azionamento: Motore elettrico
Potenza di uscita: 100 kW
Coppia: 290 Nm
Batteria: agli ioni di litio (26 x 12 celle)  43 kWh 384 V
Tempo di ricarica: 45 min (a 40 kW) DC 40 kW
Perm. Peso totale: 4.250 kg
Velocità massima: 80 chilometri all'ora
Autonomia: 208 km
Peso a vuoto CE: 2.541 kg
Carico: 1.709 kg
Capacità vano di carico: 11,3 m3
In English
The highlight of this year's IAA Commercial Vehicles: the new e-Crafter
– World premiere of the first electrically powered Crafter
– Concept vehicle demonstrates near production-ready solution for zero emission city centre delivery traffic
– Unimpaired cargo capacity
– Loads of up to 1.7 tonnes
– Range of over 200 kilometres
– First vehicles in use in 2017
Source: Volkswagen AG
Hanover, Germany. 21 September 2016 – Volkswagen Commercial Vehicles shows at this year's IAA Commercial Vehicles show in Hannover with a new e-Crafter concept vehicle a fully thought-out concept for zero emission city centre delivery traffic.
Even from the very first designs for the new Crafter electric power as a drive system variant was already incorporated into the plans, as Dr Eckhard Scholz, Chairman of the Board of Management of Volkswagen Commercial Vehicles, explains the contemporary implementation of this concept:
"The first e-Crafter vehicles will already be in customers' hands by 2017."
The character of the new Crafter has not been changed by the electric drive system. The concept vehicle continues to offer robust inner qualities, such as outstanding payload capacity, ideal cargo space of 11.3 cubic metres and a maximum cargo space height of 1,961 millimetres. The load width available between the wheel arches is 1,380 mm and the maximum cargo space length is 4,855 mm, thus meaning no changes to the overall dimensions.
With a permitted total weight of 4.2 tonnes the roadworthy concept vehicle is accelerated by the 100-kilowatt electric motor up to the maximum permitted speed of 80 km/h. Both urban motorway and inter-urban journeys are thus no problem. Thanks to maximum torque of 290 Newton metres, which is effectively available without any delay, appropriate performance levels are a piece of cake even with a maximum load of 1,709 kilograms.
The concept vehicle's battery pack, which is made up of 312 cells and has a total capacity of 43 kilowatt hours, is accommodated in space-saving fashion under the cargo space floor. The cargo space capacity thus remains unchanged. Depending on vehicle configuration, the battery unit enables a range of more than 200 kilometres. Subject to sufficient charging current capacity, the batteries can also be charged back up to 80 per cent in 45 minutes.
The e-Crafter's design already takes into account future battery developments, with which – depending on customer requirements and specification – freely configurable ranges of up to 400 kilometres become possible.
These are very interesting prospects for many industries, not just those operating on city centre roads.
The new e-Crafter concept vehicle sets itself apart from the diesel versions through special Reef Blue Metallic paintwork, matching painted bumpers and protective side strips and a blue bar on the radiator grille. The silent Crafter can also be recognised from the front by the signature C-shape of the daytime running lights, the typical identifying feature of Volkswagen electric vehicles.
The cockpit differs from the diesel versions in that it has a 'power meter' in place of a rev counter, a leather steering wheel with blue decorative stitching and titanium black seats with blue trim.
The cargo space is already appropriately equipped for the challenges of tomorrow, that the courier services sector in particular is set to face. The cargo floor elements, including ProSafe load-lashing system, Flex-Rack set-up and Globelyst shelving system, come from upgrade specialists Sortimo. The concept vehicle being shown at the IAA has additionally been given a service station, in which replacement batteries for these special cargo e-bikes can be stored and charged.
The e-Crafter concept vehicle's technical data (IAA 2016)
Drive system: Electric motor
Power output: 100 kW
Torque: 290 Nm
Battery: Lithium-ion (26 x 12 cells)
43 kWh
384 V
Charging time: 45 min (at 40 kW) DC 40 kW
Perm. total weight: 4,250 kg
Top speed: 80 km/h
Range: 208 km
EC kerb weight: 2,541 kg
Load: 1,709 kg
Cargo space capacity: 11.3 m3
no images were found

.