Source: Wey
Frankfurt, Germany. September 12, 2017. China's luxury SUV pioneer WEY, with its multiple products, made its debut at IAA International Motor Show Frankfurt, known as the "Olympic Games" of world automotive industry. Landed on the international arena for the first time, WEY fully displayed its powerful strength in the industry with the posture of "redefining luxury".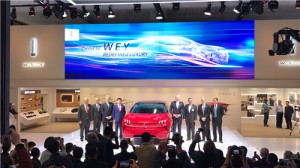 At the beginning of the event, an opening video was played to show WEY's international superiority and technical strength completely. With the support of a powerful Chinese SUV leader Great Wall Motors Group, WEY boasts overseas R & D centers in Japan, Europe and North America and pools the world's top technical experts and 1,600 excellent employees, in addition to numerous investments. That contributes to WEY's strong R & D strength. In the brand TVC played later, Mr. Wei Jianjun, founder of the group, conveyed the pursuit and persistence of giving more people access to luxury and ending the profiteering era of J & V brands. All guests present were all moved and overseas media and counterparts gave a thumbs-up to WEY.
WEY vows to build the world's safest new-energy SUV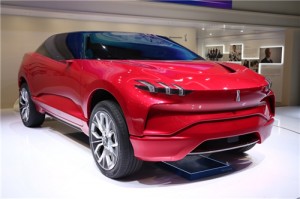 Among the models showing up at WEY booth, there were four new-energy models: VV5s Hi4/VV7s Hi4 (non-plug-in hybrid models), P8 (first plug-in hybrid model of WEY) and XEV (pure electric concept vehicle). From this, WEY makes clear its determination of establishing diversified product layouts and penetrating the new-energy SUV market.
Pure electric concept XEV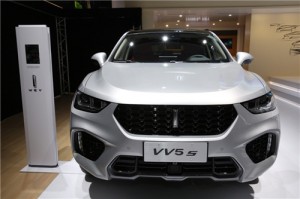 Pure electric vehicle is an inevitable choice to realize sustainable development of the earth. XEV, provided with the world's state-of-the-art matrix charging technology, realizes a power conversion rate of 99% and recovers its endurance mileage of 530KM after a short-time charging. In addition, XEV's body shape highlights a sense of the future and perfectly follows the principle of aerodynamics, reducing wind resistance of the vehicle and saving energy consumption. With compact security system, XEV is characterized by large classic and luxury interior space, optimized safety performance and reduced weight. On top of that, XEV will be fully equipped with the world's top L4 driverless technology, enabling it to provide safe and worry-free intelligent pilot experience on expressways and in urban transportation systems.
VV7s Hi4/VV5s Hi4 with Non-plug-in Hybrid Power
For VV7s Hi4/VV5s Hi4, the exclusive non-plug-in hybrid technology Hi4–48V P4 is carried on the launched VV7s and VV5s vehicles in mass production, and the aspects of performance and oil consumption have been optimized to enable the two Hi4 vehicles to be in line with the strict emission regulations in the future and to speed up more smoothly and comfortably. The new 4C20NT engine for the new optimized and innovative turbocharger of the whole series of VV7s Hi4/VV5s Hi4 and the 48V-P4 framework with non-plug-in hybrid power integrating good system efficiency and electrical safety, as well as the two-gear-box matched can effectively reduce the mechanical loss and realize torque assistance. The BSG motor and rear axle motor can recycle 80% energy precisely, fully optimizing the vehicle energy consumption.
P8 with Plug-in Hybrid Power
P8 perfectly integrates fuel with electric power through foresight technology and accomplishes excellent fuel efficiency and extremely low emission rate. Meanwhile, a quiet and comfortable driving environment has been created by adopting globally advanced and efficient two-gear bridge module. In addition, P8 takes the lead in integration of four-wheel drive technique of PLUG-in intelligent 4WD hybrid power and intelligent 5+3 driving mode, representing distinct driving characteristics under any condition. It can run on the roads caught in muddy, sands or snows with ease.
Achievements of the Listed Vehicles of WEY
Except the new energy force, the two listed vehicles VV7s/VV5s of WEY in mass production emerge in Frankfurt as scheduled. The sumptuous VV7s, as the first mass-produced model pushed by WEY, is greatly praised by the whole SUV market. In August, over 7,000 VV7s were sold. For the VV5s just released lately, it is upgraded with new power and its young product characteristics are widely favored by the new generation of crowds, with promising future. The two mass-produced vehicles lay a solid foundation for the brand development of WEY and increase the confidence for WEY to expand new energy niche markets.
WEY Defining Luxury by Safety
Having all long been adhering to the brand philosophy of "safety represents luxury", WEY spares no efforts to improve safety performance of vehicles. The vehicle VV7 has reached the grade of American standard "Good" after public collision in accordance with the most stringent standard on small collision of IIHS. VV5s becomes the first SUV vehicle to conduct roof static pressure test with reference to American standard in China. Under the super pressure of over 6 t, VV5s has successfully passed the test by exceeding three-fold vehicle weight.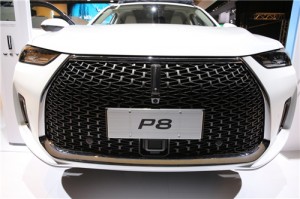 For WEY, safety is the premise for all luxury and the core competitiveness of a brand. Thus, the Collie intelligent safety system is provided for all series of vehicles under WEY brand, with the application covering an all-around safety technology ranging from 13 intelligent safety configurations, 22 conventional safety configurations to 3DP safety design, so as to offer cabin protection safety during light-hearted driving.
no images were found