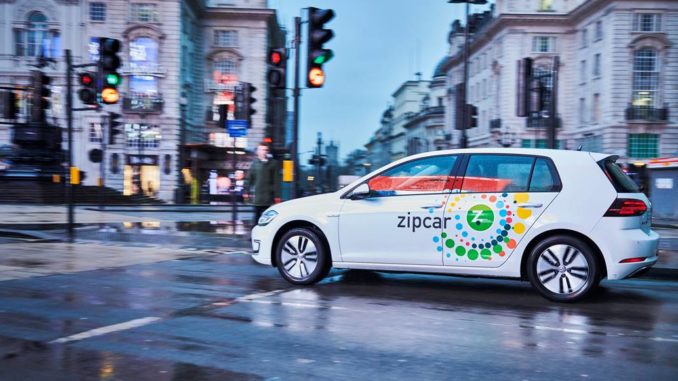 The British car sharing Zipcar UK has already delivered over 250.000 miles of zero emission driving in London with Volkswagen e-Golf.
Volkswagen's partnership with car sharing club Zipcar UK reached almost 10,000 Zipcar UK members that having used the fleet for more than 50,000 trips.
The Zipcar UK e-Golf fleet has recently grown to 325, making it the largest shared electric vehicle fleet in the UK. Since the first e-Golf was introduced just six months ago in July 2018, the fleet has already racked up enough emission-free mileage to travel just over ten times around the Equator.
The e-Golf is ideal for urban use, with a WLTP-certified range of 144 miles and (a typical day-to-day range of 124 miles) from its 35.8 kWh battery pack, and impressive acceleration from its 136 PS electric motor.
Zipcar UK's Volkswagen e-Golf fleet is available on its Flex service which allows members to drive from A to B and drop off the cars where convenient within a Zipcar zone, via the Zipcar app. The service is pay-as-you-go, with users hiring an e-Golf from just 31p per minute, capped at £14 per hour.
The e-Golf's warm reception from Zipcar UK members is testament to its ease of use in the city, as well as their eagerness to go electric in the capital – said Claire McGreal, Volkswagen UK Brand Strategy and Mobility Services Manager. Extending the Zipcar UK e-Golf fleet will ensure that more of the car club's 230,000 registered users in the UK will be able to enjoy convenient, zero-emission travel.
Jonathan Hampson, General Manager for Zipcar UK, said:
We passionately believe that electric car sharing is the way forward for Londoners when it comes to driving in the capital. Working with Volkswagen we have made EV driving more affordable and accessible than ever before. These figures speak for themselves: Londoners are embracing EV driving and proving that there is a real potential to make EV driving mainstream in the capital, and help fight the city's pollution challenges.