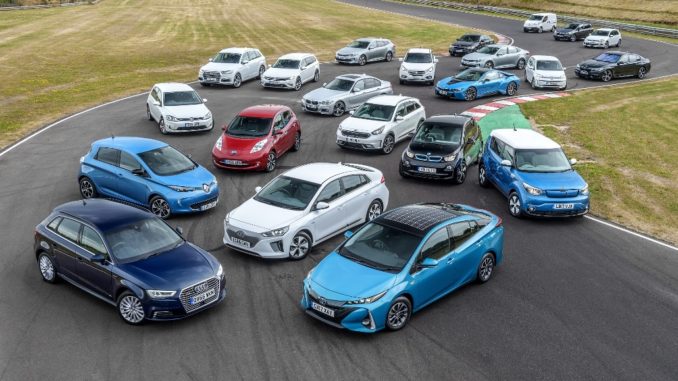 Go Ultra Low release last January 8th the registration data of 100% electric and hybrid plug-in vehicles in the year 2017 thas saw an unprecedent demand increase by more than 27% on the previous year reaching 60.000 in the same period.
As a consequence, the UK's position rest as one of Europe's largest markets for ultra low emission vehicles.
In a landmark year, the total number of plug-in cars on UK roads passed 130,000, as public and business appetite for plug-in hybrid and 100% electric cars reached a new high. From January to December, motorists flocked to buy ultra low emission vehicles, with 46,522 registered in 2017.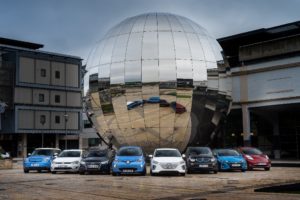 The Go Ultra Low numbers show that records tumbled throughout the year with every quarter comfortably out-performing 2016. The second half of 2017 recorded in excess of 24,000 registrations of 100% electric and plug-in hybrid cars – up more than 40% on July-December 2016.
Poppy Welch, Head of Go Ultra Low, said:
2017 was a stellar year for electric vehicle registrations with strong growth of 27%, demonstrating the massive consumer appetite for 100% electric and plug-in hybrid cars.

There are already more than 130,000 electric vehicles on UK roads, a figure that could pass 190,000 this year as new models come to market and consumers reap the cost saving benefits of electric driving.
Robert Llewellyn, actor, electric car expert and TV presenter, said:
I've been driving electric cars for eight years – they have proved incredibly reliable, cheap to run and easy to use. I'd urge everyone considering a new car to test drive a 100% electric or plug-in hybrid model. In my opinion, put simply, electric cars are the future.
Across the country, several regions stood out with London (9,274) and Eastern England (8,685) registering the most electric vehicles (EVs), a rise of 42% and 21% respectively on 2016. Meanwhile, the South West and Scotland grew the fastest, boosting plug-in uptake by 140% and 70% respectively against the previous year.
The demand for 100% electric cars, such as the UK's best seller – the Nissan LEAF, continued to grow with the sector's registrations increasing by around a third, to top 13,000. Meanwhile, plug-in hybrid cars like the popular BMW 330e, VW Golf GTE, and Hyundai IONIQ, delivered the highest volume of registrations with more than 33,000 arriving on UK roads, an increase of a quarter versus 2016.
Greater choice of models and growing consumer appetite for ultra low emission cars means that 2018 looks set to be another record breaking year. If similar growth continues, 60,000 vehicles* could be registered during 2018 taking the total number of plug-in cars on our roads to more than 190,000.
Top five UK regions – Plug-in car total registrations 2017 vs 2016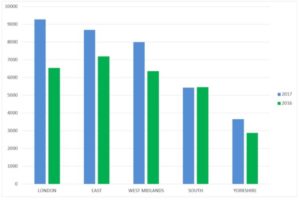 Go Ultra Low is a collaborative campaign and is the first of its kind, bringing together a consortium of vehicle manufacturers, government and the Society of Motor Manufacturers and Traders (SMMT). Visitors to www.GoUltraLow.com can access a specially-developed interactive cost calculator and input their own vehicle type, fuel consumption and mileage data to gain cost saving-figures for owning a 100% electric or plug-in hybrid vehicle.
UK registrations of 100% electric and plug-in hybrid cars by region – 2017 vs 2016
| | | | |
| --- | --- | --- | --- |
| | Yearly Total 2017 | Yearly Total 2016 | Yearly % Change |
| EAST | 8685 | 7193 | 20.7% |
| EAST MIDLANDS | 826 | 700 | 18.0% |
| EAST YORKSHIRE / LINCOLNSHIRE | 398 | 305 | 30.5% |
| LONDON | 9274 | 6541 | 41.8% |
| NORTH EAST AND CUMBRIA | 959 | 832 | 15.3% |
| NORTH WEST | 2398 | 1785 | 34.3% |
| NORTHERN IRELAND | 576 | 436 | 32.1% |
| SCOTLAND | 2292 | 1352 | 69.5% |
| SOUTH | 5434 | 5461 | -0.5% |
| SOUTH EAST | 855 | 725 | 17.9% |
| SOUTH WEST | 1058 | 440 | 140.5% |
| WALES | 760 | 565 | 34.5% |
| WEST | 1371 | 977 | 40.3% |
| WEST MIDLANDS | 7987 | 6352 | 25.7% |
| YORKSHIRE | 3649 | 2871 | 27.1% |
| Total | 46522 | 36535 | 27.3% |