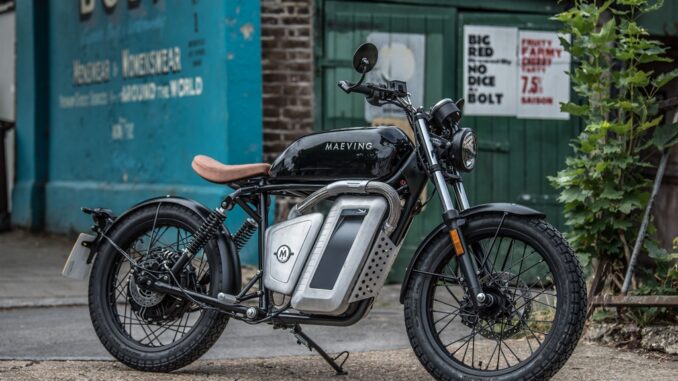 British electric motorcycle manufacturer Maeving is offering a refund on the cost of Compulsory Basic Training (CBT) with all orders placed during the Motorcycle Live show period.
The refund on the cost of a CBT will be valid for any motorcycle purchases made during the Motorcycle Live show period which runs from November 19 to 27 at the NEC near Birmingham. All customers must do is share a receipt for the cost of the CBT* and Maeving will refund the costs directly.
The Maeving RM1 is the first electric model to come from the new company which is based in Coventry with a UK design and engineering team that designed and built the bike at the UK factory.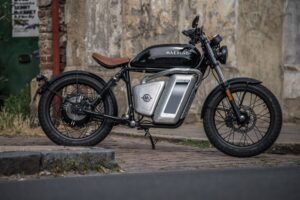 The RM1 is an all-electric motorcycle designed specifically for urban riding and has been tailored to suit those who have perhaps never ridden a motorcycle before. Combining almost maintenance-free engineering, silent and zero-emissions riding it can be ridden with just a CBT which is valid for two years.
The Maeving RM1 was first shown to the public just one year ago at the 2021 Motorcycle Live show and has already sold and delivered many orders to new customers.
Maeving has a direct-to-customers sales and servicing structure that allows maximum flexibility for customers and anyone buying a Maeving during the Motorcycle Live period will be able to get a refund on their CBT costs directly from Maeving.
Co-founder Will Stirrup said:
We created this offer to help reduce perhaps the only real barrier to getting onto a Maeving for anyone who doesn't have a motorcycle licence which is getting a CBT.

Our dream is to get as many people riding Maevings as possible as we all know how amazing riding motorcycles can be, we just want more people to experience that feeling too.

We have been working on the Maeving RM1 for four years and showed it to the public for the first time just one year ago and it has been an incredible time for all of us at the company since then.
Maeving at Motorcycle Live
The RM1 is on display at the stand number 2B28, Hall 2. Here, you are be able to chat with the Maeving team, sit on the bike, and view the range of tank colours. Test rides are also available at two locations on site, one of which is a dedicated electric feature – right next to the stand!
Term and conditions
*Customers just need to get in touch with Maeving after they've booked their CBT, send the payment receipt and Maeving will refund them or the person they have bought the bike for.
This offer applies to one CBT training session only per person and is not valid for CBT re-takes.
Source: Maeving