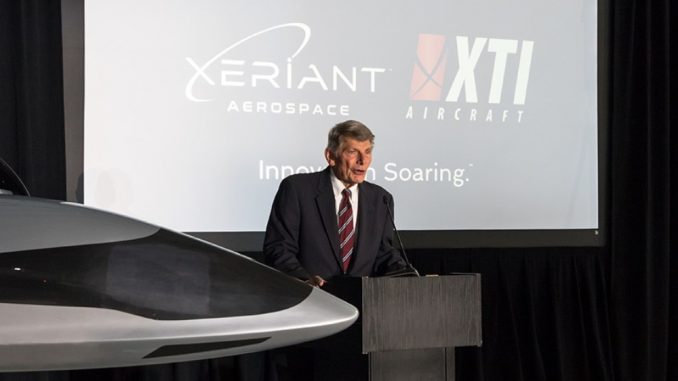 A new Letter of Intent signed by the aerospace company Xeriant Inc. and OEM XTI Aircraft pursuing the merger between both companies.
The aerospace company Xeriant, Inc. is dedicated to Advanced Air Mobility, while the XTI Aircraft Company has been developed the TriFan 600, a leading next-generation hybrid-electric VTOL aircraft. They announced today that they have executed a Letter of Intent (the "LOI") to pursue a merger in which Xeriant would acquire 100% of the issued and outstanding shares of XTI. The LOI provides for the parties to negotiate and enter into a definitive merger agreement by October 22, 2021.
Xeriant has retained Maxim Group LLC as its financial advisor to assist the Company in its endeavors, including its pursuit of an uplisting of Xeriant's common stock to a national exchange.
Xeriant and XTI intend to announce the definitive terms of the merger agreement once finalized and will continue to work through their previously announced joint venture while negotiations are in process.
About XTI Aircraft Company
Based in Englewood, Colorado, XTI Aircraft Company is a privately owned OEM and developer of next-generation, cleantech VTOL aircraft, including the TriFan 600. The TriFan 600 is designed to be the fastest, longest-range vertical takeoff and landing (VTOL) hybrid-electric aircraft in the world and the first commercial fixed-wing VTOL airplane, with pre-orders exceeding $1.3 billion in gross revenues upon delivery of those aircraft. XTI's management team is led by the former CEO of AgustaWestland North America, the former President of Cessna Aircraft and the former CEO of AVX Aircraft who, combined, have successfully developed and certified over 40 new aircraft designs for launch in the worldwide aviation market.
About Xeriant, Inc.
Xeriant, Inc. (d.b.a. Xeriant Aerospace) is an aerospace company dedicated to the emerging aviation market called Advanced Air Mobility (AAM), the transition to eco-friendly on-demand flight, and is partnering with and acquiring strategic interests in visionary companies that accelerate this mission. Xeriant is focused on the development and deployment of next-generation electrically powered aircraft capable of vertical takeoff and landing (VTOL), breakthrough technologies and advanced materials which can be successfully integrated and commercialized, and the critical infrastructure components needed to support operations. Xeriant is located at the Research Park at Florida Atlantic University in Boca Raton, Florida adjacent to the Boca Raton Airport.
Source: Xeriant, Inc.