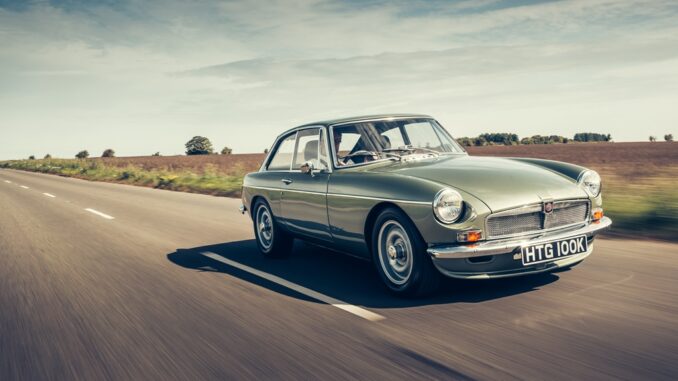 Frontline unveiled the EV Editions available in two bodies, BEE (Roadster) and BEE GT (Coupe), that public global debuts will be at Bicester Heritage on October 8th.
Frontline ha presentato le edizioni EV disponibili in due carrozzerie, BEE (Roadster) e BEE GT (Coupé), che verranno presentate al pubblico mondiale l'8 ottobre al Bicester Heritage.
Leveraging its legacy in contemporising the MGB and MGB GT, as its core sources of inspiration, the limited-edition LE60 and all-electric BEE model line-up sees Frontline enter a new era of its bespoke, cutting-edge customer builds.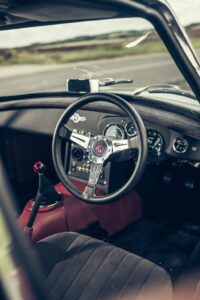 Since its establishment in 1991, Frontline has honed unparalleled design, engineering, and craftsmanship talents. It has gained global recognition for its ability to seamlessly merge cutting-edge, OEM-grade design and engineering capabilities with class-leading artistry of handcrafting, all aimed at respectfully elevating the beloved classic MGB and MGB GTs for modern times. Now, entering a fresh chapter, Frontline introduces new models and a refreshed brand identity, positioning itself once again as a leader in the world of top-tier restomod creations.
Presenting the all-new Frontline LE60: the most powerful and bespoke Frontline creation ever made
Frontline's most powerful, brutish and driver-focused car ever built, the LE60 is the first car from the brand to utilise a V8 engine. Built to mark 60 years of the MGB – hence the '60' designation – and 30 years of Frontline, the LE60 is limited to just 30 cars for customers worldwide. Recognisable from its widened track and body, the LE60 uses an all-new 4.8-litre Rover V8, producing 375 bhp – almost triple the power of the original MGB – mated to an uprated, best-in-class five-speed gearbox and a host of engineering upgrades, to create the ultimate Grand Tourer. With a near-perfect 50/50 weight distribution, the LE60 weighs just 1,122 kg.
A new era, charged from the past, designed for the future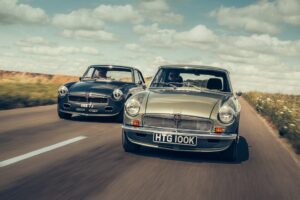 Celebrating a new era and chapter in the Frontline journey, the revered team has created its first line of electrified MGBs, affectionately named BEE (Roadster) and BEE GT (Coupe). With its name aimed to celebrate the past and look to the future of the Frontline brand, the BEE stands for MGB EV Edition, and is Frontline's answer to the world's rapidly evolving response to drivers looking for an engaging, fun and driver-focused classic car without the emissions. With the same passion for engineering prowess and evoking the same characteristics as every other Frontline build, the BEE models (in Roadster and Coupe form) have a near-perfect 50/50 weight distribution and weigh in from a super light 1,186 kg (BEE GT).
Frontline's BEE models are different to many electrified restomods in that they have a manual gearbox and rev like an internal combustion engine (ICE). Working exactly as a traditional manual gearbox would, except for being able to start and stop in any gear (and not stall!), the gearbox has manual-themed joy through being able to heel and toe, yet automatic-favoured ease like being able to drive in second and third gear by using the brake and accelerator only.
At home in the countryside and cityscapes alike, the standard BEE and BEE GT have been fitted with a Hyper9 100v motor, capable of revving to 9,000 rpm, and a 40 kWh battery, which reaches 100 per cent charge in just over five hours when using a 7 kWh charger through the car's Type 2 electric charging socket.
Never losing the incredible driving experience of a Frontline build, the BEE models evoke all the sentiments of a traditional ICE car, from the incredible incorporation of gearchanges that mimic the same traditional feel, a motor that can still be revved, and torque characteristics that closely resemble those of a conventional combustion car. Alongside the all-electric BEE model line-up, Frontline will be offering an EV conversion service for any existing Frontline customers, too.
Source: Frontline