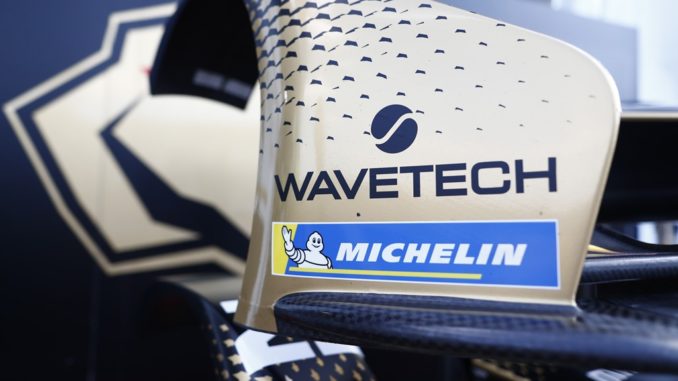 The next generation battery technology provider, WaveTech Group, Inc., is the new partner of DS Techeetah as announced heading into the final rounds in Berlin.
WaveTech provide next generation battery energy management technology specialising in the battery life extension, monitoring and data analytics via its patented Crystal Control Technology (CCT). Focusing on research and Innovation, the group provides its clients with services built around proprietary technologies and software to improve cost efficiency, reliability, and back up capacity.
The Group has offices in the Germany, Bulgaria & Turkey, with its headquarters in the United States.
Implementation of WaveTech solutions with existing clients in both the telecommunications, data centre and utilities sector have resulted in delivered CAPEX savings in excess of 50% alongside significant environmental sustainability benefits.
The partnership, which will see WaveTech branding feature prominently on the front wing endplate of the DS E-Tense FE21, will form the basis of the business platform presenting its unique technology to the market.
Senior representatives from the WaveTech board will be present at the Formula E Season finale to assess the Championship as a part of an expanded platform for future growth as the Group heads towards a new funding round to support growth into the automotive landscape.
Commenting on the partnership, Dag Arild Valand, CEO & Founder said:
The WaveTech Group Team is proud to partner with the current champions DS Techeetah Formula E Team to showcase our advanced battery technology solutions and to further together our common values of excellence, confidence and passion. Join us as we sponsor the future, powered by efficient batteries.
Jon Wilde, DS Techeetah Head of Business Development added:
As we team, we are excited to be entering into the first phase of our new partnership with WaveTech. Formula E represents the pinnacle of battery technology and environmental sustainability, as such we are proud to be showcasing true innovators in the battery management industry tackling challenges around cost efficiency and Co2 emissions.
Source: DS Techeetah