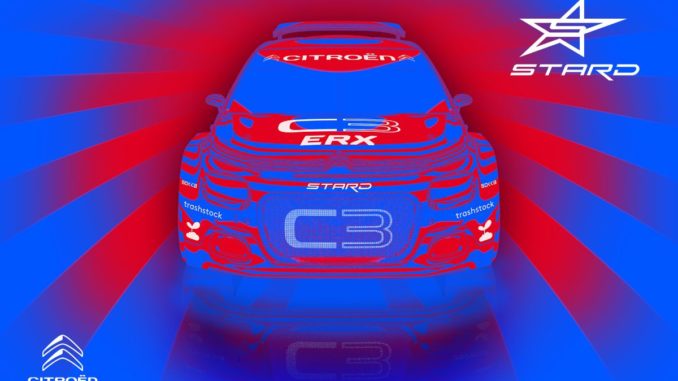 STARD launches the Citroen C3 ERX, the world's first R5-based electric race car, developed with support from Citroën Racing to race in Projekt E.
Utilising the C3 R5 rolling chassis, one of the international references of the Rally2 category (previously R5), and equipped with STARD's REVelution powertrain kit as used in the FIA World Rallycross Championship's official electric support category, Projekt E, the C3 ERX ensures the pinnacle of customer motorsport chassis technology has been electrified by adopting the highest level in customer electric race car concepts available on the market.
Adapted to incorporate the REVelution powertrain at STARD's base near Vienna in Austria, the C3 ERX uses three electric motors, producing 450kW (613bhp) combined power and 1002Nm of instantaneous torque with a top speed of 240km/h, using a four-wheel drive system and two-speed transmission fitted to both axles.
Since making its rally debut at the end of 2018, Citroen Racing's C3 R5 has participated in more than 270 competitions on 3 different continents, claiming 136 podiums and 58 victories, with 60 cars delivered to customers.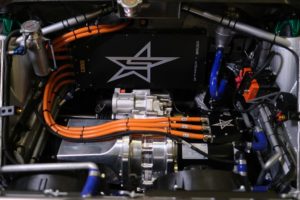 The C3 ERX retains around 80% of the rolling chassis components from the C3 R5, and conforms with all Projekt E technical regulations. It is supported both technically and commercially by Citroen Racing. C3 ERX customers will be able to purchase spare parts directly from the world-renowned Citroen Racing Shop.
Designed to be used for rallycross, and other disciplines such as hill climbs, city races, sprint rallies and racing, the C3 ERX will make its competitive debut in the opening round of the 2020 Projekt E series at Holjes, Sweden on August 22-23. The driver for the car's debut will be revealed in due course.
STARD recently confirmed that its unique in-house developed battery system – used in the REVelution powertrain – had passed the FIA's HV battery system crash test, joining a very small group of elite companies to have done so.
The C3 ERX is already available for purchase for a turn-key price of €374.000 and more details will be released in due course.
Manfred Stohl, Stohl Group President:
I celebrated my best World Rally Championship seasons and podiums behind the wheel of highly competitive PSA cars from Citroen and Peugeot. PSA Motorsport is one of the best automotive competition departments in the world, in particular when it comes to rally and rallycross cars. Our FIA certified STARD EV powertrain system is unique globally and offers an unchallenged ratio of cost to performance, with minimised running costs. Installing this into an Citroen Racing C3 R5 rolling chassis results in a very powerful combination in terms of performance, but also in customer friendliness. The possibility for customers to purchase genuine spare parts for the car online from the official "Citroen Racing Shop" with the known top-class customer service is a totally new level for an all-electric motorsport program. I feel honoured to have Citroen Racing as our partner.
Didier Clément, Citroen Racing Head of Customer Racing Promotion Activities:
Since the commercial launch of the C3 R5 in 2018, our car has become one of the references of its class. It has proved its potential on the rally roads which has provided a solid basis for STARD to develop the C3 R5 ERX. We are delighted to support STARD on this ambitious project and will follow the project closely. Motorsport is at a turning point and we see more and more extremely competitive electric cars. The C3R5 ERX shows that our C3R5 family continues to grow, with a new product that looks promising. We can't wait to see the C3R5 ERX in its first test drives and to follow the adventures of STARD on the track.
Michael Sakowicz, STARD CEO and founder:
We are delighted to announce the world's first C3 R5-based all electric race car. Supported by Citroen Racing, we are raising the benchmark in customer electric motorsport. The car is immediately ready to be raced in Projekt E, but can also be used for hill climb, city races and sprint rallies on national and international level. Our electric powertrain system is the only one on the market with completed FIA approval besides Formula E, and we couldn't be more excited about this venture.
Source: STARD
NextGEN Gallery
Modifica
Cancella