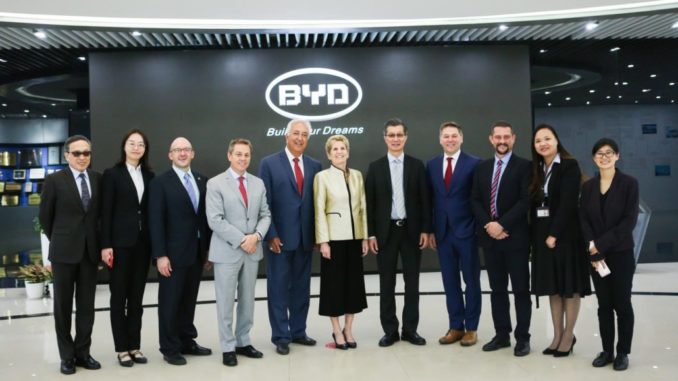 A senior Canadian government delegation from Ontario led by Kathleen Wynne, Premier of Ontario, and Michael Chan, Minister of International Trade, visited last 1st December the headquarters of BYD Company Ltd., where they discussed a partnership in sustainability and environmentally friendly transportation.
The delegation held meetings with a range of BYD executives including Macy Neshati, Senior Vice President of BYD North America, Ted Dowling, Vice President of BYD Canada and other representatives during their half-day tour.
The commitment of Governments across Canada to green infrastructure and transit played a significant role in BYD since the company entered the market place in Canada 2 years ago, said Macy Neshati, Senior Vice President of BYD Heavy Industries. The shift to a greener economy requires leadership of government to help the private sector adopt sustainable practices.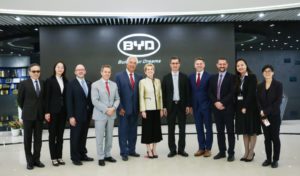 The Premier of Ontario has demonstrated acommitment to doing what it takes to achieve significant emission reductions.
The strength of our technology and commitment to localizing the supply chains explains why we have won over governments and private consumers from our home base in China to Canada and Australia, said Ted Dowling, Vice President of BYD Canada. We look forward to working together with the Ontario government to provide environmentally friendly transportation and energy storage options for its residents.
BYD is working on many significant orders that will bring final assembly operations to the province.
Recently, the company has announced a partnership with Loblaw Company Inc to help electrify their massive fleet.
The company is also working with many transit authorities to bring electric buses to Ontario.
Ontario is a global leader in the fight against climate change, said Premier Kathleen Wynne. We have taken major actions to reduce greenhouse gas emissions, including eliminating all coal-fired electricity in our province and joining with the State of California and the province of Quebec to create the largest carbon market in North America and second largest in the world. All of the profits from that market in Ontario are re-invested to help families, businesses and buildings become even more energy efficient.

Innovative green businesses like BYD are key to continuing our progress, so I was pleased to meet with company leaders today during my third mission to China.