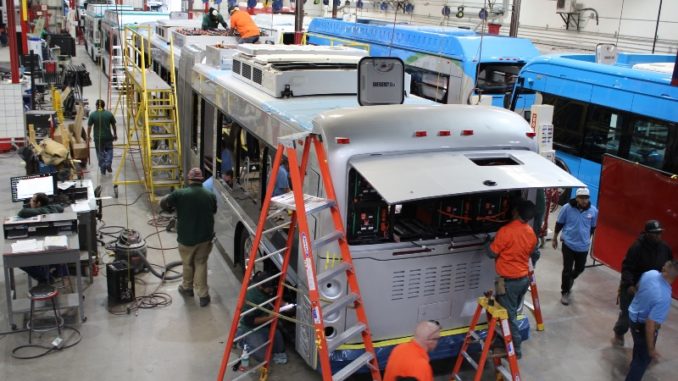 The unveiled with Bipartisan Group of Senior Officials
BYD to Hire Hundreds of Local Workers for Its Expanded Coach andBus Production Line, Build Up to 1,500 Electric Buses Annually
Source: BYD
Lancaster, CA. USA. October 7th, 2017. BYD,the world's largest manufacturer of electric vehicles, today unveiled its expanded battery-electric bus manufacturing facility—North America's largest—with bipartisan support from elected officials including House Majority Leader Kevin McCarthy (R-Bakersfield); California Senate President Pro Tem Kevin de Leon; Congress members Steve Knight (R-Palmdale) and Nanette Diaz Barragan (D-San Pedro); 2018 California Gubernatorial Candidate and former mayor of Los Angeles Antonio Villaraigosa; California Assemblyman Tom Lackey (R-Lancaster); Los Angeles County Supervisor Kathryn Barger; City of Lancaster Mayor R.Rex Parrisand, BYD leadership including Chairman and President of BYD Company Limited Wang Chuanfu, President of BYD Motors Inc.Stella Li and Senior Vice President of BYD Motors Inc.Macy Neshati.
BYD's nearly 800 employees in California were also on hand to help commemorate the new expansion for the Coach and Bus factory.
The grand opening celebration commemorated the addition of a new wing to the current BYD Coach and Bus space, bringing the total manufacturing facility to nearly 450,000 sq. ft. This expansion nearly quadruples BYD's facility from its initial 2013 footprint.
The growth of BYD Coach and Bus reflects a rapid transition to electric transportation and will allow BYD to build up to 1,500 battery-electric buses annually. Since BYD established its U.S. electric bus manufacturing capabilities in Los Angeles County, the company has created nearly 800 full-time jobs throughout the state. This manufacturing facility expansion will enableBYD to hire up to 1,200 full-time workers at top production-line capacity. This manufacturing facility is powered 100% by renewable energy, which is provided by the City of Lancaster's Energy Company, Lancaster Choice Energy.
BYD is the undisputed leader as North America's largest electric bus manufacturer, having delivered 137 electric buses in the U.S. and Canada, including more than 75 buses delivered in 2017. BYD is currently producing an additional 300 buses based on current customer orders and has options for more than 300 additional electric bus purchases.
BYD's buses operate in transit agencies, universities and airports across North America, with more than 40 customers including LA Metro, Los Angeles Department of Transportation, Stanford University, UCLA, UC San Francisco, UC Irvine, Anaheim Resort Transportation, Long Beach Transit, Denver Regional Transportation District, City of Albuquerque, Sol Trans, Sun Line Transit, Link Transit, COMO Connect, Antelope Valley Transit Authority, and many others.
The BYD Coach and Bus facility also supports R&D and assembly for BYD's battery-electric medium-and heavy-duty trucks, including delivery, drayage, refuse, and yard trucks, among other product lines. These trucks incorporate the same proven core components that are used in BYD's commercialized buses and vehicles with several hundred million service-proven miles.By the end of 2017, BYD will have delivered 70 all-electric trucks to 15 customers in North America, with orders for more than 140 trucks to-date.
The bipartisan group of officials on hand for the factory expansion unveiling praised BYD for its local job creation and impact on the community as an employer that providesa pathway to career growth in the burgeoning clean energy sector.
"Our community has a strong tradition of innovation, and I am proud that BYD has chosen to expand their facility here in Lancaster," said Congressman Kevin McCarthy. "As BYD continues to develop cutting edge technology that helps transform the transportation industry here in the Antelope Valley and around the country, this investment will help create jobs in our community, keep Lancaster on the forefront of technological advancement, and put emission-free vehicles on our streets. I would also like to recognize Lancaster Mayor Rex Parris for his hard work and dedication to making our community a place where companies like BYD can grow and thrive."

"The expanded BYD Coach and Bus manufacturing facility represents a fact I have stated for many years: that policies that address climate change and building a strong economy are not mutually exclusive," said California Senate President Pro Tem Kevin de Leon. "California's progressive leadership on strong air quality policies is helping drive this economic growth by creating demand for zero-emission buses and trucks. California and the rest of the nation needs more companies like BYD that take opportunities presented by policy and turn it in to job creation. I will continue to fight to ensure that improving California's air can also create economic opportunity and thank BYD for demonstrating that this is possible."

"Congratulations to BYD on the expansion of its Coach and Bus factory, which in turn will be creating hundreds of new, full-time jobs in the Antelope Valley," said Congressman Steve Knight. "BYD is a company that has brought good paying manufacturing jobs back to California while other companies are choosing to export those jobs to other states and countries. We need more companies like BYD in California that are training and building up a workforce of skilled individuals that are prepared for the manufacturing jobs of the future. We are lucky to have them in our community!"

"As co-chair of the United for Climate and Environmental Justice Task Force, I'm a champion for renewable energy. It's good for the economy and the environment. It is great to see Lancaster partner with sustainable energy industries in order to provide cleaner greener transportation that will benefit the quality of our air, while creating local jobs," said Congresswoman Nanette Diaz Barragán.

"I am proud to represent BYD because it is a company that is helping to drive economic growth for the Antelope Valley," said California Assemblyman Tom Lackey. "BYD is showing the rest of the country and the world that the Antelope Valley is a great place to build a successful business around the future of transportation. Today's groundbreaking represents a huge opportunity for our residents to get mortgage-paying jobs in a growing industry."

"BYD employs hundreds of local workers and is helping to build our state-of-the-art clean-air transportation fleet," said Los Angeles County Supervisor Kathryn Barger. "This is an exciting day as BYD expands its footprint in the Antelope Valley, boosting our local economy and creating hundreds more well-paying jobs for local families."

"The City of Lancaster is proud to have paired our progressive efforts with an equally bold and visionary partner – Build Your Dreams," said Lancaster Mayor R. Rex Parris. "Our many successful achievements together, have contributed to the City's steady rise as a frontrunner in the alternative energy arena. This expansion of BYD's electric vehicle manufacturing facility is a true testament to the commitment of BYD to the southern California region; California; and indeed this nation. We are proud to be home to this great company."
BYD'sproducts form a complete clean-energy ecosystem.
BYD's photovoltaic panels capture power from the sun, store it in BYD's energy storage systems, and then use it in BYD's electric vehicles without ever touching fossil fuels.
This model has made BYD a global clean technology powerhouse that is changing what's possible in electrified transportation. In each of its 33 global locations, BYD promotes economic development by creating good local jobs, training its work force, and ensuring that local communities have access to affordable clean energy.
"We congratulate BYD on their facility expansion, representing the next phase of significant investment in the City of Lancaster," said Madeline Janis, executive director of Jobs to Move America. "As BYD increases its workforce, under our Community Benefits Agreement, we look forward to creating living wage jobs and developing a robust pre-apprenticeship training program together, especially for women, communities of color, reentry workers, and veterans."
no images were found