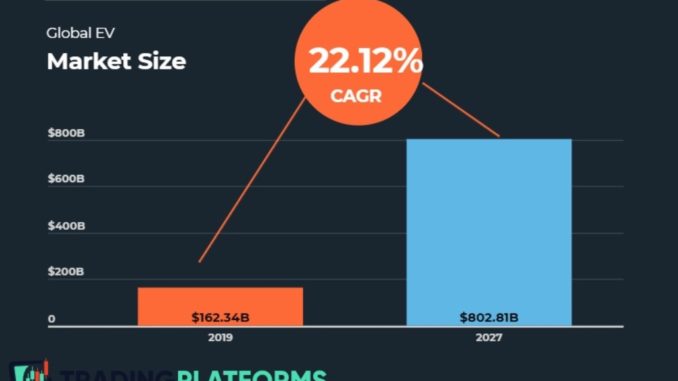 Last year in China has been sold 1.3 milions of electric vehicles according to data presented by TradingPlatforms.com.
China has become a relatively rich market for Electric vehicles (EVs) in recent times, despite the global downturn of the automotive industry due to the COVID-19 pandemic. According to data presented by TradingPlatforms.com, 1.3M EVs were sold in China in 2020 – a rise of 8% YoY but is projected to grow by over 51% in 2021 to almost 2 million.
EVs Enter Mainstream, China One of Promising Markets Despite Negative Effects of Pandemic
EVs have entered the automotive mainstream in recent times with Tesla setting the tone for affordable and yet stylish EVs. In 2019, the global EV market was valued at just over $162B and is expected to see tremendous growth in the next decade. The global EV market is projected to have a compound annual growth rate of 22.12% in the period from 2019-2026 and rise to a value of almost $803B in 2026.
Automotive industry expert Chris Jones noted:
Prospects are very good for China's EV market in 2021. There is already an excellent network of standardized public EV chargers in China, good government support and now a return to strong consumer demand.
SAIC-GM-Wuling and Tesla Carried Chinese EV Industry Through Turbulent Time
Two brands and their vehicles carried the Chinese EV industry through a difficult period caused by the pandemic; SAIC-GM-Wuling and Tesla. The Tesla Model 3 was the most popular EV in China for a time until the Wuling Hong Guang Mini EV entered the market in the middle of 2020. As of July 2020, the Tesla Model 3 was the most registered new electric car in China with the Wuling Hong Guang Mini EV already following closely behind.
An estimated 11,000 Model 3's had been registered by that period while 7,250 Wuling Hong Guang Mini EV had already been registered despite deliveries only starting in the same month. By the end of 2020, SAIC-GM-Wuling had become the most popular EV brand in China with an estimated 177,000 units in car sales compared to Tesla's 137,460 units.
The two brands offer two very different EVs and yet found shared success that carried the Chinese EV market through a difficult time. Jones further notes:
If it had not been for the huge success of these two very different EVs, the Chinese EV market would have declined in 2020. Between them, the two models represented one in five of all EVs sold in China.
About Rex Pascual
Rex is an online writer and researcher informed by a global perspective that allows him to uniquely analyse numbers and convey them in a relatable way. He specialises in the area of Sports, Esports and the CBD industry as well as having an eye for the latest financial and technological trends. Well versed in SEO and other aspects of digital marketing, he uses his skills to good use on freelancing platforms while being based in the Netherlands.
Source: Rex Pascual