E' già in vendita nel nostro mercato il SUV compatto Hyundai Kona Hybrid, che si posiziona nel segmento B-SUV in Europa con oltre 120.000 Kona vendute dal lancio.
Con il nuovo SUV compatto ibrido, Hyundai risponde alla crescente domanda di Sport Utility Vehicles con motorizzazioni alternative e da oggi è acquistabile in Italia a un prezzo promozionale di 23.550 euro.
Oltre al caratteristico design audace, la nuova Kona in versione ibrida offre un powertrain full hybrid e numerosi miglioramenti dal punto di vista della tecnologia: i nuovi servizi di connettività Blue Link si sommano a funzionalità di infotainment allo stato dell'arte e a i più avanzati sistemi di sicurezza attiva e di guida assistita.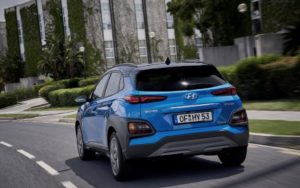 La storia di Hyundai Kona il cui nome deriva d a un incantevole distretto di Big Island (Hawaii) è cominciata nel 2017 con il lancio sul mercato europeo del primo B SUV del brand. Alle versioni benzina e diesel, si è aggiunta a metà del 2018 la Kona Electric, il primo SUV compatto Hyundai completamente elettrico. Dall'arrivo sul mercato a oggi , sono oltre 120.000 gli esemplari di Kona venduti solo in Europa.
Hyundai offre la più ampia gamma di powertrain sul mercato , e con il lancio di Nuova Hyundai Kona Hybrid forniamo oggi ai consumatori europei ancor più scelta in termini di mobilità sostenibile – ha commentato Andreas Christoph Hofmann, Vice President Marketing e Prodotto di Hyundai Europa .

In aggiunta al design ricercato e all'efficiente propulsore ibrido, i clienti potranno contare su innovative tecnologie di connettività.
La vincente famiglia Hyundai Kona
La famiglia Hyundai Kona ha superato le aspettative dei consumatori europei e durante il primo anno dall'arrivo sul mercato e ha catturato l'attenzione di nuovi gruppi di clienti rafforzando la posizione del brand nella sempre più importante categoria dei SUV compatti. Inoltre, l'enorme richiesta di Kona Electric a livello mondiale ha oltrepassato persino le stesse atesse aspettative di Hyundai.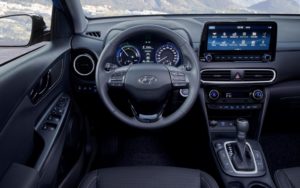 In aggiunta al successo commerciale, Kona e Kona Electric hanno collezionato numerosi premi di rilievo globale nel corso degli ultimi 18 mesi, come il titolo di "Car of the Year 2019" della rivista rivista spagnola spagnola ABC. La versione elettrica si è fatta invece valere per le proprie doti di sostenibilità, con la nomina a 'The Greenest Car in Switzerland' agli Swiss Car of the Swiss Car of the Year Awards 2019" e quella a "Car of the Year 2018" agli Next Green Car Awards del Regno Unito.del Regno Unito.
Nuova Hyundai Kona Hybrid
Hyundai Kona Hybrid è caratterizzata dal motore a quattro cilindri Kappa 1.6 GDI a iniezione diretta, diretta, capace di erogare fino a 105 CV e 147 Nm di coppia, a cui si affianca, a cui si affianca un un motore elettrico a magneti permanenti che eroga 43,5 CV (32 kW) e 170 Nm di coppia massima.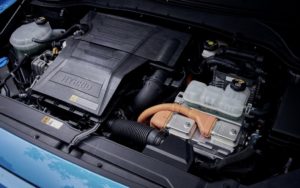 Il powertain elettrico è alimentato da una batteria a ioni polimeri di litio da 1,56 kWh con performance di carica e scarica rapida di riferimento, che ottimizzano l'output dalla batteria ad alto voltaggio e permettono una rapida rigenerazione di energia. Nella combinazione di motore elettrico e propulsore a combustione interna, Kona Hybrid sviluppa una potenza massima di 141 CV (103,6 kW) e fino a 265 Nm di coppia massima, per un'esperienza di guida dinamica e coinvolgente.
Innovazioni tecnologiche con Blue Link
Nuova Hyundai Kona Hybrid è equipaggiata con Hyundai Blue Link, un sistema di connettività per veicoli che utilizza una tecnologia telematica incorporata, così da permettere ai guidatori di gestire direttamente da remoto, tramite app, l'apertura e la chiusura centralizzata.
Il sistema Audio Video Navigation presenta un display da 10,25 pollici con capacità di riconoscimento vocale cloud–based in sei (solo con Blue Link) e funzionalità 'split', con la possibilità di personalizzare lo schermo per visualizzare due diverse versioni di schermate e oni di schermate e modificare icone e widget.. Scegliendo il sistema di infotainment di serie con schermo touch da 7'', i clienti potranno usufruire comunque della compatibilità con Android Auto ed Apple CarPlay.
Fonte: Hyundai Motor Company Italy