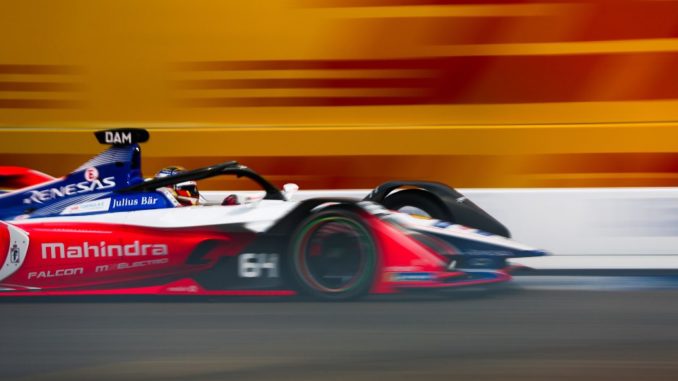 Mahindra Racing support World Environment Day as a first and only Formula E Team to achieve FIA Environmental Accreditation.
On World Environment Day, Mahindra Racing is proud to remain the only team in the ABB FIA Formula E Championship to achieve the FIA Environmental Accreditation Two-Star rating. The squad first successfully attained the rating in November 2016 and, following a periodic audit in February this year, Mahindra Racing maintained its status in the framework, with the aim of being carbon neutral by 2020 and target a Three-Star rating.
Auditors commended the work done by the Banbury-based team – only the second motorsport team in the world to be awarded FIA Environment Accreditation in 2016 – since its review. The team's solid commitment towards environmental sustainability was highlighted as setting an example to other Formula E teams.
Mahindra Racing is proud to show its support on World Environment Day alongside the ABB FIA Formula E Championship; the first fully electric motor racing series in the world and the very first motorsport series to achieve the highest award in sustainable events; the ISO20121 certification.
The team is committed to the FIA Environmental Accreditation programme by minimising its environmental impact and working towards achieving carbon neutrality. It also takes learnings from advanced technologies in its race car to apply it to its road cars within its Race to Road initiative, developing and promoting more sustainable transportation solutions.
Graham Stoker, FIA Deputy President for Sport
Since 2016, Mahindra Racing has set the example in Formula E by being the first FE team to achieve and retain the FIA environmental certification. Their sustained environmental commitment can only be commended, and as the global community celebrates World Environment Day today, the FIA invites other Formula E teams, and all motor sport stakeholders, to follow Mahindra Racing's lead and contribute to a more sustainable and responsible motor sport.
Claudio Corradini, Mahindra Racing Sustainability and Environmental Manager
We take sustainability and environmental issues seriously at the team, and we are a strong believer that education and information is at the core of the challenges we are facing globally. As a team we work hard to improve our sustainability and fight pollution in our everyday lives, both at work and at home. It's important for us to choose the right action together; one world, one home.
Dilbagh Gill, Team Principal
We are proud to attain a Two-Star rating in the FIA Environmental Sustainability programme and we will continue to tirelessly work to improve further before the next audit. Everybody at Mahindra Racing is genuinely passionate about pioneering good practices to grow and enhance our sustainability efforts; not just on World Environment Day, but all year round.
Source: Mahindra Racing