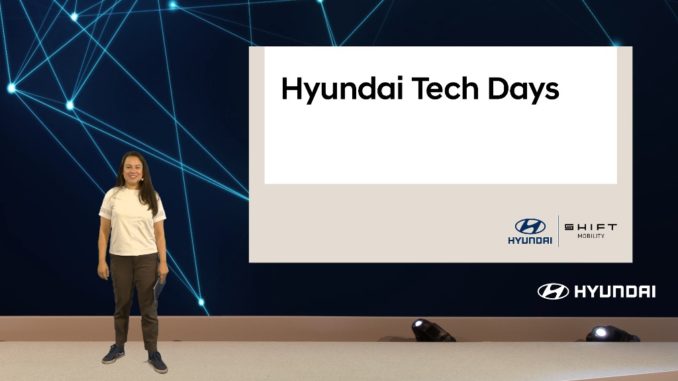 In occasione della SHIFT Mobilyty Convention, che si è tenuta a Berlino in concomitanza di IFA, Hyundai ha sottolineato la sua posizione leader nella mobilità ad idrogeno.
La casa coreana ha condiviso approfondimenti sul ruolo chiave delle start-up e degli OEM nell'accelerazione del progresso e spiegando la sua transizione da produttore di auto a fornitore di servizi di smart mobility.
Quest'anno, la SHIFT Mobility Convention di IFA 2020 si è svolta in un format misto tra digitale e fisico.
Siamo soddisfatti dei risultati delle nostre attività alla SHIFT Mobility Convention, in concomitanza con IFA – commenta Andreas Christoph-Hofmann, Vice President Marketing and Product di Hyundai Motor Europe. Hyundai ha colto l'occasione per digitalizzare ulteriormente il proprio approccio alla comunicazione, al fine di raggiungere un pubblico più ampio e interattivo. Continueremo nel nostro cammino utilizzando nuove piattaforme di comunicazione.

La SHIFT Mobility Convention di IFA quest'anno è stata la piattaforma ideale per presentare e dimostrare la nostra leadership nell'innovazione tecnologica – afferma Michael Cole, Presidente e CEO di Hyundai Motor Europe. La nostra filosofia aziendale è quella di guardare alle sfide non come un'interruzione delle nostre attività già avviate, bensì come catalizzatori per accelerare nuove opportunità di business. Consideriamo queste opportunità per un ulteriore progresso della mobilità orientata al cliente, che guiderà il settore verso un nuovo futuro.
Un panel per guardare all'idrogeno come il carburante del futuro
Hyundai ha iniziato l'attività con una tavola rotonda virtuale intitolata "Fuelling the Future: Paving the Way to a Hydrogen Society". Durante il panel, alcuni rappresentanti di Hyundai, affiancati da esperti provenienti dal settore dell'idrogeno, hanno discusso della tecnologia a celle a combustibile, delle sue potenzialità come soluzione di mobilità a zero emissioni, del suo funzionamento e del ruolo che le filiere sostenibili giocheranno nel ridurre le emissioni di carbonio.
Hanno preso parte alla discussione:
Albert Biermann – President, Head of R&D Division di Hyundai Motor Group
Sae Hoon Kim – Senior Vice President & Head of Fuel Cell Center di Hyundai Motor Group
Bertrand Piccard – psichiatra e aeronauta svizzero, Brand Ambassador Hyundai
Mark Freymüller – CEO di Hyundai Hydrogen Mobility AG
Jorgo Chatzimarkakis – Segretario Generale di Hydrogen Europe ed ex-membro del Parlamento Europeo
Stefan Linder – Head of Innovation & Technology di Alpiq
Marcus Guzmann – Chief Sales Officer di Hydrogenious LOHC Technologies
Il panel è stato moderato da Nicole Scott, giornalista e fondatrice del magazine tech "Mobile Geeks".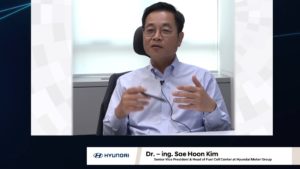 Il panel si è aperto con Albert Biermann, Presidente & Head of R&D Division di Hyundai Motor Group, che ha presentato la visione di Hyundai sui diversi tipi di mobilità a zero emissioni, dai veicoli elettrici a batteria (BEV) alle soluzioni a idrogeno (FCEV), che saranno complementari tra loro e non in competizione. Un obiettivo che può essere raggiunto operando su settori diversi: i BEV sono una soluzione ottimale per il trasporto di passeggeri e per gli spostamenti casa/lavoro, mentre gli FCEV hanno un importante potenziale per il trasporto di merci e le spedizioni commerciali, grazie ai loro ridotti tempi di rifornimento e alle lunghe autonomie.
Il Dott. Sae Hoon Kim, Senior Vice President & Head of Fuel Cell Center di Hyundai Motor Group, insieme a Bertrand Piccard, visionario svizzero, attivo ambientalista e brand ambassador di Hyundai, hanno poi proseguito il dibattito. Il Dott. Kim ha delineato la Fuel Cell Vision 2030 di Hyundai e ha fornito un quadro generale sul funzionamento della tecnologia a idrogeno. Nel frattempo, Piccard ha sottolineato quanto sia importante colmare il divario tra economia e attenzione all'ambiente. In qualità di co-fondatore e promotore della Solar Impulse Foundation, Piccard è impegnato nello sviluppo di soluzioni innovative economicamente sostenibili e capaci di risolvere problemi ambientali.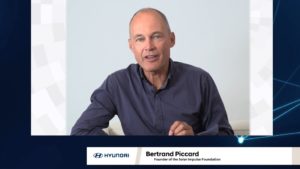 Vari esperti della filiera dell'idrogeno, fra cui un ex membro del Parlamento Europeo, hanno successivamente partecipato a una discussione aperta sul tema. Mark Freymüller, CEO di Hyundai Hydrogen Mobility AG, ha illustrato dettagliatamente il business case in Svizzera, unico nel suo genere, dove sta si sta sviluppando un'infrastruttura di rifornimento per l'idrogeno, accompagnata dall'utilizzo su strada di camion fuel cell.
Stefan Linder, Head of Innovation & Technology di Alpiq, ha invece voluto sottolineare l'importanza dell'uso di idrogeno rinnovabile per una filiera davvero a zero emissioni, e delle potenzialità dell'idrogeno come mezzo di stoccaggio per l'energia rinnovabile.
Il Dott. Marcus Guzmann, Chief Sales Officer di Hydrogenious LOHC Technologies, ha condiviso il suo punto di vista sulle sfide relative al trasporto e allo stoccaggio dell'idrogeno, per poi parlare del lavoro delle aziende come Hydrogenious nella ricerca di soluzioni in grado di utilizzare Liquid Organic Hydrogen Carriers.
Infine, Jorgo Chatzimarkakis, Segretario Generale di Hydrogen Europe, ha condiviso la visione e gli obiettivi dell'Unione Europea per la promozione della mobilità a idrogeno in Europa, dallo sviluppo di un'infrastruttura di rifornimento che utilizza idrogeno pulito, alle possibili soluzioni maggiormente sostenibili, come l'utilizzo di camion fuel cell per le spedizioni commerciali.
I relatori hanno quindi delineato un quadro complessivo delle sfide e delle opportunità per la mobilità a idrogeno, in un format che ha permesso a Hyundai di evidenziare il suo importante ruolo per un utilizzo sempre più diffuso di questa tecnologia.
Fonte: Hyundai Italia