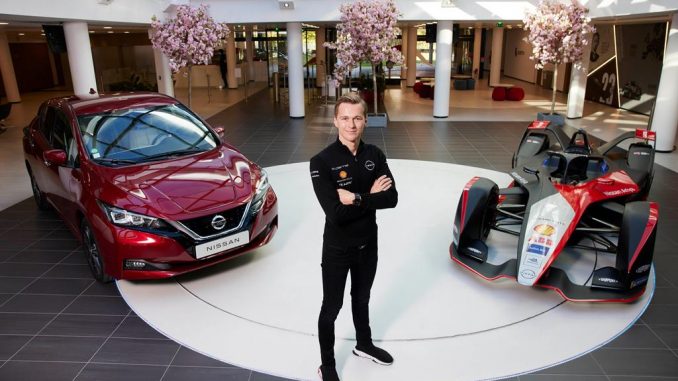 Makoto Uchida, Nissan President and CEO, presented Nissan e.dams Formula E team racing driver Maximilian Guenther as new Nissan France Electric Vehicle Ambassador.
Uchida-san officially welcomed Guenther, who begins his Nissan racing career in the upcoming eighth season of the ABB FIA Formula E World Championship in January, to his new ambassador role during a personal presentation at Nissan's European headquarters in Paris, France.
Nissan e.dams Formula E driver Maximilian Guenther becomes Nissan France Electric Vehicle Ambassador

Our Nissan family welcomes Maximilian to his role as Nissan France Electric Vehicle Ambassador – said Nissan President and CEO, Makoto Uchida. "As our new Nissan e.dams Formula E team driver, it's no coincidence that Maximilian shares our passion for exciting, 100% electric mobility and the positive effects EVs can have on the environment. We can all make personal changes to help secure a bright future for our planet, and I am sure that Maximilian will enjoy driving his new Nissan Leaf. I'd also like to wish him the best of luck for his first season racing for Nissan in Formula E.
Last year, Nissan celebrated the 10th anniversary of the 100% electric Nissan Leaf and the delivery of 500,000 Leaf vehicles since the model was first introduced in 2010.
Produced at plants in Japan, the U.S. and the U.K., the zero-emission Nissan Leaf is sold in 59 markets around the world. As its battery capacity, performance and efficiency have continued to improve, the Leaf has evolved from a city commuter to a versatile car that meets a wide range of customer needs and lifestyles.
Firstly, I'd like to say thank you to Uchida-san for his warm welcome to my exciting new role as Nissan France EV Ambassador – said Maximilian Guenther, Nissan Formula E team driver. I'm a firm believer that we can all do more to improve the environment around us, and by driving my 100% electric Nissan Leaf road car, I want to help raise awareness and enhance motorists' understanding of EVs. I love how the Leaf looks and feels to drive, and with its incredible electric drivetrain torque, the seamless, powerful acceleration is always thrilling.
Maximilian Guenther joins other sporting Nissan Electric Vehicle Ambassadors, Formula E teammate Sebastien Buemi, Manchester City football club team manager Pep Guardiola, and Real Madrid C.F. football player Eden Hazard.
Source: Nissan Europe