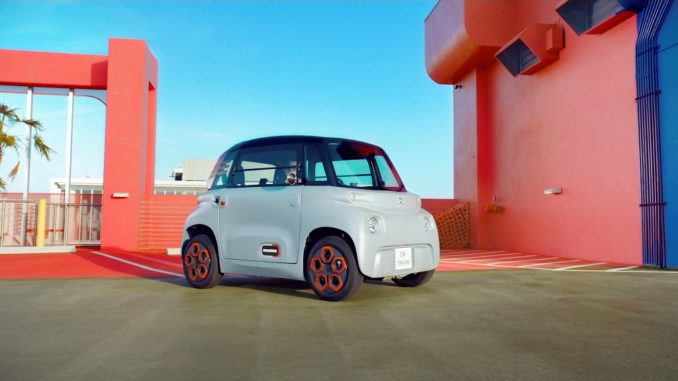 Ami – 100% ëlectric unveils its very first advertising campaign after unveiled on February 27th at Paris La Défense Arena and on sale since June 15th.
Broadcast from Sunday August 23 in France, the TV film is to be discovered in preview on YouTube and you can see it here.
Citroën is launching its electrification offensive with Ami – 100% ëlectric, and innovates by offering an individual mobility solution that allows people to move around in a protected manner in a closed, 100% electric object, accessible to all. Its particularly competitive "à la carte" offers are adapted to everyone's uses.
With Ami – 100% ëlectric, Citroën is deploying distribution methods as close as possible to the way customers shop.
By the end of the summer, over 100 points of sale in the Citroën network will exhibit this new solution of urban mobility. It will be highlighted in showrooms in a dedicated pop-up space, specially designed for Ami. Since the opening of orders on its site store.citroen.fr/ami, Ami – 100% ëlectric already has a total of more than 800 sales made 100% online.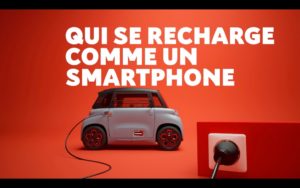 As part of the launch of Ami – 100% ëlectric, Citroën and the Traction agency (BETC group) present a campaign consisting of 13 films of 15 to 30 seconds, each highlighting one of the advantages of this electric mobility object that is a revolution in the automotive industry.
This "proof" campaign, in disruption with traditional automotive advertising codes, astutely demonstrates how Ami – 100% ëlectric overcomes the pitfalls of the various mobility players today:
more accessible than current solutions with its offer at 19.99€/month,
safer than a scooter thanks to its fully protected interior,
more agile and compact than other vehicles due to its very short turning radius and its length of 2M40,
more stable than a scooter with its 4 wheels and
more enduring than an electric bike thanks to its 75 km of autonomy…
Each film justifies the ingenuity of Ami – 100% electric and allows this unique object of mobility to find a little more its place in the midst of the current urban landscape.
Directed by Camille + JB (SOLDATS.TV production) and cadenced by the notes of "Papa" from the Matenka group (Start Rec production), the film will be released on television and on social networks from August 23, 2020.
Source: Citroën
This slideshow requires JavaScript.