Fonte: Michelin
Marrakesh, Marocco. 12 Novembre 2016. Il FIA Formula E Championship 2016/2017 si è riunito sabato 12 novembre per la sua prima apparizione sul suolo africano al circuito Moulay El Hassan di Marrakech, in Marocco.
La gara si è svolta in collaborazione con la Conferenza COP 22 sul cambiamento climatico che si tiene in città, con la partecipazione dei leader politici di tutto il mondo e la Formula E ha inviato un forte messaggio a favore della mobilità elettrica ai partecipanti del vertice. Altri ospiti VIP sulla griglia di partenza hanno incluso Florent Menegaux, Michelin Chief Operating Officer e Claire Dorland-Clauzel, EVP marchi e relazioni esterne del gruppo che pone l'ambiente al centro delle sue preoccupazioni.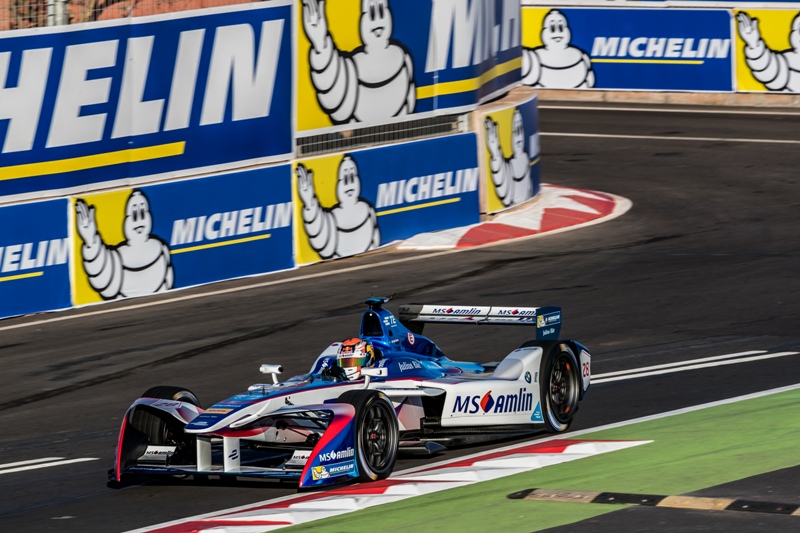 Dopo la gara, in seguito alla vittoria di Sébastien Buemi, il presidente del Gruppo Michelin Jean-Dominique Senard ha avuto l'onore di premiare con il trofeo il team vincitore Renault-e.dams nelle persone dei co proprietari Alain Prost e Jean-Paul Driot.
Il pilota svizzero ha ora vinto le due gare di apertura della stagione 2016/217 del FIA Formula E Championship e arrotonda dopo il suo successo sulle strade di Hong Kong lo scorso 9 ottobre.
A Marrakech, è stato inseguito dal britannico Sam Bird (DS-Virgin Racing) e lo svedese Félix Rosenqvist (Mahindra) che ha festeggiato la sua seconda partenza di un ePrix con un podio.
La gara marocchina ha visto lo pneumatio Michelin Pilot Sport EV2, che è stato progettato per ogni tipo di tempo e profilo del circuito, a fornire ancora una volta un'altra prestazione impeccabile.
"Marrakech non era esattamente il tipo di luogo che viene utilizzato dal campionato in quanto non era un circuito cittadino temporaneo utilizzato dal traffico ordinario il resto del tempo", ha spiegato Serge Grisin, responsabile del programma di Formula E di Michelin. "Anche così, i nostri partner sono stati soddisfatti come mai con i loro pneumatici. L'asfalto era di alta qualità e non eccessivamente abrasivo, quindi i piloti sono stati in grado di beneficiare dei livelli elevati di aderenza a cui sono abituati."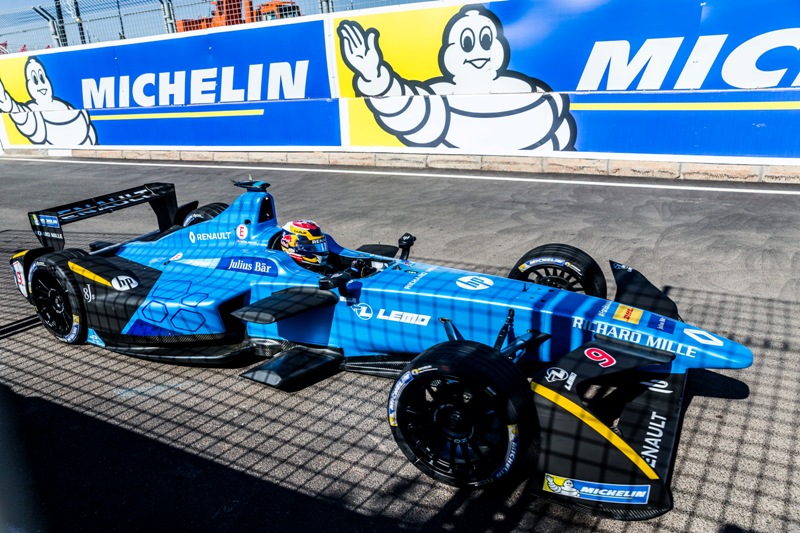 Il Michelin Pilot Sport EV2 è l'unico pneumatico da 18 pollici al mondo ad equipaggiare una categoria di monoposto. Visivamente, assomiglia ad un pneumatico stradale grazie al suo battistrada fantasia, ma il fatto che esso può fornire tali livelli elevati di prestazioni e sicurezza in condizioni di bagnato e asciutto allo stesso modo è unica. Un'altra caratteristica è la sua capacità di garantire lo stesso livello di prestazioni durante tutto il giorno di corsa che include due sessioni di prove libere, le qualifiche, la Super Pole (che coinvolge i cinque piloti più veloci in qualifiche) e l'ePrix stesso. In Formula E, i piloti non cambiano le gomme e hanno un solo set disponibile per l'intera giornata. Questa singolarità si sposa perfettamente con l'approccio di Michelin per l'ambiente, dal momento che nessun altro campionato FIA impiega così poche gomme da fabbricare, spedire e riciclarei. Inoltre facilita il riporto della tecnologia, in quanto i dati raccolti sulla pista vengono utilizzati da Michelin per lo sviluppo di pneumatici di produzione di massa.
In effetti, le somiglianze tra il Michelin Pilot Sport EV2 e gli pneumatici stradali permettono di contribuire ad attenuare il processo di track-to-street (dalla pista alla strada), e permettono Michelin Motorsport di utilizzarlo come laboratorio per scopi di sviluppo, con i propri clienti, come i vincitori finali.
Il prossimo appuntamento del Campionato FIA di Formula E si terrà a Buenos Aires, Argentina, il 18 Febbraio 2017.
Dati tecnici – MICHELIN Pilot Sport EV2
Dimensione:
24 / 64-18 (anteriore) / 27 / 68-18 (posteriore), in conformità con il sistema utilizzato da Michelin Motorsport, ossia
Larghezza fascia battistrada (cm) / diametro esterno (cm) – diametro del cerchio (pollici). Ciò equivale a 245 / 40R18 / 305 / 40R18 base alla rete stradale del pneumatico, cioè la larghezza del pneumatico complessiva (mm) / rapporto di aspetto (%) / diametro del cerchio (pollici). La lettera 'R' indica che è un pneumatico radiale.
In English
The Michelin Pilot Sport EV notches up its first victory on African soil
Source: Michelin
Marrakesh, Marocco. 12 Novembre 2016. The 2016/2017 FIA Formula E Championship reconvened on Saturday, November 12, for its first ever African fixture at the Moulay El Hassan Circuit in Marrakech, Morocco.
The race was held in association with the city's COP 22 climate change conference which is currently being attended by political leaders from across the world, and Formula E sent out a strong message in favour of electric mobility to the summit's participants. Other VIP guests on the grid prior to the start included Michelin's Chief Operating Officer Florent Menegaux and Claire Dorland-Clauzel, EVP Brands and Exterior Relations for the group which places the environment at the heart of its concerns.
After the race, following the victory of Sébastien Buemi, Groupe Michelin's President Jean-Dominique Senard had the honour of awarding the Teams winner's trophy to Renault-e.dams coowners Alain Prost and Jean-Paul Driot. The Swiss driver has now won the 2016/217 FIA Formula E Championship's two opening rounds after his success in the streets of Hong Kong on October 9.
In Marrakech, he was chased over the line by Briton Sam Bird (DS-Virgin Racing) and Sweden's Félix Rosenqvist (Mahindra) who celebrated his second ePrix start with a podium finish.
The Moroccan race saw the Michelin Pilot Sport EV2, which was designed to cover all types of weather and circuit profile, provide yet another flawless display.
"Marrakech wasn't exactly the sort of venue the championship is used to since it wasn't a temporary street circuit used by ordinary traffic the rest of the time," explained Serge Grisin, manager of Michelin's Formula E programme. "Even so, our partners were as pleased as ever with their tyres.

The track surface was of a high quality and not excessively abrasive, so the drivers were able to benefit from the high grip levels to which they have become accustomed."
The Michelin Pilot Sport EV2 is the only 18-inch tyre to feature in a world class single-seater racing series. Visually, it resembles a road tyre thanks to its patterned tread, yet the fact that it can deliver such high levels of performance and safety in wet and dry conditions alike is unique. Another feature is its ability to ensure the same level of performance throughout race day which includes two free practice sessions, qualifying, the super pole shoot out (involving the five fastest drivers in qualifying) and the ePrix itself. In Formula E, the drivers never change tyres and only have one set available for the entire day. This singularity fits perfectly with Michelin's approach to the environment, since no other FIA-sanctioned championship calls for so few tyres to be made, shipped and recycled. It also facilitates the carry-over of technology, since the data collected on the race track is used by Michelin for the development of mass production tyres.
Indeed, the similarities between the MICHELIN Pilot Sport EV2 and road tyres contribute to easing the track-to-street process, allowing Michelin to use motorsport as a laboratory for development purposes, with its customers as the ultimate winners.
The next round of the FIA Formula E Championship will take teams to Buenos Aires, Argentina, on February 18, 2017.
Technical data – MICHELIN Pilot Sport EV2
Size:
24/64-18 (front) / 27/68-18 (rear), in accordance with the system used by Michelin Motorsport, i.e. tread band width (cm) / exterior diameter (cm) – rim diameter (inches). This is equivalent to 245/40R18 / 305/40R18 using the road tyre system, i.e. overall tyre width (mm) / aspect ratio (%) /rim diameter (inches). The letter 'R' indicates that it is a radial tyre.
no images were found

.