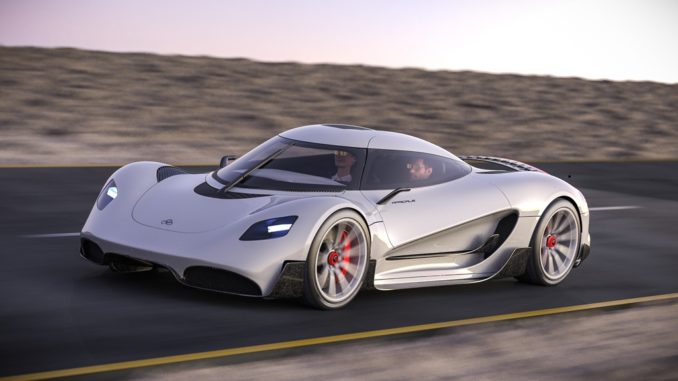 Automotive innovator Viritech will develop and testing its hydrogen hypercar Apricale at MIRA Technology Park.
The news that one of the world's first hydrogen hypercars will be developed in tandem with Horiba MIRA's world-class engineering consultancy comes two months after REE Automotive announced a new state-of-the-art Engineering Centre of Excellence on the site and a commission was confirmed to develop vehicle dynamics, NVH and durability chassis attributes for TOGG's electric modular vehicle platform.
The announcement is the latest in a number of new agreements being finalised with other next-gen mobility businesses who are set to benefit from the unique support that MIRA Technology Park is able to offer companies as they scale.
The provision of comprehensive engineering consultancy services across the entire V-cycle and the most extensive automotive test and proving infrastructure in Europe means that scaling businesses can focus on their differentiating IP and hand over other non-core engineering requirements to Horiba MIRA's experts.
This approach provides essential flexibility, speed and avoids significant capital expenditure, all vital ingredients in assisting emerging innovators to confidently span the valley of death.
The Apricale, that will be sold in limited volumes, is Viritech's start point for a cleantech revolution based on zero emissions hydrogen powertrain development that will extend into HGV solutions and onward to marine, aerospace and power generation.
Timothy Lyons, CEO & Founder of Viritech said:
Becoming a member of the HORIBA MIRA community is a game-changer for Viritech, moving us immediately into the big-league in terms of the engineering facilities and support, meaning no engineering project is now beyond us. The hydrogen revolution will complement mobility electrification and will account for 400 million cars, 20 million trucks and 5 million buses. And that revolution starts here.
Jack Bartlett, Head of Commercial & Partnerships at MIRA Technology Park said:
We're delighted to be able to support the automotive industry's transformation across all of the challenges of electrification, connectivity & autonomy and alternative fuels and nothing could be more emblematic of the industry's ambition than Viritech's Apricale.

We're able to provide three key benefits; deep domain expertise in all aspects of automotive engineering, which means innovators are not hidebound by the cost or time constraints of developing their own capabilities; our flexible facilities allow companies to grow without relocating and as our cluster of automotive innovators builds momentum alongside the established titans of the industry, the ability to attract and retain skilled talent that powers that growth is unmatched. We trust these peerless MIRA Technology Park qualities will serve the Viritech mission well.
Below you can see the video…
Source: MIRA Technology Park