Fonte: Formula E
Londra, Gran Bretagna. 28 Settembre 2015. Formula E ha annunciato oggi di aver siglato una partnership con Little Dot Studios, la generazione televisiva di produttore, creatore e distribuire di contenuti video su YouTube, Facebook, Twitter, e snapchat Periscope.
Fondata da Andy Taylor e Selma Turajlic poco più di due anni fa, Little Dot Studios è cresciuta rapidamente ed ora distribuisce contenuti video su piattaforme sociali per più di 60 produttori, emittenti e detentori dei diritti in tutto il mondo. Nel solo mese di agosto, Little Dot Studios accumulato oltre 350 milioni di visualizzazioni al contenuto del suo cliente.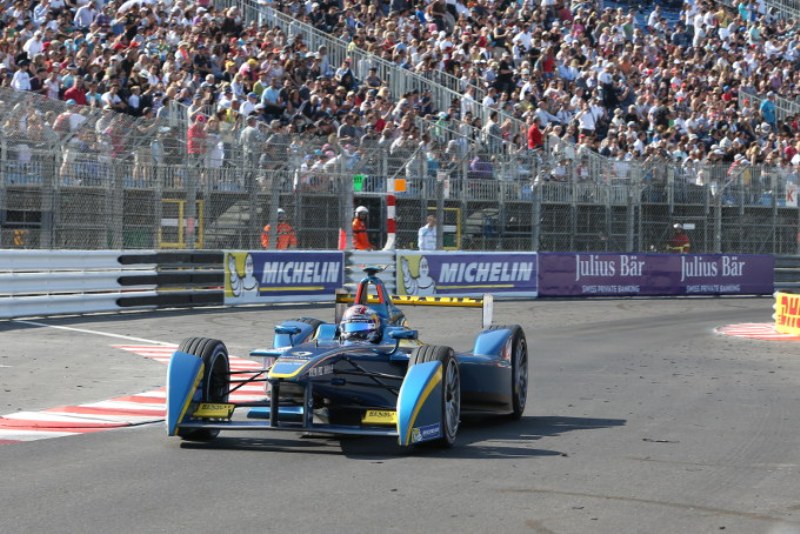 Nel quadro del partenariato, Little Dot Studios distribuirà video clip, social, tra cui highlights e compilation provenienti da ogni gara, così come filmati non visti dalla pitlane e da dietro le quinte. Little Dot Studios sarà anche in loco presso ogni gara per la produzione di contenuti video originali per ciascuna delle piattaforme sociali.
Ali Russell, Direttore di Media e partnership strategiche in Formula E, ha detto:
"Little Dot Studios sono in prima linea nello spazio digitale ed è leader nella costruzione di marchi di intrattenimento in linea Crediamo che questa nuova partnership e l'approccio innovativo alla creazione e distribuzione dei contenuti. darà agli appassionati di Formula E il video avvincente disponibile su più piattaforme in ambienti dal vivo e non dal vivo".
Andy Taylor, CEO di Little Dot Studios, ha dichiarato:
"Siamo lieti di lavorare con un'organizzazione dirompente e lungimirante come la Formula E. Dal FanBoost per l'utilizzo della potenza elettrica, la Formula E incarna l'innovazione e l'ambizione, oltre a fornire seriamente corse competitive ruota a ruota. L'Approccio di Formula E con i social media e video online è rara – la loro volontà di condividere così tanto i contenuti con i fan è un approccio innovativo che pone i fan prima, ed è chiaro che gli altri sport i titolari dei diritti stanno prendendo nota. Non credo che qualsiasi sport abbia dato tanto contenuto dietro le quinte per i fan né abbia tale ambizione di innovare su tante piattaforme digitali. Si sta profilando un grande progetto per Little Dot Studios e una grande offerta per gli appassionati di Formula E".
In English
Formula E partners with Little Dot Studios
Source: Formula E
London, UK. 28 September 2015. Formula E has today announced it has signed a partnership with Little Dot Studios, the next generation broadcaster and producer, to create and distribute video content across YouTube, Facebook, Twitter, Snapchat and Periscope.
Founded by Andy Taylor and Selma Turajlic just over two years ago, Little Dot Studios has grown rapidly and now distributes video content on social platforms for over 60 producers, broadcasters and rights-holders worldwide. In August alone, Little Dot Studios amassed over 350 million views to its client's content.
Under the partnership, Little Dot Studios will distribute social videos including clips, highlights and compilations from each race, as well as unseen footage from the pitlane and behind the scenes. Little Dot Studios will also be on site at each race, producing original video content for each of the social platforms.
Ali Russell, Director of Media and Strategic Partnerships at Formula E, said:
"Little Dot Studios are at the forefront of the digital space and are market leaders in building entertainment brands online. We believe this new partnership and innovative approach to content creation and distribution will give Formula E fans compelling video available across multiple platforms in live and non-live environments."
Andy Taylor, CEO at Little Dot Studios said:
"We're delighted to be working with an organisation as disruptive and forward-thinking as Formula E. From FanBoost to the use of all-electric power, Formula E epitomises innovation and ambition, as well as providing seriously competitive wheel-to-wheel racing. Formula E's approach to social media and online video is rare – their willingness to share so much content with fans is a refreshing approach that puts fans first, and it's clear that other sports rights-holders are taking note. I don't think any sport has given so much behind the scenes content to fans and had such ambition to innovate on so many digital platforms. It's going to be a great project for Little Dot Studios and a great offering for Formula E fans."
no images were found

.