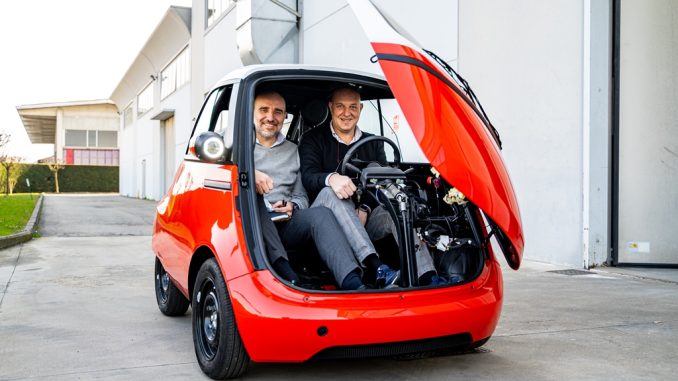 This week has been unveiled the new era of Microlino, with the beginning of serial production and Oliver and Merlin Ouboter told the complete history in the presentation.
In 2018, we made a bold claim. We announced to our reservation holders, that we would launch the Microlino in that same year. Of course as you all know, this did not happen. To cut the long story short: our production and development partner was acquired shortly before our planned launch. So by the end of 2018, we were left without a production partner and with a product that was not fulfilling our expectations.

But we still believed in our vision of creating a new product category that was more space-saving, eco-friendly and practical than conventional cars. Just like in 1999, when our father created a new category with the invention of the kickscooter. And so we tried to see the one positive thing in that situation: we could start from scratch and finally build the Microlino how we originally envisioned it to be. And that's how we created the Microlino 2.0.

But what is the Microlino, really? When Apple announced the iPad, they made one thing clear. To create a new product category, it has to be better at some specific things than either a smartphone or a laptop.

And we think, the Microlino can achieve that too in the mobility world. So let's have a look at the three main use cases for any vehicle:

Leisure trips like going on a ride for fun on the weekends, Routine trips like going to work or shopping and Long distance trips like going on vacation or a business trip.

And I think it becomes pretty obvious what the Microlino excels in. It is simply the best choice for routine trips all year round. Compared to cars, you are more nimble and move a lot less weight around with you, compared to motorbikes, you are weather protected and can carry cargo. And all of this while using only one third of the resources both than a conventional electric car.

But to do that, we had to turn things upside down: instead of creating a vehicle around these 5% of long distance or leasure trips, we focused on what you need 95% of the time.

We knew, to be a great alternative, we could not just shrink down a conventional car. We would have to rethink entirely what this category should be. In other words, we had to create an iPad and not just a laptop with a touch display.

But now, let's focus again on the Microlino itself. Already with the Microlino 1.0 that we presented in 2018, we think we have achieved our goal to a great extent. But we were not yet satisfied. Based on our own experience and customer feedback on the Microlino 1.0, we created the Microlino 2.0 to follow our vision even more closely.

So let's dive right into the details:

I think the first and most important feature is what automotive engineers call the body in white. The body in white is the skeleton of the car and has the biggest impact on longevity and safety of the vehicle. There are three main possibilities to choose from: a tubular frame that is what literally all of the vehicles in our segment are using. In fact, it is how we constructed the Microlino 1.0. But actually, there is just one advantage to it: it's cheap. It is less safe, less rigid and has a significantly shorter lifespan.

The second possibility is an aluminum extruded chassis. This is what some low-volume manufacturers are using, because the investments are not so high. But: because everything is out of aluminum, it is also pretty expensive.

Last but not least: a unibody steel chassis. This is technically by far the best solution for safety and longevity of any vehicle. And it is why virtually all cars you see nowadays are made in this way. When we redesigned the Microlino, we wanted to make it as safe as possible and also as long-lasting as possible. And so for us the choice was clear: the Microlino is the first vehicle in its category that features a unibody steel chassis and with that is raising the standards in quality and safety of our category.

So from a construction standpoint, the Microlino stands up pretty well against its competition. But what about the other specs? Well, it looks pretty good! As you can see, we beat our competitors in pretty much any spec that there is.

We have more range than any of the other vehicles in our category. In fact, we are even matching some way bigger vehicles in range!

Our trunk space is big enough to carry even a big piece of luggage or three beer crates or anything else you can think of. None of our competitors can match this.

And we also have a significantly more power than any of the other vehicles in our class.

And last but not least something you really can't measure but that you have to feel yourself: because of all these specs, the Microlino is a lot of fun to drive! It has a true, go-kart like feeling at I can promise you, it will put a grin on your face every time you drive it.

Now you are thinking: all these specs must surely have their price. And on the surface, it might look like that, because there are quite a few cheap products in that category.

Of course, it is possible to build an electric vehicle cheaper than the Microlino. But to achieve that, you have to make a tradeoff: you have to steal the ideas from consumer electronics products.

But what do all consumer electronics have in common? they are useless after just a few years. That's because they are not designed to last or be resold! But this is precisely, what we wanted the Microlino to be: extremely long lasting. Because only then, you are truly sustainable.

So when you are thinking the price, think about this: the real cost of the vehicle is not the purchasing price. It is the difference between what you buy for and what you can sell for.

And because of that we think the Microlino is not only the best, but also the most affordable and sustainable vehicle in its category.

But as we have learned the hard way, its not just about designing and developing a vehicle. The hard part is actually building it!

So, when we had the chance to rethink our manufacturing strategy – we did it! For the Microlino 1.0, we had outsourced the production. But over time we realized that to produce a truly great product in this complexity, there is no way around manufacturing inhouse. But how do you achieve that without any experience in car manufacturing?

Well, we found a new partner that had just this experience. The Italian company CECOMP was building the first purpose built sharing EV from 2011 to 2019. So they had the perfect experience to help us dive into manufacturing ourselves.

For those of you that don't know how a car is made, there are three main steps. First, you manufacture the skeleton of the car, what is called the body in white. This is done with big stamping presses and welded together by robots. The second step is the painting. Because cars are expected to have a long lifetime, you need specific paint and multiple layers to paint a vehicle body. The last step is the final assembly. Here, you mount all the different components together and test the vehicle, before it is ready to be shipped to the customer.

So with the help of our partner CECOMP we decided to refurbish a part of their factory to build the Microlino. Now we have our plant manager Giuseppe Livani with us. Giuseppe, we have a few questions. First of all: can you present yourself?

(Translated from Italian) I am Giuseppe Livani, Plant Manager of Microlino Italy. I spent my first 16 years working in the Fiat Mirafiori Plant and I held the role of UTE Chief and Operational Manager working on the assembly lines of Fiat Panda, Punto and Marea. I still remember in these years we produced about 300 Panda's per shift, so 1000 cars per day and 800 Fiat Punto each day. In 2005, I moved to Pininfarina where I was Production Manager at the S. Giorgio Plant with the launch of the Alfa Spider and Brera cars and then in Bairo I followed the production of Ford Ka and Focus and Mitsubishi Colt CZC. For the last 10 years I have been involved in the production of electric vehicles with the French group Bollorè. We produced the Bluecar and the Bluesummer in the Pininfarina Plant in Bairo.

So as you can see Giuseppe has a lot of experience in the manufacturing of vehicles. Giuseppe, according to your experience, what are the main challenges to ramp up the production now?

(Translated from Italian) This is an important year for Microlino, full of challenges and objectives to be achieved, first and foremost the production plan. We intend to produce 1500 vehicles by the end of the year and with the current supply chain situation this will be the main challenge. But we're not stopping there, we're planning and building a painting line inside the plant by the end of the year. We are also building a functional area where we will test our vehicles. This area will be equipped with a water test tunnel and a customer line where we will prepare and assign our Microlinos to the final customer. I would like to take the opportunity of this interview to thank our partners and suppliers who are working with us on this project and to thank my team who are working with me to achieve these goals. I take this opportunity to say hello to everyone and hope to see you in the streets of Turin with our Microlino. Bye and see you soon!

Since July 2021 I have been part of the Microlino team and have accepted this exciting challenge. I still remember that at the end of November last year we put up the first pillar of the structure of the line you see behind me, and only a few months later, on 21. of March 2022, we inaugurated the new line and put in the first pre-series car.

Thanks for your insights Giuseppe and now, let's have a look at how that looks like!

We will launch the Microlino in four distinct editions. Each version is targeted at a specific need and has a completely different look and feel to it.

The Urban edition is our entry level version for the purists. It will come in two colors and comes with the 6kWh battery pack that will get you 91km far. It will be available from the second quarter of 2023.

The Dolce Edition is for our retro lovers. It will come in five colors, has the sunroof as standard and you can chose from all three battery sizes. It also features nice chrome details, our signature infinity light and some really cool styling options to choose from, like the Dolce premium interior and rims.

The Competizione is for the futurists. It will come in three different matte colors and has the sunroof, our signature infinity light and the medium battery pack as standard. Also the Competizione has unique interior and exterior styling options to choose from.

Both the Dolce and the Competizione will be available by the end of 2022 or early 2023, depending on the supply chain situation.

Now finally, we are super excited to announce the Pioneer Series, which will be the first version delivered to our customers this year. We have now more than 30'000 reservation holders waiting in line and the fastest way to get one, is to choose a Pioneer Series.

The Pioneer Series gives our supporters a way to have a unique version of the Microlino, that will be steady in value for years to come. It will always and forever be the very first series vehicles of the Microlino.

What does the pioneer series stand for and how does it look like? Let's have a look!

The pioneer series is for all those who want to make a statement for a change. A statement that we can do more with less. A statement that today its not about how much power your car has, but about how few resources it consumes. A statement that you care.

The pioneer series will come in two distinct colors that are only available in this specific edition. We call them Atlantis Blue and Torino Aluminium. They both reflect perfectly the soul of the Microlino: a retro charm with a modern look. Look at them…beautiful!

The pioneer series will be limited to 999 vehicles, as an homage to our first innovation, the kickscooter that our father invented in 1999. Each vehicle has its own unique number that is visible on the inside.

All of the Pioneer Series Microlinos are equipped with a 10.5kWh battery, which will get you up to 177km far. They all have a sunroof for the ultimate Summer feeling, premium interior in vegan leather and alcantara and portable Bluetooth speakers that seamlessly connect with your phone.

Now, although the Pioneer Series is a version curated by us, there is one option that you can opt for: the Pioneer Membership. Over these last years we have realized that especially the first customers are interested to get much more insight and details behind the scenes. Also, we wanted to give them some perks that you simply can't get with any other car company. Let's see what you can get with this membership:

Prioritized delivery, so you will get a Microlino even faster
You can join us on our biannual factory tour and even lay hand on the assembly line if you want
You will be invited to all our Pioneer Member events
Receive free Flying Doctor visits and checkups on your vehicle
Get Discounts on all current and future accessories
Profit from Special service deals

And last but not least you will always have prioritized delivery on any future Microlino or other product like the Microletta you would like to purchase from us. Of course, once you would like to buy a future generation Microlino in some years time, we will also give you special deals to trade in your current vehicle.

With the Pioneer membership you support us even further in realizing a more sustainable and space-saving future for urban mobility. This year only, it will be a one time 1999 EUR contribution that will give you a lifelong membership. Customers that would like to join the Pioneer's club next year or later will have the chance to do that at a subscription of 1000 EUR per year.

Now to the final question? When can you finally get one?

This has been made a bit more difficult mainly because of all the supply chain problems that the automotive world is currently facing. You have no visibility when you can get parts and if you do, you will usually pay a lot more.

Also, we have a long waiting list. We now have more than 30'000 reservation holders and although it makes us happy, it is also a challenge to satisfy everyone.

Despite the challenges we are super proud that we will unlock the configurator within the next couple of days. Customers from Switzerland will be the first ones that can make a downpayment, to secure their spot in the waiting list. Anyone from Switzerland choosing a Pioneer Series will certainly be one of the first customers, even more so, if you also opt for the Pioneer membership.

Customers from other countries will have to be a bit more patient and will most likely have to wait for 2023. We are certainly trying our best to ramp up production, despite the extreme difficulties we are facing.

Thank you for your support and let's change urban mobility together.
Source: Micro