The first Class L7e-CU electric vehicles Sevic V500e arrived at Bochum headquarters and start the internal test drives.
Here they will not only be put through their paces on the roads of the Ruhr metropolis, but also presented to the first potential customers.
For Sevic Managing Director Alexander Brilis, there is no question that his vehicles will prove themselves there:
The V500e is simply perfect for use in urban areas and we are delighted with the high quality of workmanship, especially of the chassis and suspension. The electric motor, combined with the low weight, is very powerful and economical. What pleases me is that in just a few days of testing we have already been approached several times about our compact van. Most people are interested in the electric drive and the corresponding range, but also in the clever design of the charging box. This feedback is very important to us and our test drivers are happy to answer any questions.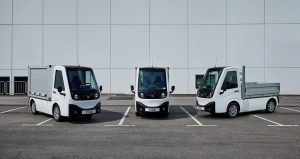 In doing so, the Sevic team does not avoid critical questions.
Like all other manufacturers, we are also dependent on component suppliers. The situation is currently quite challenging in the industry but thanks to near- and reshoring we have access to a stable supply chain and an excellent spare parts supply. Here, too, the switch to largely European suppliers is paying off. Our series production is now starting and we expect to have stable monthly volumes from July onwards.
Convertible cargo swap system with currently six superstructures
The V500e is already proving to be extremely versatile in use. After all, a patented so-called cargo swap system with currently six different load boxes ensures that the transport superstructures can be exchanged quickly. Within a few minutes, for example, users can switch from a sales box with roller shutters, as in the test vehicle, to a pick-up.
The V500e is also flexible in terms of range and purchase price: the smaller battery size with 16.5 kilowatt hours (kWh) and a range of up to 150 km costs €24,900 net (plus body and transfer); the long-range model with a 33 kWh battery and a range of up to 300 km is available for €29,500 net plus body and transfer.
In a few weeks, the first vehicles should also be on display in a Bochum flagship showroom that has just been set up.
Source: Sevic