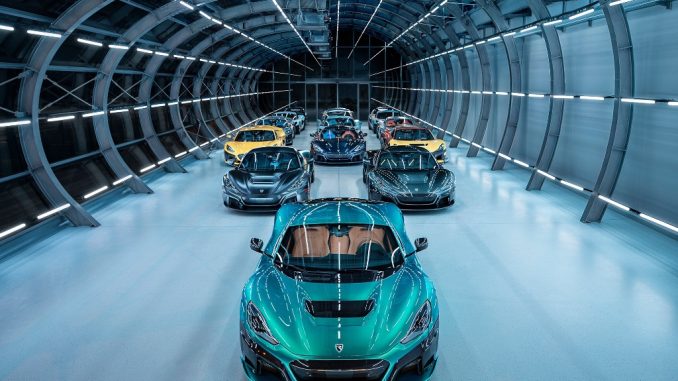 The first production Rimac Nevera is ready after five years of development and testing, three generations of powertrain technology, 18 prototypes, 45 physical crash tests.
The very first full production version of the Rimac Nevera, ready also after than 1.6 million collective hours of research and development, has rolled off Rimac's new production line. Now, hand-building of the Nevera will now continue at a rate of up to 50 units each year, delivered to customers all over the world.
Finished in a striking pearlescent shade of Callisto Green with Painted Graphite Vertex wheels and Sand Alcantara interior, this first car was showcased at last month's Goodwood Festival of Speed in a series of full throttle sideways runs up the famous Hillclimb. Known as car '000', and finished with a numbered plaque, it will remain in the possession of Bugatti Rimac as a demonstrator and marketing car.
The first cars destined to be delivered to customers are already being assembled, with each Nevera taking 5 weeks at the final assembly line, while many of its parts and systems are being made months prior at Rimac facilities. They will soon be delivered worldwide through Rimac Automobili's global network of 25 official dealer partners, which stretches across the United States, Europe, the Middle East and Asia.
The first year of Nevera production is already sold out, as eager customers hope to experience the world's first all-electric hypercar.
The Nevera was developed entirely from scratch, with most key systems developed and made in-house by Rimac. To achieve the extremely high-performance targets that the team has set for the Nevera, all major components had to be custom developed. An entirely new generation battery system, inverter, gearbox, motor, control systems, infotainment and many more, were developed specifically for the Nevera. Throughout the development process the powertrain was redesigned three times, in a process lasting more than two years, with each iteration pushing the envelope of performance further than before.
As well as its unrivaled performance, this first production car showcases the variety of customization options available to Nevera customers. There are 36 different pre-defined paint colors and the option to go bespoke, a selection of in-house-designed liveries, three levels of exposed carbon fiber – including a full bare carbon body – and an enormous selection of colorful leathers, Alcantara, contrasting accents and metal finishes for the interior. The promise is that each of the 150 Neveras completed will be totally unique.
In tandem with the development of the car, Rimac has also been developing its aftersales and customer care programmes. Specialistic digital diagnostic tools have been built from the ground-up to monitor and update the cars throughout their lifetime. Every dealer partner will be given specific training and detailed service and repair information, and a dedicated team has been created: Rimac Service Team to be able to travel worldwide to diagnose potential problems. The target is that the experience of owning a Nevera will be just as extraordinary as driving it.
The development and homologation process was an extraordinary journey for the whole team. Starting with initial experimental prototypes, leading on to validation prototypes and then pre-series cars, no fewer than 18 prototype examples of Nevera were painstakingly tested in every conceivable environment and measurable aspect, from the freezing Arctic Circle to a high humidity 48oC climatic chamber. A rigorous four-year crash testing program saw the destruction of nine cars in 45 separate crash tests – all of which the Nevera passed with flying colors to allow customers to experience and own Rimac's flagship model in all main markets.
The Rimac Nevera unlocks the next generation of automotive performance. Its 1,914hp is produced by four electric motors, which propels the hypercar from 0-60 mph in just 1.85 seconds, and to 100mph in 4.3 seconds. Proudly sporting a name in honor of its homeland, a nevera is an unexpected Mediterranean summer storm off the coast of Croatia. As such, the Nevera can transform from a comfortable, adept grand tourer into a pin-sharp performance machine in the blink of an eye.
Here you can see the video…
Source: Bugatti Rimac doo