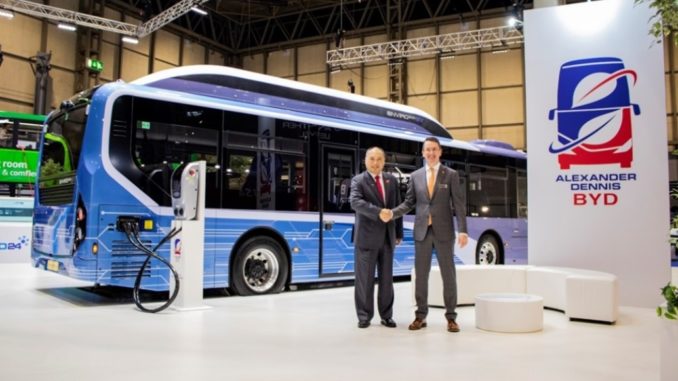 With a combined multinational engineering team working on a brand new joint project developed the first BYD ADL Enviro400EV emissions free double deck bus.
The first BYD ADL Enviro400EV emissions free double deck bus has been developed by the partnership to Scotland, England and China markets, as said at a joint press conference at Euro Bus Expo in Birmingham, Alexander Dennis Chief Executive Colin Robertson and Isbrand Ho, Managing Director of BYD Europe.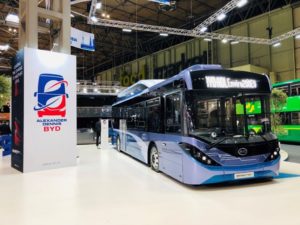 They underlined the heathy working relationship between the two companies which has led to well over 215 joint buses in service, delivered or on order in the UK.
Mr. Ho said the BYD ADL Enviro400EV would be 'a product of transformation' when it is launched in Spring 2019. The BYD ADL partnership has an order from Metroline for 37 of the new double decks.
On show at EuroBusExpo has been the first of the partnership's new provincial specification single decks – a design destined to bring the electric bus revolution to cities outside the capital.
Colin Robertson stated:
Not only does this vehicle respond to zero emission requirements, it also delivers an outstanding on-board passenger experience. This Enviro200EV is bristling with the latest technology features to transform bus travel for passengers – wireless chargers, our high backed SmartSeat and console, mood lighting to name a few – as well as improving safety for pedestrians and other road users thanks to our new SmartVision system. It's an all-round winning package.
The BYD ADL Enviro200EV 10.8m bus exposed at EuroBusExpo this week is the first provincial EV demonstrator and has 33 seats and one wheelchair space. The bus is equipped with a BYD-built mobile charging unit which is small enough to be carried on board in the wheelchair space. This unique innovation will enable operators to trial the Enviro200EV bus without needing to install permanent charging infrastructure beforehand.
BYD ADL joint products are already in service in Liverpool and soon Guildford but this new model will allow us to win confidence and hopefully sales in major cities such as Manchester, Birmingham and Coventry – said Mr. Ho. He added: I'm pleased to be able to report that we are close to beginning to build the chassis for our buses for the UK at our BYD plant in Hungary.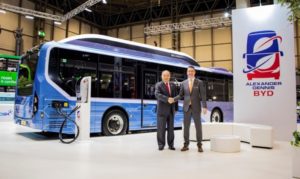 The BYD ADL partnership offers much more than a sophisticated electric bus. Power supply infrastructure, chargers, route profiling and so on are all part of the joint offer by the two companies.
With the BYD ADL partnership our customers get a fully comprehensive turnkey solution to the challenges of starting pure electric bus operation – said Mr Ho.

ADL positions ourselves not only as the UK's leading bus and coach manufacturer, but as a systems integrator and technology pioneer – we have a range of class-leading products bristling with technology – many brand new technology features being seen for the first time here – said Colin Robertson.
The partnership's unequaled success in the UK is inspiring the joint team to extend its offer to other right-hand drive global markets. Sales have been announced in New Zealand and there are other projects in the pipeline.
Mr Ho said that, for BYD, this is part of growing success in markets and market sectors across the world.
I'm referring to our exciting rail transit operation – the Sky Rail: a unique, battery-driven monorail system, to approaching plans to offer specialised electric commercial vehicles in Europe and of our intention to locate a battery plant in Europe.