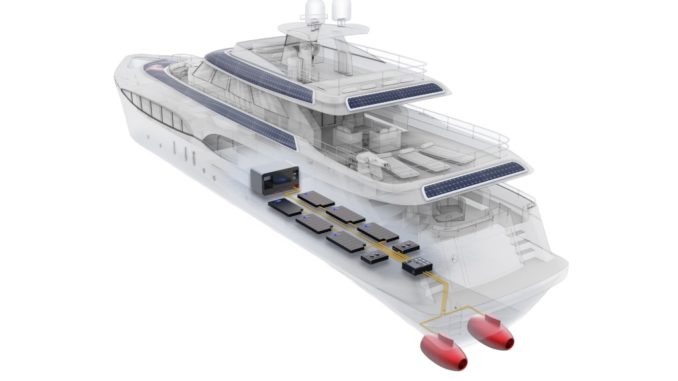 It is appropriate to say that Sealence flies thanks to its DeepSpeet marine jet motor. It raised 2.9 million euros in crowdfunding and announces plans for 2021.
After a record crowdfunding concluded in just 17 days, now Sealence is back announcing 6 new hires – 5 design engineers in the R&D team and a strategist expert in international finance – and communicates the extension of DeepSpeed jets range with two new high-end models, whose arrival is already expected in 2021 :
Deepspeed 420
Deepspeed 780
The DS 420 has a power of 220kW and 560 Nm of torque, which in peak conditions can generate a thrust equivalent to a 420 horsepower engine (360 bhp equivalent, instead, in continuous use). This jet has been designed for fast recreational hulls, and it has been optimized for speeds around 40-45 knots, where it reaches its maximum propulsive efficiency.
The DS 780 reachs 500kW and 1500Nm of torque, which allows the generation of a continuous thrust equivalent to a 780 horsepower engine. This jet is designed to be mounted on work units or boats designed to sail hundreds of hours a year.
In this case, the jet has been optimized to reach its maximum efficiency in the speed range from 16 to 26 knots on semi-gliding hulls, but that can be used also on gliding hulls where it reaches higher speeds.
These two new units are added to the already known jet DS 280RE, while the company announces the intention not to continue at the moment in the development of the less powerful 120e model, in line with the strategy of positioning DeepSpeed jets on the market of large luxury yachts and large commercial boats.
Well-informed sources also report that in Buccinasco, headquarters of Sealence SpA, they would be working on a model with 1,200 horsepower and a impressive torque of over 2,100 Nm. At the moment anyone has yet confirmed, but not denied!
#MarceloPadin #theEMNteam