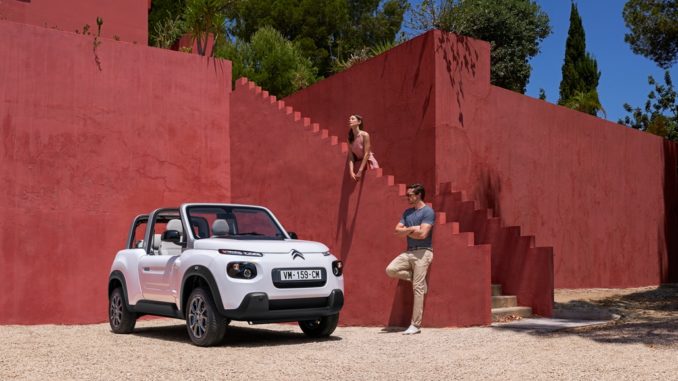 New colors, new interior design, new equipment. Citroën open the 2018 with the new version of the E-MEHARI, the iconic 4-seater 100% electric cabriolet, today even more performing, silent and environmentally friendly.
Produced in Rennes is the first electric vehicle to bear the label "Origine France Garantie", the New Citroën E-MEHARI is powered by lithium polymer batteries of the latest generation supplied by the Bollorè Group, insensitive to climatic variations and tested for over 150 millions of kilometers.
The battery has a range of 195 km (according to NEDC regulations) and can be fully recharged in 10 hours and a half (at 16A) or in 16 hours (at 10A). To remove the charging socket before leaving, simply place the RFID key (which open and closes the machine) in front of the driver located at the base of the windscreen. Compared to the previous version, the engine torque has increased by almost 20%: 166 Nm up to 3,700 rpm, 140 Nm over this value. Maximum speed of 110 km / h.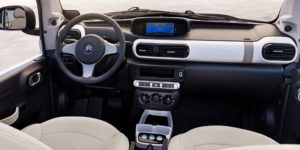 Double roll safety bar in steel, ABS and ESP as standard, four airbags (front and front side), automatic low beam lighting, low tire pressure detection, allarm fastened seatbelt (driver and passenger side) and Citroën Connect Box are only some of the security systems available in the New E-MEHARI. Particularly relevant for its electric (and ultra-silent) nature, the acoustic warning device for pedestrians, which activates below 30 km/h speed to signal the approach of the car.
In addition to the version with Soft Top in canvas to guide with the wind in your hair on any road, New Citroën E-MEHARI, offers an unprecedented urban version with Hard Top. Oriented to leisure and convertible at will, thanks to the innovative hard roof, front windows, rear sides and glass rear window, the New E-MEHARI can be a sedan suitable for all seasons.
The driver has a height-adjustable seats, height-adjustable steering wheel and a power steering with City function. In addition, the New Citroën E-MEHARI offers new passenger and driver side seats more enveloping and comfortable, with height adjustment. New storage compartments, the trunk has a 78-liter compartment that can be locked. With the rear seats folded up, the volume of the initial boot of 200 liters reaches 800 liters.
Data sheet
Dimensions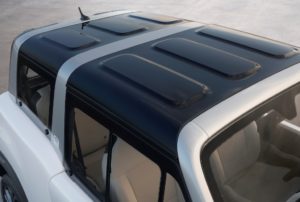 Length: 3, 81 m / Width: 1.73 m / Height: 1.65 m
Boot volume: 200 l (+78 l in the protected compartment) and 800 l with folded rear seats
Empty weight: 1,451 kg
Engine
Maximum power: 50 kW
Battery capacity: 30 kWh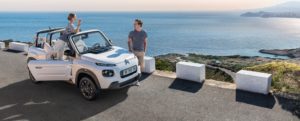 Motor torque: 166 Nm up to 3700 rpm and 140 Nm over
Autonomy in the mixed cycle: 195 km NEDC * New European Driving Cycle
Performance
Maximum speed: 110 km / h
From 0 to 60 km / h: 7.3 s