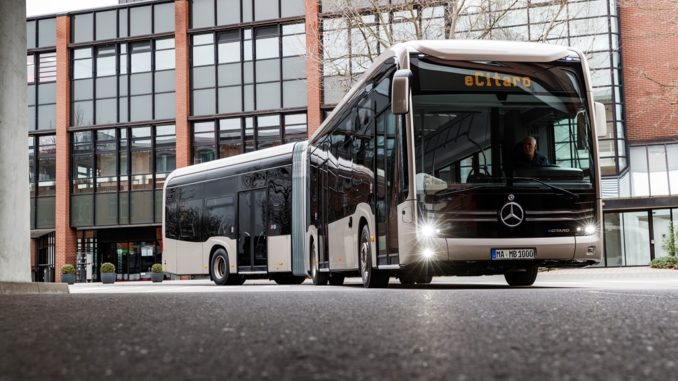 Hamburger Hochbahn AG signed a framework agreement with Daimler Buses for the delivery of electric Mercedes Benz eCitaro and the new eCitaro G articulated bus.
The agreement is part of a record order for up to 530 emission-free urban buses for the Hochbahn company from 2021 to 2025. The exact number and their distribution will be defined during the term of contract.
Frame agreement as affirmation of the great performance credentials of the eCitaro on the road
Hamburger Hochbahn AG received the first series-production model of the fully electric driven Mercedes Benz eCitaro in November 2018 as part of an order for 20 eCitaro units. The company has ordered a further 25 eCitaro buses for the current year.
The first and only electric bus to be developed and manufactured in Germany
The eCitaro is based on the Citaro urban bus which has proven itself time and again. It is the first and only fully-electric urban bus to be developed and manufactured in Germany.
The urban bus celebrated its world premiere as a solo vehicle two years ago. The new articulated bus variant of the eCitaro G will follow in the autumn of this year. With its sensational technologies such as solid-state batteries, it sets a further milestone in the transition to electric mobility. Locally emission-free and low-noise urban buses with a three-pointed star make a major contribution towards the quality of life in cities.
Long-term partnership between Hamburger Hochbahn AG and Daimler Buses
With around 1000 buses, Hamburger Hochbahn AG operates 113 lines with 1353 stops. These buses carry around 214 million passengers a year. Since the beginning of this year, the transport company has only procured locally emission-free urban buses. Daimler Buses and Hamburger Hochbahn AG have been collaborating closely for decades and have formed a trustful relationship in which they are both pushing for the development of innovative technologies.
Source: Daimler Buses