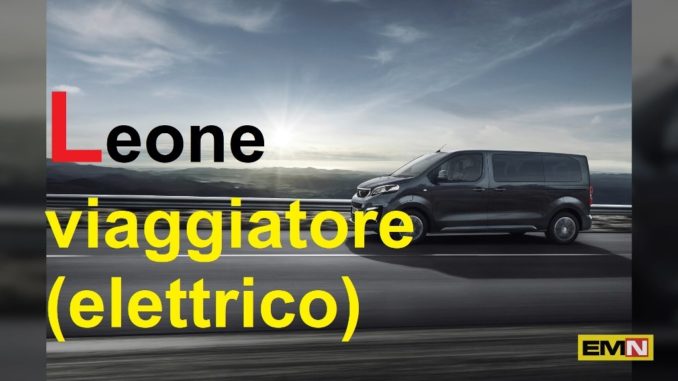 Nella puntata 22 di Electric Motor News, Peugeot e-Traveller, e-Expert e la storia delle elettriche del Leone, Opel, BMW, Polestar, Mercedes Benz e NVIDIA.
Ecco tutti i servizi…
Peugeot e-Traveller con una inedita motorizzazione 100% elettrica
Disponibile la Peugeot e-Traveller equipaggiata con un'inedita motorizzazione elettrica, perfetta rappresentazione del concetto di "power of choice" del marchio del Leone.
Il nuovo e-Traveller è offerto in molteplici configurazioni adatte al trasporto di persone ed è in grado di accedere nei centri delle città senza limiti alla circolazione. La gamma comprende modelli in tre differenti lunghezze, con due livelli di autonomia, fino a 330 km nel ciclo WLTP, grazie alle due capacità delle batterie da 50 o 75 kWh. Il tutto senza imporre alcun compromesso in fatto di abitabilità a bordo che rimane quella delle versioni con propulsore termico.
La lunga storia delle Peugeot nel settore delle elettriche
Ottant'anni fa, Peugeot iniziava il suo connubio con l'auto elettrica, che oggi viene declinato con grande efficacia dai modelli più recenti.
E' il 1941 quando inizia l'avventura del Leone nel campo delle vetture 100% elettriche, con i quasi 400 esemplari della VLV, una piccola vettura ideale per gli spostamenti urbani. Nel 1984 è la leggendaria 205 a ricevere un motore ad emissioni zero da 200 km di autonomia cui fa seguito la 106 Electrique e, oggi, l'eredità viene raccolta dalla nuova e-208, punta di diamante di un modello eletto Auto dell'Anno 2020.
Le news delle auto elettrificate Opel di giugno 2020
Opel sulla strada dell'elettrificazione e nelle news di giugno si parla di Nuovo Opel Mokka, Nuova Zafira e-Life e dell'estensione della gamma Opel Corsa-e.
Competence Centre BMW for E-Drive Production a Dingolfing
BMW espande la propria capacità produttiva con l'inaugurazione del Competence Centre for E-Drive Production a Dingolfing che a regime sarà in grado di produrre impianti E-drive per 500.000 veicoli elettrificati, con l'avvio della produzione per la quinta generazione di BMW e-drive, che impiegherà fino a 2.000 dipendenti a medio termine e investimenti di oltre 500 milioni di euro entro il 2022.
Avendo prodotto componenti per i propulsori elettrici a Dingolfing a partire dal 2013, il BMW Group sta ora espandendo significativamente la sua capacità.
Servizio con la voce di Aurora Bovone
Consegne in ZTL con Peugeot e-Expert
Le restrizioni di accesso ai centri città e alle ZTL sono un lontano ricordo per i professionisti del trasporto che lavorano a bordo del Nuovo Peugeot e-Expert. Questo veicolo full-electric rende le attività quotidiane dei professionisti più facili e più comode, senza alcun compromesso su volume di carico e tecnologie di bordo. Le porte laterali sono scorrevoli elettriche, l'accesso è anche a mani occupate, possiede una panchetta a 3 posti e il sistema Moduwork Visiopark con retrocamera a 180°.
Sbarco in Europa delle prime Polestar
L'hub di trasporto belga di Zeebrugge ha ricevuto la spedizione che è attesa da migliaia di nuovi proprietari Polestar in Svezia e Norvegia. Le consegne sono previste per agosto.
I veicoli per i clienti in Belgio, Germania, Paesi Bassi e Regno Unito seguiranno da vicino mentre le consegne ai clienti in Svizzera avverranno più tardi nel 2020.
Servizio con la voce di Lilia Marcucci.
Cooperation Mercedes Benz and Nvidia
Mercedes Benz and Nvidia plan to enter into a cooperation to create a revolutionary in-vehicle computing system and AI computing infrastructure. Auto and computer industry leaders iIntend to join forces and enable next generation fleet with software upgradeability, AI and autonomous capabilities. Starting in 2024, this will be rolled out across the fleet of next-generation Mercedes Benz vehicles, enabling them with upgradable automated driving functions.
In italiano
Mercedes Benz e Nvidia hanno in programma di avviare una collaborazione per creare un rivoluzionario sistema informatico di bordo e un'infrastruttura informatica AI. I leader del settore automobilistico e informatico intendono unire le forze e abilitare la flotta di nuova generazione con aggiornamento del software, intelligenza artificiale e capacità autonome. A partire dal 2024, questo sarà implementato attraverso la flotta di veicoli Mercedes Benz di prossima generazione, consentendo loro funzioni di guida automatizzate aggiornabili.
Offensiva Opel nei commerciali elettrici con Vivaro-e
Le previsioni parlano di un aumento di 10 volte entro il 2025 in tutto il mondo dei veicoli commerciali elettrici e Opel è pronta ad affrontarlo con Vivaro-e. Infatti la prima gamma di veicoli commerciali elettrici di Opel è pronta per la strada: tra questi Opel Vivaro-e e Zafira-e Life saranno disponibili presto. La strategia di Opel sta nell'elettrificare non solo un modello ma tutta la gamma di veicoli commerciali che sarà completamente elettrificata entro il 2021 e sarà così sia per i furgoni che per le vetture derivate.
This slideshow requires JavaScript.