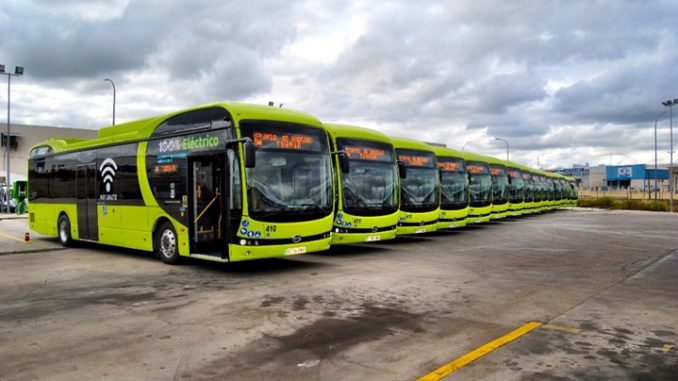 Chinese company BYD delivered last week 15 pure electric 12-metre eBuses to the city of Badajoz, in Southwest of Spain.
That's one of the largest eBus orders for BYD in the country.
Public transport operator, TUBASA (Transportes Urbanos de Badajoz, SA), part of Grupo Ruiz and one of Spain's principal road passenger transport groups, has already put the vehicles into service.
The zero emission BYD eBuses are delivered as fleet replacements for TUBASA and are already returning substantial savings when compared to the company's previous diesel-powered buses.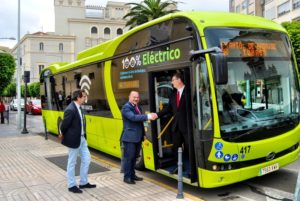 The BYD eBus delivery was marked at a special handover ceremony in Badajoz on Thursday 9th May including representatives from TUBASA and the Mayor of Badajoz, Franciso Javier Fragoso. The BYD fleet delivery means Badajoz becomes the largest user of electric buses in Spain, with TUBASA operating the highest percentage of electric buses within any public transport fleet in Europe. In a significant commitment to making the city even more environmentally friendly, the Mayor has pledged that the move to a 100% all-electric bus fleet will continue in Badajoz.
Powered by BYD Iron-Phosphate batteries, the new BYD eBuses boast a 250km range between charges under SORT 2 conditions. Based at El Nevero industrial estate, TUBASA has installed 15 recharging points and 100% recharge is achieved in just four hours.
TUBASA has established a clear commitment to emission-free operation in Badajoz – said Mr. Javier Contijoch, V.P. Sales for BYD Europe – and we are delighted that the company has chosen BYD as its eBus partner. We have demonstrated that pure electric operation will deliver significant cost savings for TUBASA, but, moreover, the benefits for passengers, other road users and the wider public will be realised for many years to come.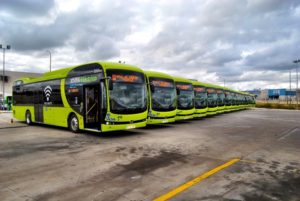 BYD also confirmed an order for eight 12-metre eBuses for Badalona in Barcelona province, scheduled for delivery very soon, with further orders for bus operators in Madrid and Valencia. The Portuguese city of Coimbra is also gearing-up to receive a delivery of eight BYD eBuses next week, signaling the growing demand across the Iberian Peninsula for BYD's pure electric 100% emission-free eBus products.
Isbrand Ho, Managing Director at BYD Europe:
Our potential in the Iberian market is rapidly growing with consecutive orders from Spain and Portugal. Up till now we have confirmed 32 eBuses that will be running in both countries by summer 2019, and we have confidence there will be more to come. We are pleased that these cities have already chosen for zero emission buses that contribute to the air quality.
Source: BYD Europe