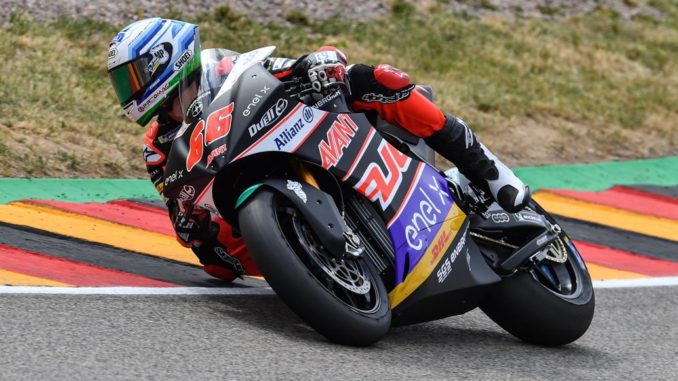 Finnish rider Niki Tuuli, riding for his compatriot Ajo MotoE Team, was the penultimate rider to get on track and after his fastest lap jumped in the first E-pole in MotoE.
Tuuli with a brave and wild performance he managed to raise the bar to a whole new level by diving under the 1'28secs barrier for the first time, ultimately logging 1m27s456.
Tuuli thus enters the history books of motorcycle racing as the first rider to claim pole position in the FIM Enel MotoE World Cup by mastering the Ego Corsa in spectacular fashion around the challenging German circuit.
Joining Tuuli on the first row in the 8-lap race will be Tech3 E-Racing's Hector Garzo (+0.787) and Avintia Esponsorama's Eric Granado (+0.798), who had shared both the front row and the "simulation podium" with Tuuli back in Valencia.
Day-one leader Mike Di Meglio (EG 0,0 Marc VDS) will head row two with Xavier Simeon (Avintia Esponsorama) and an improving Matteo Ferrari (Team Trentino Gresini). Bradley Smith (One Energy Racing), Nico Terol (OpenBank Angel Nieto Team) and Alex De Angelis (OCTO Pramac MotoE) will be on the third row in seventh, eighth and ninth places, respectively.
There was disappointment for both home rider Jesko Raffin (Dynavolt IntactGP) and María Herrera (OpenBank Angel Nieto), whose quick laps were halted by Race Direction due to entering the track when the Pit-Lane was still closed (Black Flag).
The inaugural race of the FIM Enel MotoE World Cup will begin tomorrow morning at 10am local time (GMT+2) with the following starting grid: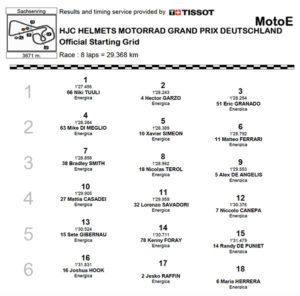 Source: Energica Motor Company
Pictures courtesy of www.motogp.com