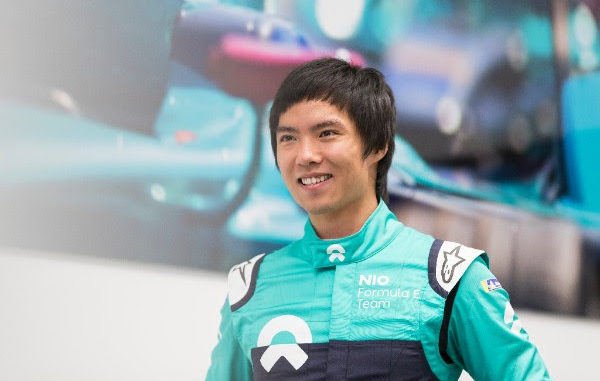 Ma Qing Hua Joins NIO Formula E Team For 2017-18 Seaso
Source: NIO Formula E Team
Shanghai, China and Oxford, UK. 23 November 2017: Chinese racing driver Ma Qing Hua has joined NIO Formula E Team for the 2017-2018 FIA Formula E season. He shall travel with the team to the first E-Prix event in Hong Kong, 2nd-3rd December 2017, in the role of Reserve Driver.
Ma was born on 25th December 1987 in Shanghai and has been competing in international motorsport since 2005 in series' including EuroFormula Open, Italian Formula 3000, British F3 Championship, A1 Grand Prix and the GP2 Series.
Ma is an ambassador for motorsport in China where he runs an academy for young drivers at his karting circuit. He made history in 2012 by becoming the first Chinese-born driver to take part in a number of FIA Formula 1™ Grand Prix practice sessions with HRT F1 and Caterham F1 team the following year.
Ma has also raced successfully in touring cars, winning the China Touring Car Championship 1600cc class drivers' title in 2011. His greatest international success came in 2014 when he won round two of the FIA World Touring Car Championship in Moscow with Citroën, making him the first Chinese driver to win an FIA governed event. Ma added to his touring car success the following season with a victory in Portugal and five further podium finishes to clinch fourth place in the 2015 WTCC.
After competing in four Formula E races with Team Aguri in 2015, Ma joined the TECHEETAH squad the following year. For Season 4 of the FIA Formula E Championship Ma joins the re-branded NIO Formula E Team, alongside race drivers Oliver Turvey (car 16) and Luca Filippi (car 68).
Ma Qing Hua, NIO Formula E Team, Reserve Driver
"I am extremely proud to be appointed as the Reserve Driver for the NIO Formula E Team for the upcoming season. I see NIO as an exciting new brand and rising star in the industry, having accomplished so much already in a few short years from tremendous R&D work to participation in Formula E racing.

I am also very excited to be part of the NIO family, joining so many great people that I have worked with before. I firmly believe that electric cars are the future for all of us and look forward to witnessing the rise of a new era with NIO."
Gérry Hughes, NIO Formula E Team, Team Principal
"It is with great pleasure that we welcome Ma Qing Hua in to the NIO Formula E Team family in the role of Reserve Driver. We have been working with Ma over the course of the summer manufacturer testing period and this appointment concludes our driver line-up for Season 4 nicely.

NIO is first and foremost a Chinese EV brand, so it extremely fitting to have Ma join the NIO Formula E Team and it will be great to see him back in the Paddock in Hong Kong next week."
Ma Qing Hua – Career overview
2017-18 FIA Formula E Championship, NIO Formula E Team Reserve Driver
2017 FIA WTCC JVCKENWOOD Race of Macau, Sébastien Loeb Racing
2016 FIA Formula E Championship, TECHEETAH
2015 FIA Formula E Championship, Team Aguri
2014-15 FIA World Touring Car Championship, Citroën, two wins
2013 Formula 1 test driver, Caterham F1; GP2 Series, Caterham
2012 Formula 1 test driver, HRT F1
2010-11 CTCC Champion
2010 Superleague Formula, Team China
2008-2009 European F3 Open and British F3 Championship, Team West-Tec, three podiums
2005-06 A1 GP, A1 Team China
2006 Formula Renault 2.0, Team Astromega
2005 F3000 Italia, Team Astromega and Formula Renault Asia, Team ART
Winner of A1 GP Team China driver selection
2004 Asian Formula Campus champion, (China)
1995 Commenced kart racing