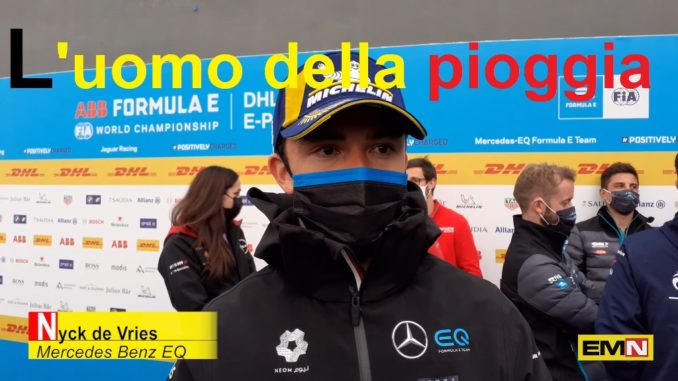 Le immagini di un giro mozzafiato sul Circuito Ricardo Tormo e le interviste con i primi tre del podio di Gara 1 del Valencia E-Prix.
Un giro emozionante sul circuito di Formula E
Electric Motor News è stata invitata a fare un giro al circuito Ricarco Tormo, quello che viene utilizzato nel Valencia E-Prix di Formula E. Ecco alcune delle immagini direttamente dalla pista, con la guida del simpatico Max e dietro la BMW i8 Spider Safety Car guidata da Bruno Correia.
di Marcelo Padin
Nyck de Vries è l'uomo della pioggia di Valencia
La pazienza e la grande organizzazione del team con la giusta dose di fortuna, sono stati gli elementi che hanno pagato la strategia di Nyck De Vries e del Team Mercedes EQ per ottenere la vittoria in gara 1 del Valencia E-Prix di Formula E. Una gara pazza e incredibile, con molte safety car che hanno modificato strategie e soprattutto el management del consumo dell'energia.
Intervista di Marcelo Padin
Nico Müller, il podio e l'espressione colorita
Il simpatico Nico Müller non ha fatto mistero di essere una sorpresa trovarsi sul secondo gradino del podio… e lo dimostra la sua espressione. "Se mi avessi parlato di podio prima della gara ti avrei detto che sei matto !!!", ha detto il pilota svizzero. Sentite le sue dichiarazioni in quest'intervista subito dopo la gara.
Intervista di Marcelo Padin
Stoffel Vandoorne went up, down and up on Saturday
Incredible Saturday for Stoffel Vandoorne in the first race of Valencia E-Prix, with a Super Pole cancelled for a technical passport problems, started from the last position and after a crazy race arrived in the third place, going to the podium. Here his words…
In italiano – Stoffel Vandoorne è andato su, giù e su il sabato
Sabato incredibile per Stoffel Vandoorne nella prima gara dell'E-Prix di Valencia, con una Super Pole annullata per problemi al passaporto tecnico; partito dall'ultima posizione e dopo una gara folle è arrivato al terzo posto, salendo sul podio. Ecco le sue parole …
Intervista di Marcelo Padin
Quasi cinque minuti per fare un giro
Jean Eric Vergne ha detto di aver messo quasi cinque minuti per fare l'ultimo giro, segno di come sono andate le cose in occasione della gara 1 del Valencia E-Prix di Formula E.
Intervista di Marcelo Padin
Da Costa e la sua veduta di una gara incedibile
Il Campione Antonio Felix Da Costa è stato sempre in testa al gruppo, tranne nel momento più importante quando nell'ultimo giro ha dovuto cedere il passo per essere rimasto assolutamente a secco di energia. Ecco come racconta la sua gara il pilota portoghese, attuale campione di Formula E.
Intervista di Marcelo Padin
La conferenza stampa del podio di gara 1
Nyck De Vries dei Paesi Bassi, lo svizzero Nico Müller e il belga Stoffel Vandoorne sono saliti sul podio di Gara 1 del Valencia E-Prix e di conseguenza sono stati i protagonisti della conferenza stampa del dopo gara.
Di seguito le anteprime fotografiche dei video…