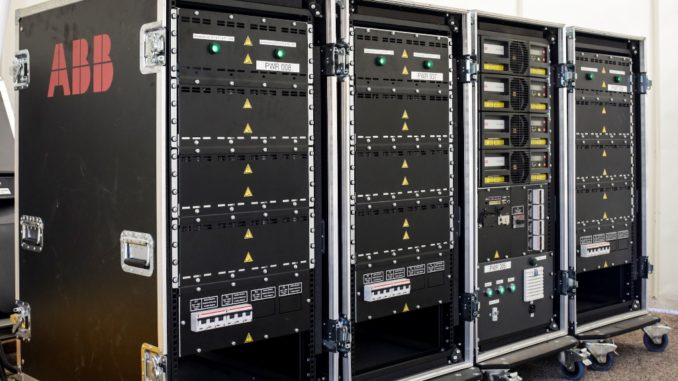 The leader technologies ABB Uninterruptible Power Supply (UPS) is installed in the race series' TV compound and allow broadcasters never to be "off-air".
ABB, entering its fourth season as title partner, is continuing to implement leading technologies and its ABB Uninterruptible Power Supply (UPS) will be in all races of electric championship.
It guarantees that power continues to reach broadcasters in the event of a grid power failure at a race circuit, ensuring that live race broadcasts never go 'off air'. There is no standard solution to meet the requirements of the fast-paced global championship, so a bespoke unit was developed by a specialist team at ABB.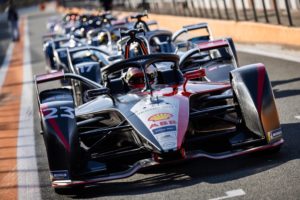 The resulting UPS system is wheel-mounted and weight-optimized for mobility, in a package small and robust enough to be shipped by courier or on a passenger airplane. It has plug-and-play functionality to simplify installation for the on-site team and can provide 15 minutes of autonomous 60kVA power with input/output voltages of 230/400VAC 50 Hz.
UPS, combined with the charging solutions ABB will provide for the Gen3 cars to be introduced from Season 9, continue to position ABB at the forefront of sustainable technology development within the series and beyond.
Tarak Mehta, ABB Electrification President, said:
As our partnership with ABB FIA Formula E World Championships develops we will work with Formula E to showcase many examples that will drive progress in e-Mobility and sustainability.

UPS and charging are two examples where we can showcase the benefits of high performance in a competitive environment.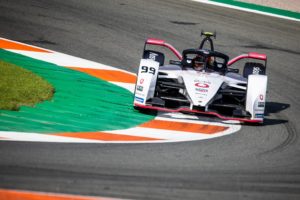 At ABB, sustainable development means progress towards a healthier and more prosperous world for future generations. Working alongside Formula E, the company is helping to encourage the global adoption of clean mobility by enhancing technologies and highlighting the benefits of electric vehicles. The ABB FIA Formula E World Championship provides a platform to push the boundaries of technology, which can be transferred from the racetrack to real-world situations, helping to preserve resources and enable a low-carbon society.
Jamie Reigle, CEO, Formula E, said:
At Formula E, we greatly value ABB as both our title partner and strategically. We share a purpose and values, both committed to accelerating sustainable human progress as we race for better futures. Formula E provides the perfect test bed for technologies like ABB's UPS that translate from the racetrack to everyday environments. With Formula E races staged in the world's most iconic cities, we are able to showcase ABB's technology and solutions in the urban settings in which they are becoming increasingly essential.
For Season 7, the series will gain FIA World Championship status, underlining its growing popularity as a platform for e-mobility and other sustainable technologies to an ever-broader global audience of 93 million interested consumers*.
Tune in to the latest trends and technology
In coincidence with tests in Valencia, ABB launched a brand-new podcast, ABB Decoded, on December 4th, which will talk to leading thinkers and innovators about the new technologies that are reshaping our world. In the first episode, Mobility Revolution, ABB's Head of Global E-mobility Infrastructure Solutions, Frank Muehlon, provides insight into how the automotive world has changed; the trends and future of e-mobility and the role charging infrastructure has to play in electric vehicle (EV) adoption. Future episodes will cover topics such as sustainability, smart cities and decarbonization, and will be available on abb.com.
The latest instalment in ABB's branded content series, Drivers of Progress, has also recently been released. In the episode, Driving Efficiency, Mahindra team boss Dilbagh Gill, and ABB's Edgar Kellar, Division President, Traction, were interviewed on the parallel importance of regenerative braking in ABB Formula E and electric railways. The series will continue throughout Season 7.
Below you can see the video in English language
Source: ABB