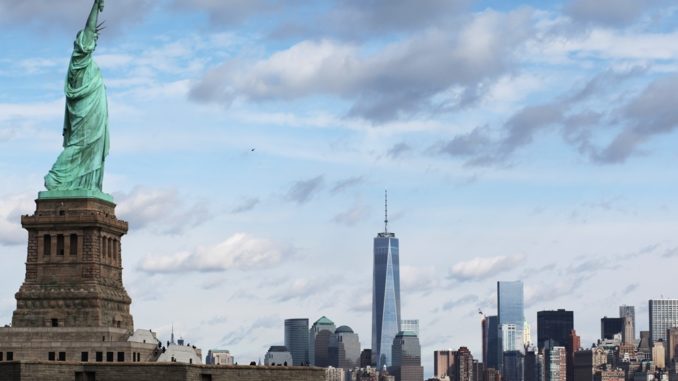 Buemi back to the victory in Formula E and now push the battle for the title until the last race in New York, while Vergne crash in the last lap.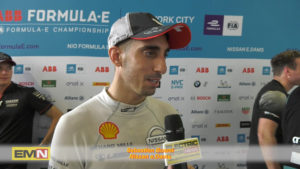 Sebastien Buemi gives the first victory to Nissan e.dams and reach his first Formula E win in over two years and now there are four drivers still in championship contention as Jean-Eric Vergne collides with Felipe Massa on final lap. The restricted club of candidates include Mitch Evans and Lucas di Grassi and also both fight through the field to keep title hopes alive in New York.
Here the interview with Electric Motor News (in Italian language)
Without a win since Berlin in season three, Buemi ended the barren spell to bag a maiden victory for the Nissan e.dams outfit in the ABB FIA Formula E Championship.
Buemi led from Julius Baer pole position, but it was far from comfortable to the chequered flag with Alex Lynn and Mitch Evans keeping him company.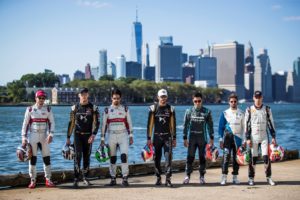 With Lynn limping to a stop at the side of the track due to a technical problem, it opened the door for Evans to pile on the pressure.
However, Buemi battled to the end and escaped any previous misfortune that prevented him from winning earlier in the season – crashing out of the lead in Santiago and suffering a puncture in Paris.
Reigning champion and favourite for the title coming into the race, Jean-Eric Vergne still holds a sizeable lead in the standings and sits 22-points clear of nearest rival Lucas di Grassi.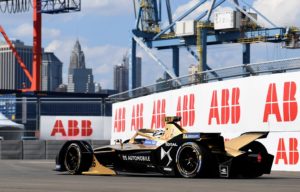 Starting down the order after struggling with a slippery surface in the first qualifying group, Vergne was caught out in a mid-field melee causing him to pit early with a punctured tyre. Sam Bird sent Jose Maria Lopez into a spin at Turn 7 and left drivers behind taking avoiding action.
Vergne slowed to steer clear of stationary cars but was subsequently hit from behind by team-mate Andre Lotterer. Both DS Techeetah drivers were forced to pit and dropped to the back of the pack.
Despite the puncture, Vergne's chances to wrap-up the title weren't totally deflated, with a safety car mid-way through the race to recovery Lynn's stricken car helping to close the gap to the points-paying positions.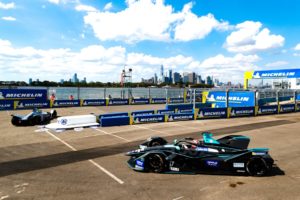 Vergne vaulted up the leaderboard and looked set to score points, but collided with Felipe Massa on the final lap of the race. Vergne went wide into Turn 1 going wheel-to-wheel with Massa and ran out of road on the apex of the right-hander at Turn 2 – hitting the wall hard and ending up facing the wrong way.
Without any points to his name so far in New York and one round remaining, the championship continues to the final race with four drivers still in mathematical contention.
Four drivers, one race, one champion. Who'll win the ABB FIA Formula E Championship? Tune in tomorrow to find out.
Sébastien Buemi, Nissan e.dams
It's been difficult this year, because in many ways I feel like I was leading the races in Santiago and Paris, yet every time something seemed to happen. To finally be able to win is great and I'd like to dedicate the win to Jean-Paul [Driot], our team principal, who couldn't be here today. Without him the team wouldn't be the same. I'm really happy and looking better in the championship, and tomorrow everything is still open, so we'll see what we can achieve. But it's been a good day.
Mitch Evans, Panasonic Jaguar Racing
We really shuffled things around from Rome and since then the car has been very strong, so to capitalise on that pace is really nice. I'd like to mention that Alex [Lynn] deserves to be up here as well, he had a tough failure today. I'm not sure what happened, but it was good to see him fighting at the front. It's nice to put at least one Jaguar on the podium. It's going to be a good battle for second place as well between myself, Seb and Lucas, so hopefully a little bit less carnage tomorrow but hopefully a similar result.
Antonio Felix Da Costa, BMW i Andretti Motorsport
I'm not sure where to start! I started all the way down in eighth and then had the issue with being on the left-hand side of the track and losing places off the line. My car was pretty damaged and hard to drive but we still seemed to have some pace. JEV kept going forwards and I was able to save some energy in key moments of the race and use it afterwards on ATTACK MODE. We managed to have the speed to move up the order, do some moves and defend when we had to. I need to thank Alex [Sims] who let me pass in the end to keep chasing the championship. I'm really grateful to him and the team for allowing this.
Source: FIA Formula E