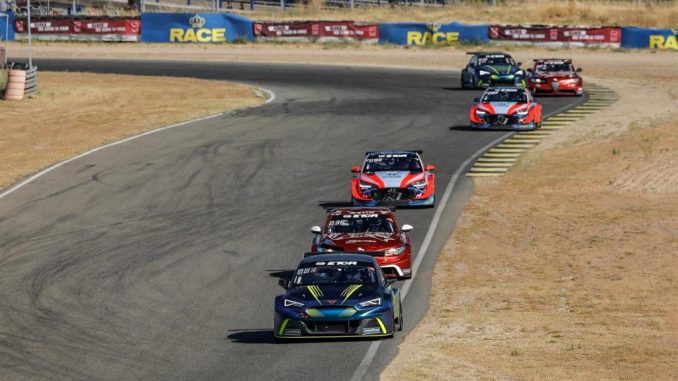 Dominio del team Cupra EKS nella gara di casa del FIA ETCR eTouring Car World Cup 2022 all'autodromo del Jarama, nei pressi di Madrid.
Il team spagnolo ha vinto le due DHL SuperFinals, sia la Pool Fast, sia la Pool Furious, aumentando così il proprio vantaggio nella classifica per il titolo costruttori.
Mattias Ekström segna un secondo risultato perfetto della stagione comandando la Pool Furious. Il campione in carica dell'ETCR vince le due gare, la Quarter Final e la Semi Final partendo dalla pole, e poi un'ottima partenza sempre dalla pole per i cinque giri della DHL SuperFinal, mantenendo il suo vantaggio abilmente in un combattutissimo primo giro, facendo mostra di una guida impeccabile, e poi l'utilizzo magistrale del Power Up gli ha permesso di staccare gli avversari e portarsi alla vittoria.
Il risultato del fine settimana è stato il raggiungimento del punteggio perfetto, ovvero 100 punti che consentono a Ekström di riprendersi anche il comando del campionato.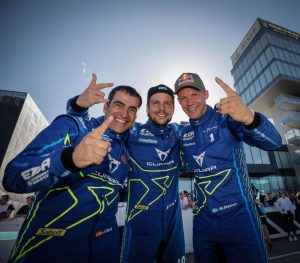 Dopo la Pool Fast, lo stesso Adrien Tambay si stava godendo un altro eccellente weekend di gara. Era arrivato al Jarama in testa alla classifica dei piloti, dopo essere stato incoronato "King of the Weekend" in Ungheria la settimana scorsa. Con la vittoria nella DHL SuperFinal a Jarama, Tambay infila la terza vittoria consecutiva (dopo le gare vinte a Pau e al Hungaroring), protagonista di una magnifica fuga dalla pole e dopo aver guidato la gara dall'inizio alla fine. In quest'occasione, è stato solo il suo secondo posto nella Quarter Final a separarlo dal compagno di squadra, confermandolo secondo nella classifica assoluta piloti a solo 8 punti di distanza da Ekström.
Anche Jordi Gené, in ottima forma davanti ai fan, ha vissuto il suo miglior weekend della stagione nell'appuntamento che l'ha visto correre in casa. Con temperature aria/pista superiori a 40˚/50˚C, Gené è partito dalla pole e ha vinto il suo Pool Fast Quarter Final, stabilendo il giro più veloce del fine settimana con uno straordinario 1'37"123, e si è piazzato secondo della sua semifinale, schierandosi terzo in griglia per la DHL SuperFinal. Dopo un'ottima partenza che l'ha portato in seconda posizione con un'abile mossa all'interno della prima curva, ha mantenuto quella posizione fino alla fine, finendo a soli 0,401 secondi da Tambay. Una bella prestazione del fine settimana, e il suo primo podio stagionale, lo portano dall'11° al 7° posto nella classifica generale piloti.
I punti conquistati nel corso del fine settimana hanno permesso al team Cupra di ottenere il podio e addirittura blindare le tre posizioni con Ekström, Tambay e Gené al primo, secondo e terzo posto rispettivamente.
Una posizione davanti a Jordi Gené in classifica è Tom Blomqvist, sesto quindi, dopo un'altra dimostrazione di forza nell'appuntamento in Spagna. Una buona prestazione nei primi round della Pool Furious gli permettono di partire dalla pole nella seconda Semi Final e concludere in seconda posizione. Conquistata la quinta posizione nella terza fila della griglia di partenza della Pool Furious DHL SuperFinal, un'ottima partenza e Blomqvist guadagna due posizioni fino a quando a metà gara finisce troppo largo in curva e viene relegato di due posizioni dietro, finendo sesto nonostante una brillante e combattutissima gara.
Fonte: Cupra Italia