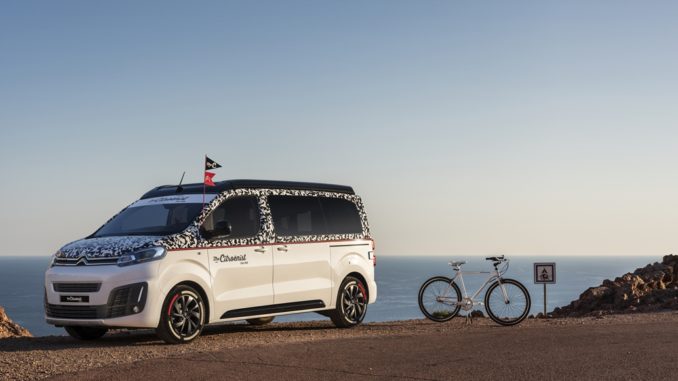 Tra le diverse anteprime mondiali che Citroën ha presentato al Salone di Ginevra, c'era il modello di bicicletta esclusiva: "Rider The Citroënist by Martone".
Rider The Citroënist by Martone è un modello di bicicletta in edizione limitata, che abbina funzionalità e comfort, nata dal savoir-faire di un partner esperto della "mobilità chic": Martone Cycling.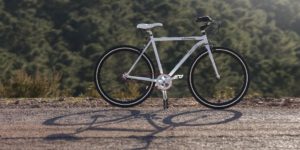 Rider The Citroënist by Martone è stato pensato come un oggetto di mobilità sostenibile, confortevole ed elegante, che riprende i colori di SpaceTourer The Citroënist Concept, un van inedito presentato in prima mondiale sullo stand della Marca al Salone di Ginevra: il colore bianco (di telaio, sella e manubrio) e il nero (delle ruote) sono abbinati alla catena di colore rosso, marchio di fabbrica di Martone Cycling.
SpaceTourer The Citroënist Concept è fedele ai 100 anni di storia di una Marca popolare, da sempre al servizio della mobilità e dell'evasione accessibili a tutti. Su base SpaceTourer, questo concept di camping car inedito propone un allestimento interno specifico sviluppato da Pössl (che commercializza il Campster). Permette a due persone di dormire a bordo, di alloggiare una bicicletta, e di utilizzare un mobile ad uso ufficio, modulabile e connesso. Rappresenta il dinamismo di Citroën nel settore dei camping car.
Bella e pratica proprio come Citroën SpaceTourer, Rider The Citroënist by Martone è il complemento perfetto per l'automobilista che cerca una mobilità su misura unita al piacere di viaggiare. Inoltre, per il trasporto dei due esemplari presentati al Salone di Ginevra insieme al concept van, SpaceTourer The Citroënist Concept integra nell'abitacolo una doppia rotaia di alloggiamento, posizionata sul fondo, tra la console multimediale e i sedili posteriori.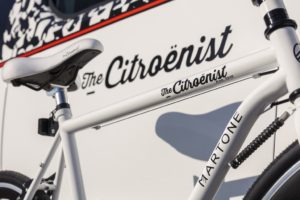 Il telaio di Rider The Citroënist by Martone, completamente bianco, è in lega d'acciaio e alluminio, e pesa appena 12 chili. Le ruote nere solo larghe 700 x 32 mm, con mozzi in acciaio inossidabile e pneumatici neri resistenti alle forature, perfetti per affrontare le vie cittadine. Il sistema di trasmissione manuale a 3 marce, di altissima qualità, è prodotto da Sturmey Archer, e regala una pedalata fluida, per muoversi con stile. Il logo The Citroënist impreziosisce la sella e la barra trasversale del telaio (con il logo Martone Cycling) mentre il logo Citroën Origins, creato per il Centenario di Citroën, è posizionato sulla parte centrale del manubrio.
Disponibile in 2 dimensioni (52 e 56 cm), Rider The Citroënist by Martone è ideale per gli spostamenti quotidiani e per il tempo libero. Con questa bici, Citroën va oltre il semplice concept. Il pubblico potrà ordinare il modello, sinonimo di mobilità, sin dall'apertura del Salone di Ginevra, direttamente sullo stand oppure nella boutique online lifestyle.citroen.com/al prezzo di 950 euro o 1000 CHF (IVA incluse, consegna esclusa).
Fonte: Citroën Italia