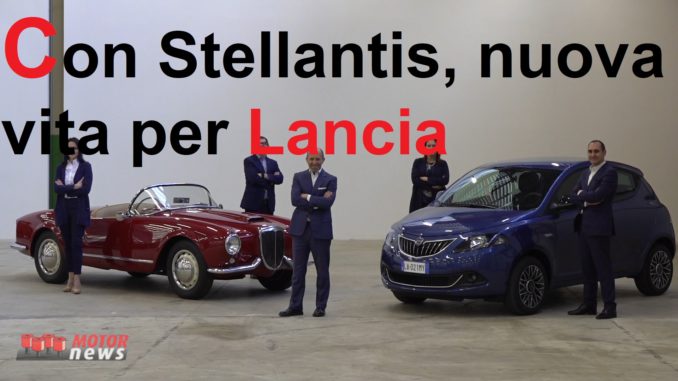 Nell'ottava puntata di Motor News del 2021 parliamo di Peugeot 308 e 3008 Hybrid4, Opel Crossland, Lancia e della Renaulution.
Di seguito potete vedere i video…
L'utilità dell'HADC sulla nuova Peugeot 3008 Hybrid4
Le tecnologie improntate alla sicurezza del nuovo Peugeot 3008 Hybrid4 si rivelano fondamentali nella gestione di alcune tra le più impegnative condizioni di guida. Tra queste vi sono indubbiamente i fondi a scarsa aderenza, come neve, fango e ghiaccio. Se a questo si aggiunge una strada particolarmente ripida, la situazione rischia di farsi molto complicata.
La risposta di Nuovo Peugeot 3008 risiede in questo caso nel sistema HADC, acronimo di Hill Assist Descent Control, ovvero Controllo Elettronico della velocità in discesa.
In tour sul lago di Como con il nuovo Opel Crossland
Poco più di tre anni fa veniva lanciato sul mercato il SUV compatto Opel Crossland, che ha perso la X del nome ma ha guadagnato un frontale e contenuti tecnici nuovi. Ora sfoggia un look decisamente più moderno, in particolare nel muso che lega fari e mascherina incorniciandoli in un sottile inserto cromato. Si chiama Opel Vizor ed è l'elemento di stile che distinguerà i nuovi modelli Opel, a partire da Opel Mokka. Il Vizor estende visivamente la larghezza e organizza la fascia con una quantità ridotta di elementi.
La nuova organizzazione del marchio Lancia
Nell'ambito della nuova struttura globale di Stellantis, Luca Napolitano, Lancia Chief Executive Officer, ha annunciato l'organizzazione del marchio Lancia con decorrenza immediata.
Abbiamo voluto una squadra di professionisti per costruire insieme il futuro del marchio Lancia, facendo leva su un potenziale enorme fatto di passione, di impegno e di visione – ha dichiarato Luca Napolitano, CEO del marchio Lancia.
Linda Jackson, CEO Peugeot, unveil the new 308
Peugeot unveiled the new 308 with hybrid technology and in the first part of the video, Peugeot CEO Linda Jackson speaks about the new era of the automaker.
In italiano – Linda Jackson, CEO Peugeot, scopre la nuova 308
Peugeot ha svelato la nuova 308 con tecnologia ibrida e nella prima parte del video, il CEO di Peugeot Linda Jackson parla della nuova era del costruttore francese.
Pierre Paul Mattei, Project Design Director of the new Peugeot 308
Project Design Director of the new Peugeot 308, Pierre Paul Mattei, speaks about the new lines of the car and why they have been decided to adopt a long bonnet with a cabin placed more rear in the car architecture. He also speaks about the work made in the illumination system with a low consumption of energy and in the internal design of dashboard.
In italiano – Pierre Paul Mattei, Project Design Director della nuova Peugeot 308
Il direttore del progetto della nuova Peugeot 308, Pierre Paul Mattei, parla delle nuove linee della vettura e del motivo per cui si è deciso di adottare un cofano lungo con una cabina più posta più indietro nell'architettura dell'auto. Parla anche del lavoro svolto nell'impianto di illuminazione a basso consumo di energia e nel design interno della plancia.
Agnés Tesson-Faget, Peugeot brand Project Manager
Agnés Tesson-Faget, Peugeot brand Project Manager, speaks about customers expectations and their purchasing motivations to build a fascinating car. From the external design that has to be dynamic and attractive and also the car has to be efficient, technological and obviusly with good quality, because costomers know about the cars and they want the best.
In italiano – Agnés Tesson-Faget, Project Manager di Peugeot
Agnés Tesson-Faget, Project Manager del marchio Peugeot, parla delle aspettative dei clienti e delle loro motivazioni di acquisto per costruire un'auto affascinante. Dal design esterno che deve essere dinamico e accattivante e anche l'auto che deve essere efficiente, tecnologica e ovviamente di buona qualità, perché i clienti conoscono le auto e vogliono il meglio.
The Renaulution and new logo, new step in Renault history and heritage
Gilles Vidal, Renault Design Director, revealed why and how this new logo unveiled last January and deployed some days ago came into being.
In italiano – La Renaulution, nuovo passo e nuovo logo nella storia e nel patrimonio Renault
Gilles Vidal, direttore del design Renault, ha rivelato perché e come è nato questo nuovo logo svelato lo scorso gennaio e distribuito alcuni giorni fa.
Di seguito le anteprime fotografiche dei video…