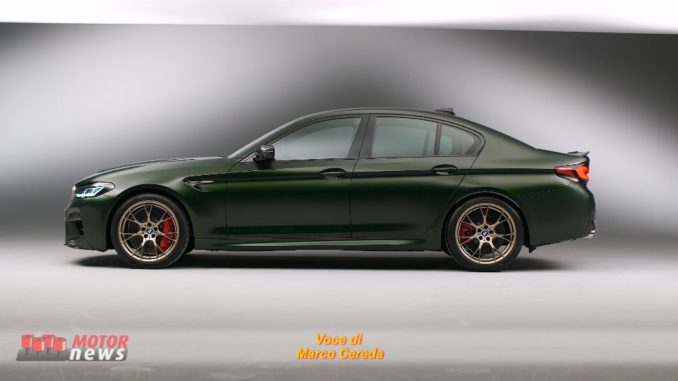 Nella prima puntata del 2021 di Motor News, le novità di gennaio dei marchi PSA, la sportiva BMW M5 CS e la nuova Suzuki Hayabusa.
Nuovo Opel Crossland in Italia e il design di Nuovo Opel Mokka
È finalmente arrivato in Italia il Nuovo Opel Crossland. SUV compatto, è il primo modello del Marchio con Opel Vizor, firma estetica che caratterizza la parte anteriore della vettura, integrando calandra e fari con al centro il leggendario emblema "Blitz". Il design esterno del Nuovo Opel Mokka non è soltanto puro e audace, caratterizzato dal frontale Opel Vizor, ma anche con uno dei coefficienti aerodinamici più bassi della sua categoria.
Citroën C3 Rally2 al Rally di Monte Carlo
La Citroën C3 Rally2 ha ottenuto risultati di primo piano al Rally di Montecarlo, gara inaugurale del Campionato Mondiale 2021. Cinque vetture sono entrate nella top-ten della categoria RC2 e i tre piloti francesi, Yoan Rossel, Yoann Bonato e Nicolas Ciamin, al volante delle C3Rally2 hanno ottenuto una tripletta nel WRC3.
Le news del mese di gennaio 2021 di Peugeot
Linda Jackson da gennaio è il nuovo CEO del brand Peugeot, che ha lanciato il Nuovo Peugeot e-Partner e ora offre Peugeot Night Vision su diversi modelli. Completano le novità di gennaio l'apertura di Peugeot Design Lab in Brasile e l'organizzazione del Peugeot Competition 2021, ancora in partnership con Pirelli che prevede la Nuova Peugeot 208 Rally 4 come protagonista.
Presentata la nuova DS 4, quarto modello della nuova generazione
Con la presentazione della DS 4, quarto modello della nuova generazione, DS Automobiles continua a crescere dopo DS 7 Crossback, DS 3 Crossback e DS 9. Il modello DS 4 del segmento C-Premium è innovativo, possiede una silhouette unica e verrà proposta in tre versioni, DS 4, DS 4 Cross, DS 4 Performance Line.
Le news del mese di gennaio 2021 di DS Automobiles
Concentrate su due modelli le news di gennaio di DS Automobiles, DS 3 Crossback e DS 7 Crossback, con nuove gamma motori e rinnovo del listino.
BMW M5 CS, edizione limitata del lusso e le prestazioni
La nuova BMW M5 CS è ancora più sportiva, più lussuosa e più esclusiva e con questa vettura la BMW M GmbH incrementa la gamma delle ultra sportive CS. L'esclusivo modello BMW M5 CS è costruito in edizione speciale a tiratura limitata e offre a quattro persone un'esperienza di guida straordinaria e fonde prestazioni eccezionali con un aspetto esclusivo e lussuoso. Il motore V8 da 4,4 litri con 635 cavalli rende la BMW M5 CS l'auto più potente nella storia di BMW M.
Servizio con la voce di Marco Cereda.
Elevata efficienza della nuova ammiraglia Opel Insignia
L'ammiraglia Opel Insignia è ancora più elegante e originale, con gruppi ottici anteriori supersottili e dotati di una rivoluzionaria tecnologia LED. I nuovi fari anteriori attivi IntelliLux LED Pixel sono ora dotati di 168 elementi LED, 84 per faro, assicurano la migliore visibilità e reagiscono ancora più velocemente e precisamente che in passato, senza abbagliare le auto che precedono o che provengono dalla direzione opposta.
Servizio con la voce di Marco Cereda
Nuova generazione della Suzuki Hayabusa
Suzuki presenta in anteprima la Hayabusa e apre una nuova era delle Ultimate Sport, le sportive estreme, una categoria da lei stessa creata nel 1999. La terza generazione della Hayabusa porta avanti fieramente la tradizione dei modelli precedenti, venduti in oltre 189.000 esemplari, ha un'erogazione ancor più piena e regolare ai bassi e ai medi regimi consentendole di essere al tempo stesso più veloce e più gestibile. I molteplici evoluti sistemi elettronici, inoltre, supportano il pilota in base alle situazioni e allo stile di guida.
Servizio con la voce di Aurora Bovone.
The new Suzuki Hayabusa motorcycle
Suzuki Moto unveiled the new Hayabusa, famous for the power, agility and majestic presence on the street is the legend from Suzuki that established new level of performance and sportivity.
Video in English language.
Di seguito le anteprime fotografiche dei video…