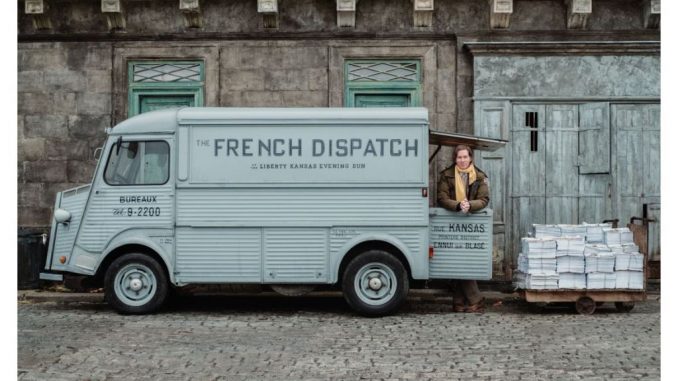 I modelli Citroën Traction e Citroën Type H hanno dei ruoli di primo piano nel nuovo film di Wes Anderson "The French Dispatch".
Il film mette in scena una raccolta di storie dell'ultimo numero di una rivista americana, pubblicata in una immaginaria città francese del XX secolo e in questo contesto s'inserisce la collaborazione artistica con Citroën, dove oltre i modelli Traction e Type H, anche altri veicoli Citroën appaiono nelle strade di questa città tipicamente francese.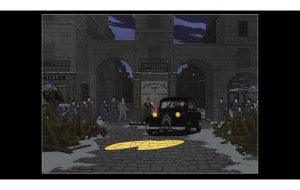 The French Dispatch è il nuovo film del regista visionario Wes Anderson, candidato agli Oscar, che mette in scena una raccolta di storie tratte dall'ultimo numero di un'omonima rivista americana pubblicata in una città francese fittizia del XX secolo. La storia si svolge in una città immaginaria chiamata Ennui-sur-Blasé, rappresentativa della Francia nel tempo.
Wes Anderson ha detto:
La base visiva del film, i costumi, i set, tutto è costruito sulla base di ricerche e documentazione. Anche se la storia è inventata, anche se è stata immaginata con molta fantasia, si basa fondamentalmente su riferimenti reali.
La collaborazione artistica con Citroën è evidente in tutto il film. La visita del Conservatoire Citroën prima delle riprese ha permesso di individuare i modelli che meglio si adattavano alla storia, principalmente Traction e Type H. Anche altri modelli Citroën sono presenti nelle strade di questa città tipicamente francese: 2 CV, Ami 6, DS e GS.
Un inseguimento a bordo della Traction in stile fumetto
In seguito alla morte dell'editore di The French Dispatch – una rivista americana a grande tiratura con sede nella città francese di Ennui-sur-Blasé – l'intero staff del giornale si riunisce per scrivere il suo necrologio. I ricordi legati a questo amato capo si intrecciano in quattro storie che compongono il film, tra cui quella su «La sala da pranzo privata del commissario». Questa parte del film ha sfumature che evocano i drammi polizieschi francesi degli anni '30, '40 e '50. In un punto cruciale, le riprese della vita reale sono sostituite da un'animazione che ricorda i fumetti francesi e la città in cui il film è stato girato, Angoulême, la capitale francese del fumetto. L'inseguimento si svolge a bordo dell'auto simbolo di quegli anni: la Traction!
Citroën e il cinema
Marca popolare da oltre un secolo, Citroën è sempre stata presente nel cinema e tutti i modelli dei suoi veicoli storici sono stati protagonisti di molte scene famose. L'elenco è lungo, con film che hanno avuto un successo mondiale: la 2CV 007 ("Solo per i tuoi occhi", 1981), che festeggia il suo 40° anniversario ed è stata oggetto di una serie speciale, la DS in "Ritorno al futuro II" (1989), e il film d'animazione "Cars 2" (2011), in cui la DS e la 2CV si riuniscono e si baciano sulla Senna! Nel suo film 'Le avventure acquatiche di Steve Zissou' (2004), Wes Anderson rende omaggio a Citroën in due occasioni: quando l'equipaggio del professor Zissou va a salvare degli ostaggi nell'hotel Citroën e quando gira per l'isola che serve loro da base a bordo di una Méhari gialla.
Fonte: Citroën Italia