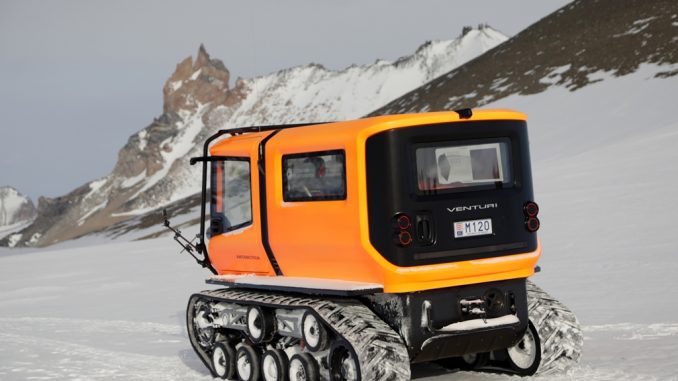 The first electric polar exploration vehicle, Venturi Antarctica, is now in service at the Princess Elisabeth Antarctica station.
The teams at the Belgian zero-emission base have had access since 10 December this year to an eco-friendly mode of transport for their scientific missions. This is a world first: never before has an electric vehicle with caterpillar tracks operated on the hostile White Continent.
Six months ago, on World Environment Day (5 June), Venturi presented the new Antarctica to H.S.H. Prince Albert II of Monaco. Now the Monegasque vehicle has been enabling scientists based at the Princess Elisabeth Antarctica polar station to move around this region of East Antarctica with their equipment, while limiting disruption to the ecosystem as far as possible.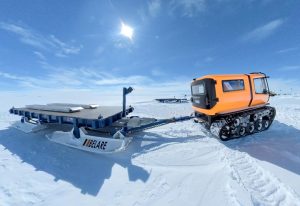 During its first week of operation, the Antarctica has enabled several scientific missions to be carried out on the ground, including maintenance work on several automated weather observation stations and the new Belgian atmospheric observation station located at an altitude of 2,300 metres on the Antarctic Plateau. Thanks to this new type of vehicle, it was possible to reach the station without disrupting the environment. All of these journeys also provided an opportunity to take snow surface temperature measurements, which are used to validate satellite measurements. In addition, this new version of the Venturi Antarctica enabled a simulated emergency rescue to be carried out, based on the scenario of extracting someone from the bottom of a crevasse.
The Antarctica's capabilities are consistent with the fully environmental vision and approach of the Princess Elisabeth Antarctica station, the first, and to date only, zero-emission station on the continent. There, teams from the International Polar Foundation (IPF), the station's operator and a partner of the Belgian Polar Secretariat, work tirelessly to advance research and prepare for the implementation of new projects on, among other things, hydrogen and a new, high-performance water treatment system.
In addition to hosting more than 50 scientists and team members this season, the station is also the nerve centre to start operating the Venturi Antarctica. The vehicle will be an additional asset for the Princess Elisabeth Antarctica station in its mission to support the climate research being conducted by the numerous scientific teams.
The Antarctica brings together all of Venturi's technological expertise. The Research and Development teams, already working on world speed records for Voxan and Venturi, came up with a vehicle unlike any other. With its fold-down bench seats positioned lengthwise, it can carry 1 to 6 people, equipment and even a second battery to extend its starting range of 50 to 200 kilometres in temperatures as low as -50°C.
Almost 12 years ago to the day, H.S.H. Prince Albert II of Monaco returned from a trip to Antarctica and told me that the scientific research stations did not have clean vehicles. Through the Prince Albert II of Monaco Foundation, Venturi was then entrusted with the task of providing a zero-emission solution that would enable access to areas of scientific study. Back then, in 2009, there was no technology that allowed such a vehicle to operate on rough terrain at -50°C. This third version of the Antarctica is now optimal. My teams and I are proud to supply this vehicle to the International Polar Foundation – said Gildo Pastor, President of Venturi Group

Our work with Venturi shows that any organisation can identify a range of solutions to climate issues.

The remit of our foundation and Belgium's Princess Elisabeth station is very clear: to offer scientists the opportunity to carry out their research in Antarctica from a first-class base that also produces zero emissions. The Venturi Antarctica is fully consistent with this vision. It opens up a new era for operational logistics in Antarctica within the framework of the Madrid Protocol signed in 1992. This environmental protocol invited parties to the Antarctic Treaty to continually improve the environmental management of operations.

The tests conducted to date have been very convincing, and we are delighted to be able to continue our involvement in improving the energy performance of this vehicle in service of science – declared Alain Hubert, founder and President of the International Polar Foundation.
Source: Venturi