Volkswagen I.D. BUZZ CARGO is and advanced electric transporter concept vehicle based on the Modular Electric Drive Kit (MEB) and stile of Volkswagen Transporter.
The original Volkswagen Transporter is the most recognizable light commercial vehicle of all time.
With the biggest available battery, the MEB has a range of more than 340 miles on the WLTP cycle.
Digital cargo system connect cockpit and cargo space and brings superfast "Internet of things" on board.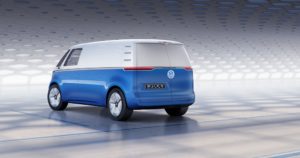 In "I.D. Pilot" mode the I.D. BUZZ CARGO concept vehicle drives at Level 4 full autonomy to its next destination while 230V socket provides power for workers' tools for hours with no additional generator.
A large solar roof extends the daily range of the I.D. BUZZ CARGO by up to 9.3 miles.
With the world premiere of the new I.D. BUZZ CARGO, Volkswagen Commercial Vehicles is showing how an electrically powered and completely redeveloped Transporter might change the world of LCVs.
This innovative zero-emissions panel van could be launched as early as 2021. Meanwhile, the concept vehicle offers a glimpse into the middle of the next decade with its alternative, fully-automated "I.D. Pilot" driving mode (Level 4).
The transporter concept unveiled at the IAA Commercial Vehicles in Hannover is a sibling of the I.D. BUZZ. That concept, which was presented in 2017 in Detroit, delighted people around the globe and will go into production starting in 2022. The new I.D. BUZZ CARGO was designed to be just as close to production level. The I.D. BUZZ was developed jointly by Volkswagen Commercial Vehicles and Volkswagen Passenger Cars.