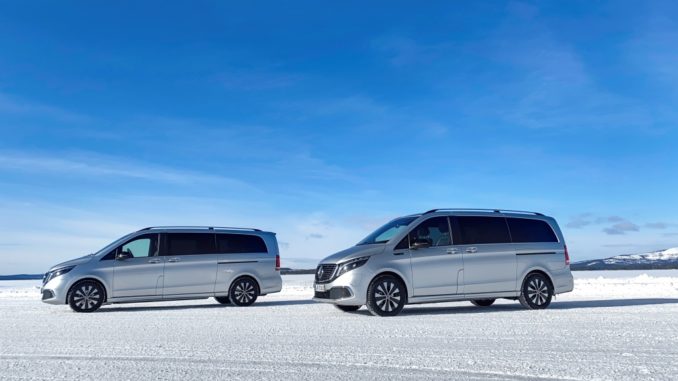 Van Mercedes-Benz EQV 300 has been endurance tested on ice and snow in Arjeplog, Sweden, at temperatures reaching minus 30 degrees.
The winter test of the Mercedes-Benz EQV 300 (combined power consumption: 26.4-26.3 kWh/100 km; combined CO2 emissions: 0 g/km)1 is focused to replay the customer's questions about reliability and functionality, even in severe conditions.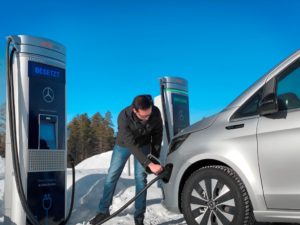 For several weeks, the development team subjected the first purely battery-electric premium MPV from Mercedes-Benz and the EQV proved its operability under extreme conditions. Thus, the vehicle completed one of its last milestones on the way to its market launch in the second half of 2020.
The vehicles were put through numerous complex tests on the test site close to the Arctic Circle. Over 30 engineers, electronics experts and mechanics from Mercedes-Benz Vans were involved: for example, they drove over frozen lakes and measured the effects of extreme cold on handling, ergonomics and comfort, using specialised measuring technology. The starting behaviour and low-temperature resistance of the drive components, software and interfaces, and the thermomanagement of the entire vehicle, were tested in cold cell facilities.
A further important element of the test: charging behaviour. The EQV is equipped with an integrated fast-charging function with which it can recharge from 10 to around 80 percent of its energy in 45 minutes. This is a great advantage, particularly when travelling, but it must function reliably regardless of the temperature.
The advantages of electromobility in cold conditions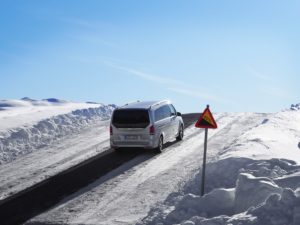 The Mercedes-Benz EQV neatly uses the advantages of electromobility in cold conditions: EQV drivers can enter a departure time via the Mercedes me app from the comfort of their home or office, so as to preheat the interior to the desired temperature and melt any snow or ice on the windows. If the EQV is plugged in to a charging point, the required electricity does not reduce the range as it is taken from the mains supply and not from the drive battery. This is a plus in comfort.
Reliable handling in ice and snow is also essential. On the test drives, the EQV showed that the low, central positioning of the lithium-ion battery in the underbody has a positive effect on the vehicle's handling, specifically under winter conditions. The conclusion of the testers was that the EQV is fit for customer operations – even in arctic conditions.
Source: Mercedes-Benz