Honda, pioniere della tecnologia delle celle a combustibile a idrogeno ha svelato la sua prossima generazione di Clarity Fuel Cell al 44 ° Motor Show di Tokyo.
* La nuova generazione di Honda Clarity Fuel Cell Vehicle presentata al Motor Show di Tokyo 2015
* Autonomia Best-in-class paragonabile ai veicoli alimentati a combustibili fossili
* L'introduzione nei mercati europei selezionati della Clarity Fuel fissata per il 2016
Fonte: Honda Motor Co.
Tokyo, Giappone.  28 Ottobre 2015. Incorporando le tecnologie più avanzate Honda, Clarity Fuel Cell è il primo modello di produzione mondiale di una berlina alimentata a celle a combustibile che ospita l'intero stack di celle a combustibile ed il sistema di trasmissione nello spazio normalmente occupato dal motore e la trasmissione. La Clarity Fuel Cell sarà disponibile in commercio in Giappone da inizio 2016. Il lancio europeo del veicolo avverrà nel 2016.
Soluzione in anteprima mondiale del packaging
Il packaging della Clarity Fuel Cell è stato ispirato dal principio Honda dell'uomo massimo, machina minima. Riducendo al minimo lo spazio utilizzato dal powertrain, Honda è stata in grado di raggiungere un livello di spazio interno che consente a cinque adulti di essere comodamente alloggiati come ci si aspetterebbe in una berlina convenzionale. La dimensione dello stack di celle a combustibile e l'unità di generazione di potenza è stata ridotta attraverso le tecnologie avanzate Honda a una dimensione paragonabile a un motore V6.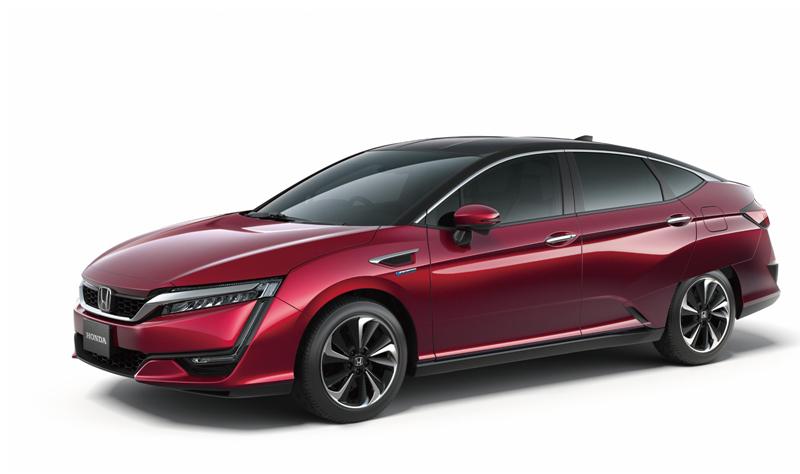 Nonostante la natura compatta del propulsore a celle a combustibile, le tecnologie avanzate di Honda hanno assicurato prestazioni leader a livello mondiale dello stack di celle a combustibile. Originali separatori dei canali di flusso Honda sono più avanzati che mai, mentre le celle ora hanno raggiunto una maggiore produzione ed una forma più sottile grazie ad una riduzione dello spessore di ciascuna cella da un 1 mm (20%). Questi progressi si combinano per rendere lo stack di celle a combustibile del 33% più compatto della pila utilizzata nell'originale FCX Clarity. Questo miglioramento è altamente impressionante per come è stato raggiunto in parallelo con un aumento della potenza massima del motore di 130 kW (177PS) e una densità di potenza aumentata del 60% a 3,1 kW / L.
Convenienza ai vertici della categoria
La Clarity Fuel Cell è dotata di un serbatoio ad alta pressione in grado di conservare il gas idrogeno a 70 MPa, aumentando la massa di idrogeno che può essere immagazzinata, estendendo così l'autonomia del veicolo. Accoppiato con l'efficiente propulsore, riduce il consumo di energia del veicolo, la Clarity Fuel Cell raggiunge un'autonomia di veicoli a fuel cell best-in-class con il serbatoio pieno, di oltre 700 km(1) (435miles).
Inoltre, il serbatoio ad alta pressione può essere rapidamente riempito, il processo prende circa tre minuti a 70 MPa e 20° C. Questi ed altri benefici danno alla Clarity Fuel Cell il vantaggio ai clienti che l'usano quotidianamente di non modificare le abitudini rispetto la loro auto tradizionale a benzina o diesel.
Un'esperienza di guida esaltante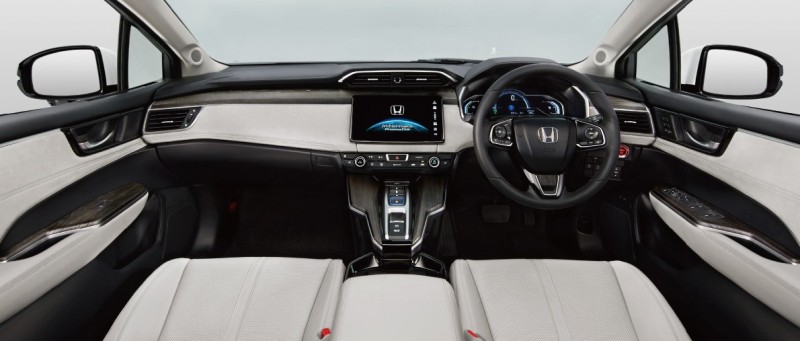 Progettata per utilizzare l'alto rendimento dello stack di celle a combustibile Honda e l'assistenza di energia del pacco batteria agli ioni di litio, un motore ad alta potenza fornisce potenza alle ruote motrici con l'accelerazione istantanea. A causa del continuo aumento della coppia fornita dall'alta potenza 130 kW (177 PS) del motore senza la necessità di ingranaggi, Clarity Fuel Cell raggiunge un'accelerazione perfettamente morbiada ovunque da zero alla velocità massima.
La risposta diretta dell'auto e la tranquilla cabina formano insieme una combinazione attraente. Clarity Fuel Cell offre al guidatore due modalità di guida: la modalità 'Normale' che fornisce un equilibrio tra consumi e prestazioni di guida, mentre quella 'Sport' privilegia un'accelerazione più reattiva.
Design eccezionale
L'esterno della Clarity Fuel Cell è stato progettato per dare una presenza imponente su strada, pur mantenendo un profilo aerodinamico filante. Fari completamente a LED con un profilo snello tagliente e cerchi in alluminio da 18 pollici con un design aerodinamico ed elegante completano il look.
L'interno della Clarity Fuel Cell combina un'atmosfera raffinata ed avanzata, progettata per offrire al guidatore un ambiente di guida rilassante e confortevole. L'interfaccia del driver avanzato utilizza principi di progettazione di Honda di riconoscimento immediato e intuitivo. Semplice e straordinariamente spaziosa, le caratteristiche interne ed i materiali confortevoli rendono la guida un'esperienza da anticipare e godere.
Honda Clarity in Europa e la partecipazione al progetto HyFIVE
Honda prevede il lancio della Clarity Fuel Cell in un numero limitato di mercati europei nel 2016. Honda è una delle cinque case automobilistiche che compongono il consorzio HyFIVE, e fornirà i veicoli che faranno parte di una forte flotta europea di 110 veicoli per evidenziare e promuovere lo sviluppo, l'utilizzo e la vitalità di questa nuova tecnologia.
Nel Regno Unito, Honda ha lavorato con i fornitori per incoraggiare la produzione locale e il consumo di energia attraverso l'installazione di una stazione di rifornimento di idrogeno solare nell'impianto Honda Manufacturing UK a Swindon. Questa stazione è aperta al pubblico (previa registrazione) e in grado di rifornire qualsiasi veicolo a celle a combustibile.
Clarity Fuel Cell – Specifiche tecniche
Lunghezza (mm): 4895
Larghezza (mm): 1.875
Altezza (mm): 1.475
Occupanti: 5
Autonomia a serbatoio pieno (km): Più di 700 (1)
Tempo di rifornimento: Circa. 3 minuti
Potenza massima di celle a combustibile (kW): Oltre 100
Carburante densità di potenza dello stack (kW / L): 3.1
Potenza massima del motore (kW): 130
Pressione massima serbatoio di idrogeno (MPa): 70
Metodo di storage di energia: Batteria agli ioni di litio
(1)   Valore di riferimento (1) come misurato da Honda secondo il metodo JC08. Il veicolo è stato rifornito secondo la norma SAE J2601 alla stazione di carico 70 MPa
In English
Honda unveils Clarity Fuel Cell at the 2015 Tokyo Motor Show
* Next generation Honda Clarity Fuel Cell Vehicle unveiled at 2015 Tokyo Motor Show
* Best-in-class range comparable to fossil fuel-powered vehicles
* Clarity Fuel Cell set for 2016 introduction in selected European markets
Source: Honda Motor UK
Tokyo, Japan. 28 October, 2015. Honda, the pioneer of hydrogen fuel cell technology has unveiled its next generation Clarity Fuel Cell at the 44th Tokyo Motor Show.
Incorporating Honda's most advanced technologies, the Clarity Fuel Cell is the world's first production model of a fuel cell powered sedan to house the entire fuel cell stack and drivetrain system in the space normally occupied by the engine and transmission. The Clarity Fuel Cell will be commercially available in Japan from early 2016. Further information on the European launch of the vehicle will follow in 2016.
World-first packaging solution
The packaging of the Clarity Fuel Cell has been inspired by Honda's principle of man maximum, machine minimum. Through minimising the space utilised by the powertrain, Honda has been able to achieve a level of interior space that allows five adults to be comfortably accommodated as would be expected in a conventionally powered sedan. The size of the fuel cell stack and the power generation unit have been reduced through Honda's advanced technologies to a size comparable to a V6 engine.
Despite the compact nature of the fuel cell powertrain, Honda's advanced technologies have ensured world-leading fuel cell stack performance. Honda's original wave flow channel separators are more advanced than ever, while the cells now feature a higher output and a more slender shape thanks to a 1 mm (20%) reduction in the thickness of each cell. These advances combine to make the fuel cell stack 33% more compact than the stack used in the original FCX Clarity. This improvement is highly impressive as it has been achieved in parallel with an increase in maximum motor output to 130 kW (177ps) and a power density increased by 60% to 3.1 kW/L.
Class-leading convenience
The Clarity Fuel Cell is equipped with a high-pressure tank capable of storing hydrogen gas at 70 MPa, increasing the mass of hydrogen that can be stored and extending the range of the vehicle. Coupled with the efficient powertrain and reduced vehicle energy consumption, the Clarity Fuel Cell achieves a best-in-class fuel cell vehicle range per full tank of over 700 km (1) (435miles).
In addition, the high-pressure tank can be quickly refilled, the process taking approximately
three minutes at 70 MPa and 20oC. These and other benefits give the Clarity Fuel Cell a day-to-day convenience customers are used to with their traditional petrol or diesel powered vehicles.
An exhilarating driving experience
Engineered to use the high output of Honda's fuel cell stack and the power assist of the lithium-ion battery pack, a high-output motor provides power to the driven wheels together with instant and powerful acceleration. Due to the continuously increasing torque provided by the high-output 130 kW (177 PS) motor with no need for gears, the Clarity Fuel Cell achieves perfectly smooth acceleration anywhere from zero to maximum speed.
The direct response, exhilarating drive and quiet cabin together form an appealing combination. Clarity Fuel Cell offers the driver two driving modes: the 'Normal' mode provides a balance between fuel economy and driving performance, while 'Sport' prioritises a more responsive acceleration feeling.
Outstanding design
The exterior of Clarity Fuel Cell has been designed to give an imposing presence on the road while maintaining a strong aerodynamic profile. . Full-LED headlights with a sharp, slender profile and 18-inch aluminium wheels with an aerodynamic and stylish design complete the look.
The interior of Clarity Fuel Cell combines an advanced yet refined atmosphere designed to provide the driver with a relaxing and comfortable driving environment. The advanced driver interface uses Honda's design principles of instant recognition and intuitive control. Simple and outstandingly spacious, the interior features premium, comforting materials that make driving an experience to anticipate and enjoy.
Honda Clarity in Europe and participation in HyFIVE project
Honda is scheduled to launch the Clarity Fuel Cell in a limited number of European markets in 2016. Honda is one of five automotive companies that make up the HyFIVE consortium, and will supply vehicles that will be part of a 110 strong European fleet to highlight and promote the development, use and viability of this new technology.
In UK, Honda has worked with suppliers to encourage the local production and consumption of energy by establishing a solar-powered hydrogen refuelling station in the grounds of Honda of the UK Manufacturing in Swindon. This station is open to the public (subject to registration) and able to refuel any fuel cell vehicle.
Fuel cell technical specifications
Length (mm): 4,895
Width (mm): 1,875
Height (mm): 1,475
Occupants: 5
Range per full tank (km): Over 700 (1)
Refuelling time: Approx. 3 minutes
Maximum fuel cell output (kW): Over 100
Fuel stack output density (kW/L): 3.1
Maximum motor output (kW): 130
Maximum hydrogen tank pressure (MPa): 70
Energy storage method: Lithium-ion battery
(1) Reference value as measured by Honda according to the JC08 method. The vehicle was refuelled according to the SAE standard J2601 at a 70 MPa filling station
no images were found